Hunt: Cormier shouldn't fight 'unranked bum' Lesnar
UFC heavyweight is infuriated by the idea of Brock Lesnar being in line for a title fight in early 2019.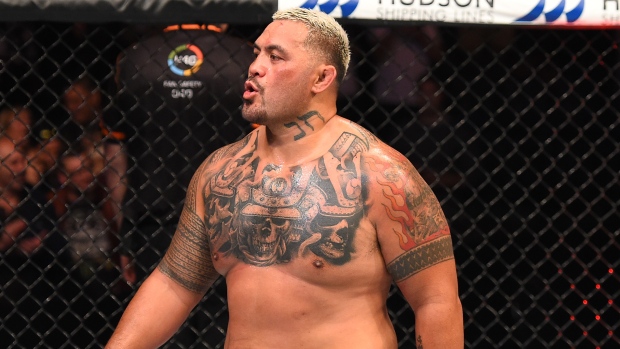 There are two things that long-time combat sports veteran and UFC Fight Night Moscow headliner Mark Hunt is passionate about these days: fighting and clean competition.
Hunt has stepped into the octagon with several heavyweights who have been implicated in some form of anti-doping sanctions over the course of their careers.
The most recent opponent of Hunt's to face said sanctions is Brock Lesnar, who defeated Hunt at UFC 200. That win has since been overturned due to Lesnar's positive drug test for Clomiphene, an estrogen blocker that is banned by the United States Anti-Doping Agency (USADA).
Lesnar will reportedly face Daniel Cormier in early 2019 for the UFC heavyweight title, a prospect that infuriates Hunt.
"First off, Daniel Cormier should have told him to piss off. If I was the double champ, I'd be calling my own shots. Why would you want to fight a guy that's a little [expletive] cheater?" Hunt said on The TSN MMA Show.
"Why would you want to fight some bum that's not even ranked? What do we even have rankings for? Let's just let people in and put them at the front door. It's just stupid. This guy shouldn't get any credit. He's a weak-minded little bum. That's all these guys are, they're just weak-minded. They shouldn't be in there with the big boys in the top 10 because all the big guys up here, we train hard, we use our minds. It's not easy to get up to the top 10."
Hunt is among several heavyweights who have expressed disappointment in Lesnar likely getting a title shot despite the fact that he's had a more than two-year layoff and his last official win was more than eight years ago.
For Cormier, the main motivation for fighting Lesnar is a huge payday before he retires, which he has said he plans on doing next March when he turns 40.
"Why would Cormier allow that? When you're the champ or the double champ, you call the shots," Hunt said. "Look at Conor McGregor, nobody's telling him what to do. He's the champ! So why would Cormier fight a [expletive] cheater like Brock Lesnar? He should just say, 'Nah, I'll give it a pass. He's not worth my time, he's just a cheater.'"
Hunt has been a strong proponent of even stricter doping penalties. He would like to see first-time offenders dealt a five-year suspension and second time offenders given a lifetime ban.
Fabricio Werdum, an opponent of Hunt's in 2014, was recently given a two-year suspension for a USADA anti-doping violation.
"Good job by USADA and good job by Jeff Novitzky for catching this little scummy bag and giving him two years. I just feel that it's weak, weak-minded people that do that – especially in this sport – and good job that they caught him. See you later to your career, buddy," said Hunt.
Hunt faces Alexey Oliynyk this Saturday in the main event of the UFC's first-ever card in Russia, which airs on UFC Fight Pass.
After that, Hunt has one fight left on his UFC contract. From there, he's not sure of his future plans.
"When it comes to a new contract, we'll see if it's good enough. I want to enjoy the rest of my career," said Hunt. "I've got two fights left and then I think I'm going to fight a few more times globally and retire."