Hurricanes coach Peters: Skinner out until at least Tuesday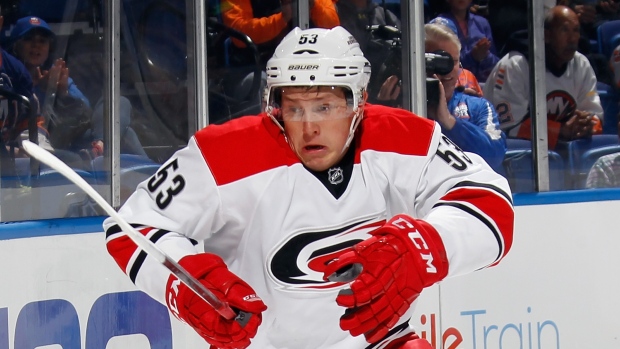 Carolina Hurricanes forward Jeff Skinner will not make his season debut tonight against the New York Rangers.
Skinner practiced on Wednesday without a no-contact jersey but coach Bill Peters said Thursday the 22-year-old won't make his season debut until at least Tuesday, when the Hurricanes play the Winnipeg Jets.
Skinner was diagnosed with a concussion after taking a hit from Washington Capitals defenceman Matt Niskanen in the Hurricanes final preseason game on October 5.
On Sunday, the Hurricanes placed the Skinner on injured reserve retroactive to October 5.
Skinner scored 33 goals and added 21 assists in 71 games with the Hurricanes last season.
In 259 career games, Skinner has 97 goals and 88 assists.
He was selected in the first round (seventh overall) of the 2010 NHL Draft.
Peters added Andrej Sekera could also return to the Hurricanes lineup on Tuesday.