Hyman to undergo ACL surgery, out 6 months
Toronto Maple Leafs forward Zach Hyman will undergo surgery on Monday to repair a torn ACL sustained during the team's first round playoff series against the Boston Bruins, the team announced on Wednesday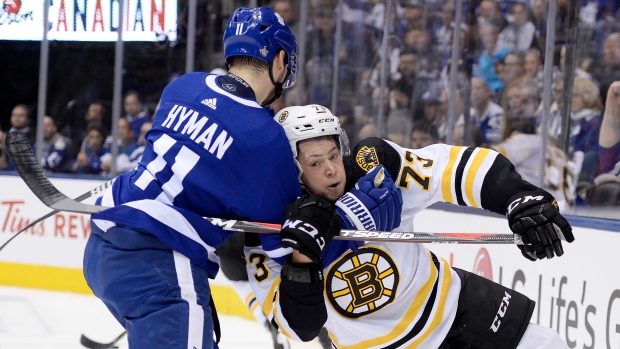 Toronto Maple Leafs forward Zach Hyman will undergo surgery on Monday to repair a torn ACL sustained during the team's first-round playoff series against the Boston Bruins, the team announced on Wednesday.
Hyman said Thursday he sustained the injury late in Game 4 when he got tied up with Bruins forward Brad Marchand. He played in the all seven of the Leafs playoff games, logging 16:58 of ice time or more in each of the three games after the injury occurred.
He logged 18:15 of ice time in Toronto's 5-1 loss on Tuesday and finished the series minus-3 while averaging 18:07 of time on ice. He scored a goal in Game 4 against the Bruins for his lone point of the first-round series.
"He has been a warrior for us all year," John Tavares said of Hyman after he missed the team's morning skate prior to Game 7. "I think you see the type of game he plays. It involves a lot of physical contact and taking a lot of abuse or being involved in a lot of things that lead to bumps and bruises."
Hyman set career highs in goals (21) and points (41) in 71 regular season games.
The six-month timeline means Hyman is expected to miss at least the start of next season, with a return in late October or early November. He said Thursday, however, his goal is to be ready for the start of the season in October.
The 26-year-old is signed through the 2020-21 season at a $2.25 million cap hit.
A Toronto native, Hyman has 115 points in 251 career NHL games, all with the Leafs.