'I couldn't be more embarrassed by what I said'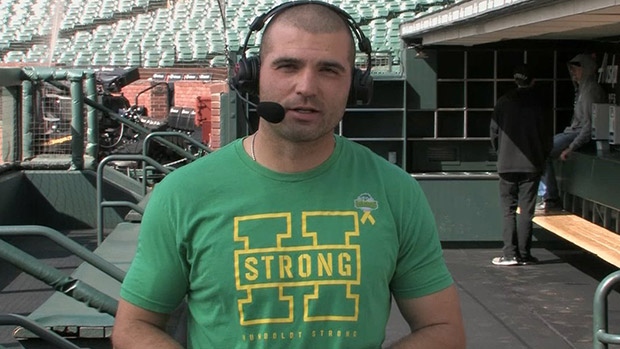 Cincinnati Reds all-star Joey Votto apologized Wednesday for saying he didn't care about Canada, Canadian baseball or his hometown of Toronto earlier this week in a podcast.
When asked on a Yahoo! Sports podcast about fellow Canadian James Paxton throwing a no-hitter for the Seattle Mariners against the Toronto Blue Jays last week at the Rogers Centre, Votto distanced himself from his home country.
"I couldn't be more embarrassed by what I said," he told TSN on Wednesday. "I just felt jealous, being asked about the city I'm from and another Canadian player.
"I didn't have that moment. I was reckless with my comments – I'm sorry to James Paxton. I feel terrible about the message I sent to fans in Canada."
Votto, who played for Canada at the 2009 and 2013 World Baseball Classics and won the Lou Marsh Award twice as Canada's athlete of the year, told Yahoo! Sports he "couldn't give a rat's ass" about Paxton being the first Canadian to throw a no-hitter on his home soil.
"I don't care almost at all about Canadian baseball," Votto said on the podcast. "I wasn't raised inside of Canadian baseball really. I'm coming up on half of my life being in the United States working and being supported by American baseball."
He also penned an apology on social media on Wednesday morning, adding that he resented not being drafted by the Blue Jays out of high school and not being picked for the Olympic team while in the minors.
"I couldn't feel less connected to the comments," he told TSN. "And I'm sorry – especially to the kids. That's where I feel I did the most wrong."
Votto added that he plans to personally apologize to Paxton as soon as possible.
"I will definitely make a point to reach out to him," he said. Baseball is a very small fraternity and it's easy to get done."