"I'm fed up over what's been said."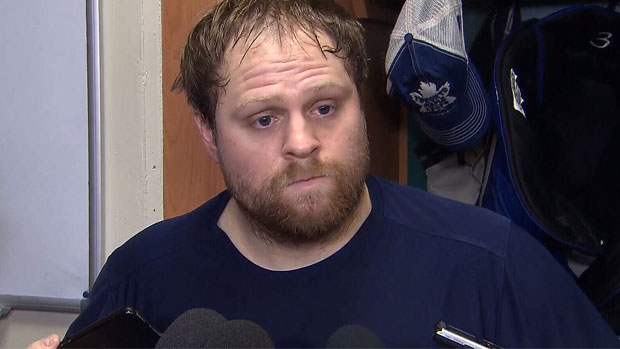 SUNRISE, Fla. – Phil Kessel has had enough.

The Maple Leafs highest-paid player and leading scorer lambasted the Toronto media for treatment of captain Dion Phaneuf he deemed "embarrassing". The 27-year-old broached the subject unprompted on Tuesday morning and attacked with passion something that was clearly bubbling under the surface for some time. The explosion came just a day after Phaneuf became the subject of intense trade speculation.

It wasn't any one thing, Kessel said with fury, just years of mistreatment.

"Is it his fault we're losing? No. Did he build this team? No. It's not Dion Phaneuf," said Kessel with as much intensity and anger as he's shown in nearly six seasons as a Leaf. "The stuff he takes, the crap he takes, the things people say, I'm just tired of it here. I think he's owed some apologies by some people. It's disgusting the way people treat him."

Kessel, who absorbs an undue share of blame himself for the Leafs failures in recent seasons, believes Phaneuf has been unfairly painted with that same brush, the scapegoat too often for issues that go beyond the ice.

"He's our best defenceman and you guys act like he's not trying out there and this and that," Kessel said. "It's embarrassing. And I'm embarrassed for some people and things they said about him."
He isn't entirely wrong. Phaneuf remains a highly capable defender, just one who's asked to do far too much in Toronto, mostly due to failings in management over the years since he was first acquired from Calgary. Blame, however, tends to ensconce the best and highest-paid players of any failing team in any big market and that's what's happened with Phaneuf.

The Leafs have made the playoffs just once since Kessel and Phaneuf joined the Leafs.
"I've had it," Kessel continued in a rant that lingered three minutes or so. "I think this city is a great hockey city and I love playing here, but some of the things that happen and Dion getting abused like he does and things that are said about him...he's our best defenceman. Watch him play. He plays hard every game for us. I'm just tired of him taking it."
This was a missive Kessel clearly intended to deliver. Asked to answer a question or two just outside the team's dressing room by TSN.ca, Kessel instead said he'd speak to all the assembled media inside the room.

Phaneuf, nearly traded on deadline day, was unusually withdrawn at the team's morning skate in Sunrise. Normally vocal, energetic and loud enough for all to hear, the 29-year-old was subdued in a half-hour skate and declined to speak with media shortly thereafter – a rarity for Toronto's captain.

He said his fatigue with the treatment had nothing to do with his own situation, but rather he felt as a teammate, that Phaneuf was owed some backing for the "abuse" he took.

"For him, I think being the captain here he takes a lot of it," Kessel said. "It's enough. I'm sick of it and I don't think it should go on anymore."