Ice Chips: Bergeron (LBI) a game-time decision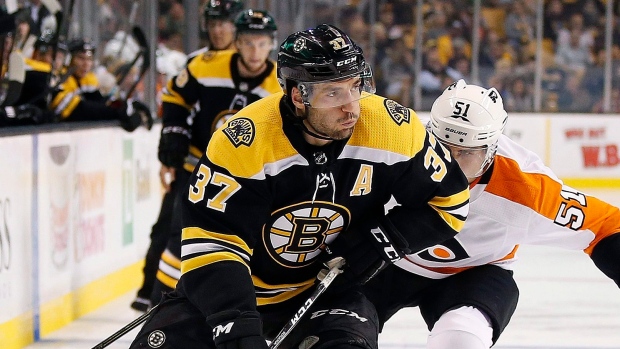 Keep updated on all the injury news and roster moves from around the NHL with daily Ice Chips.
---
Boston Bruins
Forward Patrice Bergeron took part in Thursday's optional skate, wearing a red non-contact jersey, and will be a game-time decision against the Canucks. The 32-year-old has not played this season due to a lower-body injury.
Earlier, the team returned forward Peter Cehlarik to the AHL's Providence Bruins on Thursday, in order to clear space for David Backes to make his season debut against the Canucks. Backes missed the team's first five games due to diverticulitis. - Fluto Shinzawa, Boston Globe.
Ottawa Senators
Dion Phaneuf has a minor injury but will be in the lineup Thursday night against the New Jersey Devils Devils. - Ottawa Citizen.
Craig Anderson will make his sixth start of the season. Anderson is 2-1-2 early in the campaign with a .926 save percentage and a 1.91 goals-against average.
Centre Logan Brown will suit up for the Senators against the Devils. - Ottawa Citizen
---
Calgary Flames
Projected lines vs. Hurricanes:
Gaudreau-Monahan-Jagr
Tkachuk-Backlund-Frolik
Versteeg-Bennett-Ferland
Glass-Stajan-Brouwer
D
Giordano-Hamilton
Brodie-Hamonic
Bartkowski-Stone
G
Smith
---
Pittsburgh Penguins
Defenceman Zach Trotman was recalled from the AHL on Thursday, taking the place of Chris Summers on the 23-man roster.
---
Minnesota Wild
Marcus Foligno has been cleared to play and will be in the lineup for both games this weekend, according to Jessi Pierce of NHL.com. Foligno will have to wear a full cage for two weeks.
---
Anaheim Ducks
The Ducks could soon have both defencemen Hampus Lindholm and Sami Vatanen back in the lineup after both of the blueliners underwent off-season shoulder surgery. Lindholm skated in full gear during Wednesday practice and could hit the ice with the Ducks as soon as Friday night. Vatanen is not expected to play Friday, but could be an option during the team's four-game Eastern Conference road trip which begins Tuesday. - Orange County Register.
---
New York Rangers
Captain Ryan McDonagh was back on the ice Thursday after being given Wednesday off. The Rangers host the New York Islanders Thursday night.
---
TSN Game Notes
Canucks (5P) at Bruins (4P) - 7PM
BOS was 2-0-0 vs VAN last season, 10GF.
BOS (2-3-0):
1-3-0 past 4GP, 15GA, 11/13 on PK
Marchand (2G, 3A) 3 game PT streak
VAN (2-2-1):
1-2-1 last 4GP, 9GF, 2/18 on PP (won last)
Boeser (2G, 2A) has a 3 game PT streak
Islanders (5P) at Rangers (3P) - 7PM
NYI were 3-1-0 vs NYR last season. 1-1-0 at NYR. NYI have won 5 past 6 at NYR
NYR (1-5-1):
0-3-1 past 4GP, 8GF, 3/17 on PP
Miller (1G, 3A) last 2GP
NYI (2-3-1):
1-2-1 past 4GP, 9GF, 0/16 on PP
Tavares (0P) last 4GP, 10 shots on net
Predators (7P) at Flyers (8P) - 7PM
NSH is 1-0-0 vs PHI this season, winning at home. Last 4GP between teams in PHI gone to OT. Each 2 wins
PHI (4-2-0):
Won 2 straight, both at home, 13GF, 2/6 on PP
Gostisbehere (1G, 6A) 3 game PT streak
NSH (3-2-1):
3-0-1 past 4GP, 15GF, 6/16 on PK
Forsberg (4G, 4A) 4 game PT streak
Lightning (11P) at Blue Jackets (10P) - 7PM
CBJ were 3-0-0 vs TB last season. 1-0-0 at home
CBJ (5-1-0):
won 4 straight, 15GF, 0/12 on PP
Panarin (1G, 4A) 3 game PT streak
TB (5-1-1):
4-0-1 past 5GP, 18GF, 6/22 on PP
Kucherov (8G, 4A) has scored in all 7GP
Devils (10P) at Senators (8P) - 730PM
OTT was 3-0-0 vs NJ last season, 2GA.
OTT (3-1-2):
0-1-2 at home, 5GF, 0/15 on PP
Turris (2G, 5A) last 4GP
NJ (5-1-0):
3-0-0 on the road, 15GF, 2/14 on PP
Butcher (6A) 4 game PT streak
Oilers (2P) at Blackhawks (9P) - 830PM
EDM was 2-1-0 vs CHI last season, 1-0-0 in CHI.
CHI (4-2-1):
3-1-0 at home, 19GF, 2/19 on PP
Kane (3A) has an assist in 3 straight games
EDM (1-4-0):
lost 4 straight, 19GA, 14/21 on PK
McDavid (3A) assist in 3 straight games
Blues (10P) at Avalanche (8P) - 9PM
STL was 4-0-1 vs COL last season. STL has gone 3-0-1 past 4GP in COL.
COL (4-3-0):
lost 2 straight, 1GF in each game, 1/10 on PP
Duchene (1G) last 3GP
STL (5-2-0):
lost 2 straight on the road, 3GF, 1/8 on PP
Schwartz (5G, 6A) has a PT in 6 of 7GP
Hurricanes (5P) at Flames (8P) - 9PM
Teams split 2GP last season, CAR winning in CGY
CGY (4-2-0):
4-1-0 past 5GP, 17GF, 5/24 on PP
Gaudreau (2G, 7A) has a PT in 4 of the past 5GP
CAR (2-1-1):
1-1-0 on the road, 6GF, 3/9 on PP
Williams (3A) last 2GP
Stars (6P) at Coyotes (1P) - 10PM
DAL is 1-0-0 vs ARZ this season, winning at home. DAL has won 5 straight vs ARZ
ARZ (0-5-1):
0-2-1 at home, 5GF, 2/12 on PP
Domi (3A) last 3GP
DAL (3-3-0):
won 2 straight, both 3-1, 6/6 on PK
Seguin (1G, 2A) last 2GP