Ice Chips: Bruins place F Beleskey on IR
Keep updated on all the injury news and roster moves from around the NHL with daily Ice Chips. The Boston Bruins placed forward Matt Beleskey on injured reserve and called up defenceman Matt Grzelcyk from the AHL's Providence Bruins.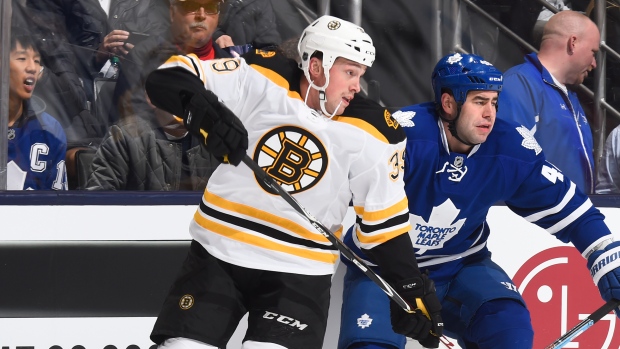 Keep updated on all the injury news and roster moves from around the NHL with daily Ice Chips.
Boston Bruins
F Matt Beleskey (right knee) placed on injured reserve; D Matt Grzelcyk called up from AHL's Providence Bruins. - Team website

Beleskey suffered the injury during the Bruins' 2-1 win over the Buffalo Sabres on Dec. 3. The 28-year-old Canadian is expected to miss six weeks.
He has scores two goals and five points in 24 games this season.
Calgary Flames
Notes:
Kris Versteeg is back in the line up after missing 2 games (took a shot to the back in Dallas)
Dougie Hamilton left practice early yesterday for maintenance reasons but he's fine and in the line up
Flames have won 6 straight games
Flames are looking to go above 500 at home for the first time this season
Lightning had an optional skate this morning
Kucherov will be a game time decision. Associate Coach Rick Bowness said everybody on the trip must come ready to play
Flames lines this am:
Gaudreau-Bennett-Chiasson
Versteeg-Monohan-Brouwer
Tkachuk-Backlund-Frolik
Bouma-Stajan-Ferland
Hathaway, F Hamilton
Defence:
Giordano-Hamilton
Brodie-Wiseman
Jokipakka-Engelland
Wotherspoon
Johnson - starting
Elliott
Edmonton Oilers
Oilers activate defenceman Eric Gryba from the injured reserve. The 28-year-old has no points in 14 games played this season. The team sent down defenceman Dillon Simpson to the American Hockey League to make room for Gryba. - Team Release
Colorado Avalanche
G Calvin Pickard expected to start Wednesday vs. Philadelphia Flyers; G Spencer Martin recalled. - Denver Post
Ottawa Senators
G Mike Condon to make fourth consecutive start Wednesday vs. San Jose Sharks. - Ottawa Citizen
Senators lines
Dzingel Turris Ryan
Hoffman Brassard Stone
Smih Pageau Pyatt
Kelly Lazar Neil
Methot Karlsson
Phaneuf Ceci
Harpur Wideman
Condon starting
Hammond
Borowiecki suspended
Englund. Scratch
Tampa Bay Lightning
Goals For/Game Leaders – Since Crosby Played First Game
(Oct 25 to Present)
Team GP GF/G
Pittsburgh Penguins* 23 3.91
Columbus Blue Jackets 23 3.39
New York Rangers 25 3.36
Philadelphia Flyers 25 3.12
Nashville Predators 23 3
*12GF in 6GP without Crosby
Sharks (35P) at Senators (34P) - 7PM
OTT is 1-0-0 vs SJ this season. Winning in SJ. OTT has won 2 straight at home vs SJ
OTT (16-11-2):
lost 2 straight, both on the road, outscored 9-2, 1/8 on PP
Karlsson (0P) last 2GP, has not gone 3 straight GP without a PT this season
SJ (17-11-1):
won 2 straight, both by 1G, 2/5 on PK
Burns (3G, 2A) 5 game PT streak
Bruins (34P) at Penguins (41P) - 730PM
BOS was 3-0-0 vs PIT last season. BOS has won 5 straight vs PIT, 3 of the games in PIT
PIT (19-7-3):
won 6 straight, outscoring opponent 35-14, 6/26 on PP
Crosby (7G, 6A) 8 game PT streak
BOS (16-12-2):
2-0-2 past 4GP on road, 8GA, 14/15 on PK
Marchand (1G, 4A) last 6GP
Lightning (30P) at Flames (34P) - 930PM
Teams split two games last season, CGY winning at home.
CGY (16-13-2):
won 6 straight, outscoring opponent 23-9, 7/20 on PP
Hamilton (3G, 1A) last 2GP
TB (14-13-2):
1-6-1 past 8GP, 14GF, 3/21 on PP
Kucherov (0G, 1A) last 3GP
Flyers (39P) at Avalanche (23P) - 10PM
Teams split two games last season, PHI winning in COL
COL (11-15-1):
0-4-1 past 5GP at home, 10GF, 1/14 on PP
MacKinnon (3G, 2A) 4 game PT streak
PHI (18-10-3):
won 9 straight, 19GA, 21/25 on PK
Simmonds (4G, 2A) last 6GP
*all times Eastern
Winnipeg Jets
The Jets host the Panthers Thursday. Here are the projected Jets lines based on practice Wednesday.
Ehlers-Scheifele-Wheeler
Perreault-Little-Laine
Tanev-Lowry-Stafford
Dano-Copp-Thorburn
Matthias-Burmistrov-Armia
Morrissey-Byfuglien
Enstrom-Trouba
Postma-Chiarot
Stuart
Hellebuyck
Hutchinson