Ice Chips: Canucks' Boeser plays tonight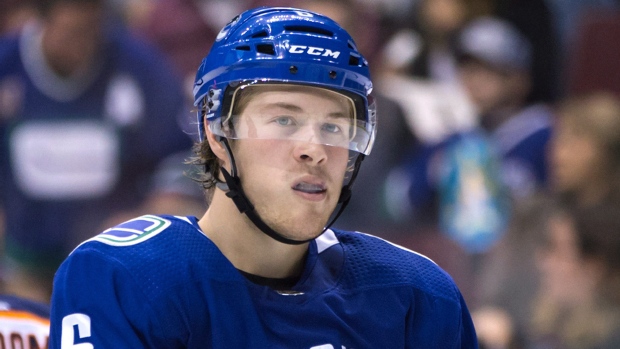 Keep updated on all the injury news and roster moves from around the NHL with daily Ice Chips.
Vancouver Canucks
After sitting out the first two game of the regular season, rookie winger Brock Boeser will make his season debut Thursday against the Winnipeg Jets. The 20-year-old appeared in nine games last season. - Farhan Lalji, TSN
Projected Lines vs. Jets
F
Baertschi-Horvat-Boeser
Daniel-Henrik-Vanek
Eriksson-Granlund-Virtanen
Gagner-Sutter-Dorsett
D
Edler-Tanev
DelZotto-Gudbranson
Hutton-Stecher
G
Markstrom
Nilsson
Scratches: Burmistrov, Pouliot, Biega
---
Montreal Canadiens
Defenceman David Schlemko, who was acquired from the Vegas Golden Knights this summer, could make his Habs debut Saturday night against the Toronto Maple Leafs. The 30-year-old has been out since the first day of training camp with a bruised hand. "I'm close," Schlemko told the Montreal Gazette. "I'm not a trainer and I haven't been cleared (to play), but I'm hoping for Saturday." - Montreal Gazette
---
Arizona Coyotes
Forward Nick Cousins and defenceman Kevin Connauton are day-to-day with lower-body injuries. They will not play tonight against the Red Wings. - AZCentral
---
Columbus Blue Jackets
Winger Jordan Schroeder returned to practice on Wednesday after being sidelined since Sept. 20 with a suspected concussion. - The Columbus Dispatch
---
Chicago Blackhawks
Forward Nick Schmaltz has missed the last two contests with an upper-body injury, but head coach Joel Quenneville is hoping he'll be ready to go Thursday against the Minnesota Wild. - Chicago Sun-Times
---
San Jose Sharks
Defenceman Paul Martin has been placed on the injured reserve and Joakim Ryan has been called up from the American Hockey League. - Team Tweet
---
NHL Notes
Penguins (5P) at Lightning (4P) - 730PM
PIT was 3-0-0 vs TB last season, 15GF.
TB has gone 3-1-0 last 4GP at home vs PIT (lost last)
TB (2-1-0):
2-0-0 at home, 9GF, 2/8 on PP
Stamkos (5A) has an assist in all 3GP
PIT (2-1-1):
won 2 straight, 2GA, 9/9 on PK
Crosby (1G, 5A) has a PT in all 4GP
Blues (8P) at Panthers (2P) - 730PM
Teams split 2GP last season, STL winning in FLA
STL has won 5 straight in FLA
FLA (1-1-0):
both games vs TB, 1-0-0 at home 1/4 on PP
Dadonov (1G, 2A) has a point in both games
STL (4-0-0):
3-0-0 on the road, 10GF, 3/14 on PP
Schwartz (2G, 5A) has a PT in all 4GP
Stars (2P) at Predators (2P) - 8PM
NSH was 3-2-0 vs DAL last season, 2-1-0 at home
NSH has gone 7-1-2 past 10GP at home vs DAL
NSH (1-2-0):
1-0-0 at home, 6GF, 3/4 on PP
Forsberg (3G, 1A) has a PT in all 3GP
DAL (1-2-0):
0-1-0 on road, 2GF, 1/4 on PP
Klingberg (2G, 2A) has a PT in all 3GP
Wild (1P) at Blackhawks (7P) - 830PM
CHI was 3-1-0 vs MIN last season, winning final 3 meetings
MIN has gone 4-1-0 last 5GP in CHI (lost last)
CHI (3-0-1):
2-0-0 at home, outscoring opponent 15-2, 1/8 on PP
Saad (5G, 2A) has a PT in all 4GP
MIN (0-1-1):
both games on road, 8GA, 7/10 on PK
Stewart (2G, 1A) has scored in both games
Jets (2P) at Canucks (3P) - 10PM
WPG was 2-1-0 vs VAN last season, 1-1-0 in VAN
WPG has won 2 of their past 3 in VAN
VAN (1-0-1):
both games at home, both decided by 1G, 1/11 on PP
Horvat has 2 of the teams 5G (both in opener)
WPG (1-2-0):
1-1-0 on the road, 8GF, 2/15 on PP
Scheifele (3G, 2A) has scored in all 3GP
Red Wings (4P) at Coyotes (1P) - 10PM
ARZ was 1-0-1 vs DET last season, 0-0-1 at home
DET has won 3 straight in ARZ, twice past regulation
ARZ (0-2-1):
0-0-1 at home, 1GF, 0/3 on PP
Rieder (2G, 1A) has a PT in all 3GP
DET (2-1-0):
1-1-0 on road, 2GF in each game, 1/9 on PP
Green (6A) has a PT in 2 of 3GP
Sabres (1P) at Sharks (0P) - 1030PM
SJ was 1-0-1 vs BUF last season, 1-0-0 at home
BUF has gone 5-1-0 past 6GP in SJ (lost last)
SJ (0-2-0):
lost both games at home, 9GA, 8/11 on PK
Dillon (2A) has an assist in both games
BUF (0-2-1):
3GF or less in each game, 2/13 on PP
Kane (4G) last 2GP, career game 500 tonight