Ice Chips: Rosen, Moore to draw in for Leafs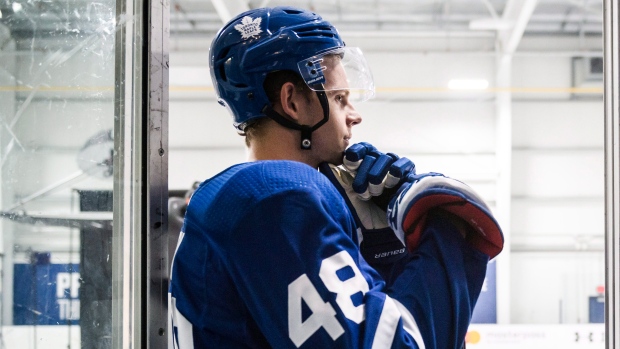 Keep updated on all the injury news and roster moves from around the NHL with daily Ice Chips.
---
Toronto Maple Leafs
Defenceman Calle Rosen joined the Leafs for practice on Friday after being recalled from the AHL's Toronto Marlies and will take the roster spot of Martin Marincin. Marincin was waived on Thursday.
Head coach Mike Babcock confirmed after Friday's practice Rosen and Dominic Moore would enter the lineup for Saturday's home opener against the New York Rangers. Andreas Borgman and Eric Fehr will come out of the lineup and serve as healthy scratches, along with Josh Leivo.
Friday's practice lines - Kristen Shilton, TSN
Forwards
Hyman-Matthews-Nylander
Marleau-Kadri-Komarov
JvR-Bozak-Marner
Martin-Moore-Brown
Fehr, Leivo
Defence
Rielly-Hainsey
Gardiner-Zaitsev
Rosen-Carrick
Borgman-Polak
---
Montreal Canadiens
Defenceman Shea Weber is not practicing with the team due to a therapy day. - Team Tweet
---
Ottawa Senators
Senators veteran defenceman Johnny Oduya left Thursday's opener against the Washington Capitals with a lower-body injury and did not return. Head coach Guy Boucher didn't have much of an update on his status following the game, but mentioned they may have to call a player up from the minors for Saturday's contest against the Detroit Red Wings. Boucher listed him as day-to-day on Friday. Rookie forward Alex Formenton will make his NHL debut on Saturday. - Brent Wallace, TSN
Defenceman Erik Karlsson continues to be out "day-to-day" as he recovers from off-season ankle surgery. - Brent Wallace, TSN
Friday's Practice Lines - Brent Wallace, TSN
Forwards
Ryan Brassard Stone
Dzingel Turris Smith
Hoffman Pageau Pyatt
Formenton Thompson Burrows
Brown
---
Calgary Flames
According to TSN's Jermain Franklin, goaltender Mike Smith was back on the ice after being given a maintenance day yesterday. Meanwhile, Jaromir Jagr continued to take a regular turn on the third line with Sam Bennett and Kris Versteeg as well as time on both powerplay units. Franklin notes that whether Jagr plays on Saturday against the Winnipeg Jets will be up to head coach Glen Gulutzan.
Friday's Practice Lines - Jermain Franklin, TSN
Forwards
Gaudreau-Monahan-Ferland
Tkachuk-Backlund-Frolik
Versteeg-Bennett-Jagr
Glass-Stajan-Brouwer
Hrivik-F.Hamilton-Lazar
Defencemen
Giordano-Hamilton
Brodie-Hamonic
Bartkowski-Stone
Kulak
---
Winnipeg Jets
Friday's Practice Lines - Brian Munz, TSN
Forwards
Ehlers-Scheifele-Wheeler
Perreault-Little-Laine
Matthias-Lowry-Petan
Tanev-Copp-Armia
Dano
Defence
Morrissey-Byfuglien
Kulikov-Trouba
Enstrom-Myers
Chiarot-Poolman
Goalies
Mason
Hellebuyck
---
New York Islanders
Veteran right winger Jason Chimera will be in the New York Islanders opening night lineup Friday against the Columbus Blue Jackets while Josh Ho-Sang will be a healthy scratch. The 21-year-old scored four goals and added six assists over 21 games last season. - NewsDay
---
Vegas Golden Knights
Recently acquired goalie Malcolm Subban will backup Marc-Andre Fleury Friday night in the team's first game in franchise history against the Dallas Stars. - Las Vegas Review-Journal
---
Minnesota Wild
Forward Mikael Granlund was not at practice on Friday. The 25-year-old centre was dealing with an ankle practice in training camp and was seen walking around with a limp after the team's 4-2 loss to the Red Wings Thursday. - Michael Russo, The Athletic
---
TSN Notes
Expansion Teams 1st Game Results (1991-Present)
Team Date Res Score Opp
CBJ Oct 7/00 Lost 5-3 CHI
MIN Oct 6/00 Lost 3-1 ANA
ATL Oct 2/99 Lost 4-1 NJ
NSH Oct 10/98 Lost 1-0 FLA
ANA Oct 8/93 Lost 7-2 DET
FLA Oct 6/93 Tie 4-4 CHI
OTT Oct 8/92 Won 5-3 MTL
TB Oct 7/92 Won 7-3 CHI
SJ Oct 4/91 Lost 4-3 VAN
(Vegas at Dallas tonight)
Islanders at Blue Jackets - 7PM
CBJ were 3-1-0 vs NYI last season, 2-0-0 at home
CBJ have outscored NYI 13-2, last 2GP at CBJ
CBJ:
28-12-1 .695PTS% at home last season, T4th best home record
Atkinson (3G, 2A) in 4GP vs NYI last season
NYI:
won 6 straight to end last season, outscoring opponent 19-8, 16/17 on PK
Tavares (2G, 2A) in 4GP vs NYI last season
Panthers at Lightning - 730PM
Both teams 2-1-1 in season series last year
TB has gone 7-1-1 past 9GP at home vs FLA
FLA:
2-7-1 final 10 reg season road games in 16-17, 17GF
Yandle 4A vs TB in 4GP last season
TB:
4-0-1 in final 5 reg season home games, 21GF, 5/12 on PP
Kucherov (2G, 1A) vs FLA in 4GP last season
Golden Knights at Stars - 830PM
Last expansion teams 1st game:
MIN - Oct 6/00, CBJ - Oct 7/00 both lost
DAL:
8-4-0 final 12 reg season home GP in 16/17, 3.5GF/G
Seguin had 2G in 3GP in pre-season
VGK:
3-2-1 in pre-season, 8/37 on PP
Hunt (1G, 5A) in 4 pre-season GP