Ice Chips: Berglund in, Sheary out for Sabres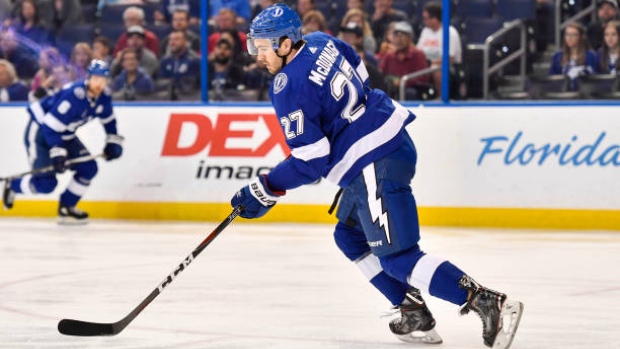 Keep updated on all the injury news and roster updates from around the NHL with daily Ice Chips.
---
Buffalo Sabres
Sabres forward Patrik Berglund has been activated from injured reserve and forward Conor Sheary was put on IR ahead of tonight's game against the Florida Panthers.
Berglund has missed the last three games after being put on IR with an upper-body injury. The 30-year-old Swede has only 2 goals and 2 assists in 19 games this season.
Sheary, who has missed the past two games with an upper-body injury, has 6 goals and 6 assists in 24 games this season.
---
San Jose Sharks
Sharks forward Timo Meier was absent from today's morning skate and will miss tomorrow afternoon's game against the Senators in Ottawa, per Kevin Kurz of The Athletic San Francisco.
There is still no word as to the cause of Meier's absence, or how much time he may miss.
The 22-year-old Switzerland native has 13 goals and 10 assists in 25 games this season.
---
St. Louis Blues
Defenceman Robert Bortuzzo will return to the Blues lineup tonight against the Colorado Avalanche.
Bortuzzo, who's been on injured reserve with a lower-body injury, hasn't played since Oct. 20.
The 29-year-old has a goal in five games played this season.
---
Tampa Bay Lightning
Defenceman Ryan McDonagh is listed as day-to-day with an upper-body injury, according to Joe Smith of The Athletic Tampa Bay.
The injury could have occurred when McDonagh got checked into boards from behind by Jack Eichel in Thursday night's game against the Buffalo Sabres.
McDonagh has 2 goals and 16 assists in 26 games for the Lightning this season.
---
Philadelphia Flyers
Goalie Michael Neuvirth is ready to return to the Flyers' lineup, per John Boruk of NBC Sports Philadelphia.
Neuvirth will serve as Anthony Stolarz's backup for Saturday's game in Pittsburgh, but will likely be the team's starter untill Brian Elliott returns from injury.
In his only start this season, Neuvirth got shelled for six goals against vs. the New York Islanders.
---
Carolina Hurricanes
Goaltender Scott Darling has cleared waivers and been assigned to the Charlotte Checkers of the AHL.
Darling is in the second year of a four-year, $16.6 million contract with Carolina after coming from the Blackhawks.
In seven starts this season, Darling has a 2-4-1 record with a 3.14 goals-against average and a .892 save percentage.
---
Dallas Stars
Goaltender Ben Bishop will be activated from injured reserve, per Mark Stepnaski of NHL.com.
Bishop has been out with a lower-body injury since getting hurt against the New York Rangers on Nov. 19.
The 32-year-old netminder will be a welcome addition back into Dallas' lineup, as he has posted a 2.33 goals-against average and a .923 save percentage in 15 games this season.
---
Carolina Hurricanes
Forward Micheal Ferland has been diagnosed with a concussion, according to Michael Smith of NHL.com.
There has been no timeframe announced for his absence from the team.
Ferland has 11 goals and 4 assists for 15 points in 24 games this season.
---
Montreal Canadiens
TSN's John Lu reports there are strong indications forward Paul Byron will return to the Canadiens for Saturday's game against the New York Rangers after missing the month of November due to a LBI.
The lines at Montreal's practice this morning were as follows:
Tatar - Danault - Gallagher
Drouin - Domi - Shaw
Byron - Kotkaniemi - Lehkonen
Agostino - Chaput - Deslauriers
Hudon - Peca - Scherbak
Kulak - Weber
Schlemko - Petry
Reilly - Benn
Ouellet
Price
Niemi
---
Washington Capitals
Evgeny Kuznetsov will return to the Capitals' lineup tonight when they host the New Jersey Devils, according to Isabelle Khurshudyan of The Washington Post.
Kuznetsov has been out with an upper-body injury, suspected to be a concussion, since getting hurt against the Winnipeg Jets on Nov. 14.
In 18 games this season, Kuznetsov has 6 goals and 15 assists.
---
NHL Game Notes
Longest Active Win Streaks
6 WASHINGTON
6 COLORADO
5 VEGAS
3 TORONTO
Teams With Players With 20 or More Points
CGY 5 (Play LAK tonight who have 0, 20P players)
PIT 5
FLA 5
COL 4
WPG 4
WSH 4
TB 4
SJ 4
David Rittich Last 8 Starts
Rec 6-1-1
GAA 2.13
SV% .919
SO 1
Mike Smith Last 9 Starts
Rec 3-5-1
GAA 3.33
SV% .879
SO 0
Sabres (36P) at Panthers (22P) - 7PM (Nov 30)
FLA 4-0-0 vs BUF in 17-18, 4GF in each game. FLA 4 straight home wins vs BUF
FLA: (9-10-4)
1-3-1 last 5GP, 22GA, PK 11/13
Huberdeau (1G, 6A) last 3GP
BUF: (17-7-2)
5-1-0 last 6GP on road, all decided by 1G, 21GA, PP 3/16
Eichel (1G, 10A) last 8GP
Devils (22P) at Capitals (31P) - 7PM (Nov 30)
NJ 1-0-0 vs WSH in 18-19, 6-0 home win. WSH 6-0-1 last 7GP at home vs NJ
WSH: (14-7-3)
Won 6 straight, 13GA, PK 17/18
Backstrom (2G, 6A) last 6GP
NJ: (9-10-4)
0-1-2 last 3GP, 13GA, PP 0/7
Hall (2G, 3A) last 4GP
Ducks (29P) at Hurricanes (27P) - 730PM (Nov 30)
ANA 2-0-0 vs CAR in 17-18, ANA 4 straight wins vs CAR. 8-1-0 last 9GP vs CAR
CAR: (12-9-3)
4-1-0 last 5GP, 9GA, PK 10/10
Aho (1G, 1A) last 5GP
ANA: (12-10-5)
4-1-0 last 5GP, 12GA, PK 11/16
Getzlaf (1A) last 3GP
Blues (19P) at Avalanche (34P) - 9PM (Nov 30)
STL 3-2-0 vs COL in 17-18, COL winning final 2 meetings.
COL: (15-6-4)
Won 6 straight, 28GF, PP 8/18
Rantanen (3G, 10A) 6 game PT streak
STL: (8-12-3)
Lost 2 straight, 12GA, PK 6/7
O'Reilly (2G, 2A) last 3GP
Kings (19P) at Flames (30P) - 9PM (Nov 30)
CGY 1-0-0 vs LAK in 18-19, shutout win in LA. LAK have won 2 of their past 3GP in CGY
CGY: (14-9-2)
4-1-1 last 6GP, 26GF, PP 6/23
Gaudreau (3G, 6A) last 6GP
LAK: (9-15-1)
3-2-0 last 5GP, 10GF, PP 1/10
Kopitar (1G, 7A) last 4GP