Oilers' Draisaitl out Saturday vs. Sens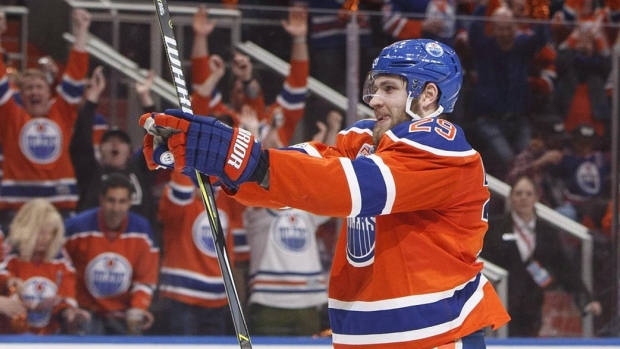 Keep updated on all the injury news and roster moves from around the NHL with daily Ice Chips.
Montreal Canadiens
Defenceman Mark Streit claired waivers on Friday and has been loaned to the Laval Rockets of the American Hockey League. Streit was minus-2 in two games with the Canadiens this season.
Forward Alex Galchenyuk missed practice Friday with flu-like symptoms. Head coach Claude Julien said it was "too early" to know if he'll play Saturday against the Leafs. Defenceman David Schlemko, who's out with a hand injury, has been sent to the Rockets for a conditioning stint. - John Lu, TSN
Friday's Practice Lines
F
Pacioretty - Drouin - Lehkonen
Byron - Plekanec - Gallagher
Hudon - Danault - Shaw
De La Rose - Mitchell - Hemsky
D
Mete - Weber
Alzner - Petry
Benn - Davidson
Morrow
G
Price
Montoya
Need To Know: Leafs vs. Canadiens
Last Leafs win vs. Montreal - Jan. 18, 2014
- 14 straight wins by Montreal
- 5 wins past regulation
- 7 wins in Montreal
- 46 GF, Montreal
- 27 GF, Toronto
- 10/52 on PP for Montreal
- 7/46 on PP for Toronto
Last Leafs win in Montreal - Oct. 1, 2013
- 8 straight wins by Montreal at home vs. Toronto
- 2 wins past regulation
- 26 GF, Montreal
- 12 GF, Toronto
- 8/32 on PP for Montreal
- 2/29 on PP for Toronto
Carey Price's last 11 starts vs. Toronto
- Record: 11-0-0
- GAA: 1.88
- SV%: .944
- SO: 1
- 7 of the wins by 1G
---
Edmonton Oilers
Oilers forward Leon Draisaitl missed practice again Friday with a swollen eye and will not play Saturday against the Ottawa Senators, the team announced Friday.
"The swelling has come down in the eye and he has a bit of vision in it," McLellan said Thursday. "But it wasn't safe to put him on the ice (Thursday) and it's not something we're going to fool around with until he's 100 per cent ready to come back." Winger Drake Caggiula missed his fifth straight practice as well. - Edmonton Sun, Ryan Rishaug, TSN
Friday's Oilers Practice Lines
F
Maroon-McDavid-Yamamoto
Lucic-RNH-Kassian
Jokinen-Strome-Slepyshev
Khaira-Letestu-Pakarinen
---
---
Toronto Maple Leafs
Injured defenceman Connor Carrick says he's feeling better and should be able to play vs. Habs. - Kristen Shilton, TSN
Friday's Practice Lines - Kristen Shilton, TSN
F
Hyman-Matthews-Nylander
JvR-Bozak-Marner
Marleau-Kadri-Komarov
Martin-Moore-Brown
D
Rielly-Hainsey
Gardiner-Zaitsev
Borgman-Carrick
Rosen-Polak
---
Carolina Hurricanes
Trevor van Riemsdyk (concussion) will not join the team on their upcoming road swing out West. - Team Tweet
---
Nashville Predators
Roman Josi skated Friday morning as he returns from his lower-body injury. Yannick Weber did not skate after taking a high hit on Thursday. - Adam Vingan, Tennessean
---
Los Angeles Kings
Forward Kyle Clifford is out week-to-week with an upper-body injury suffered against the Calgary Flames on Wednesday. - Los Angeles Times
---
New Jersey Devils
Veteran forward Drew Stafford is expected to be sidelined Friday vs. the Washington Capitals with a lower-body injury. Cory Schneider will start against the Caps while Keith Kinkaid will go Saturday against the New York Rangers. - Andrew Gross, The Record