Ice Chips: Virtanen in, Boeser out for opener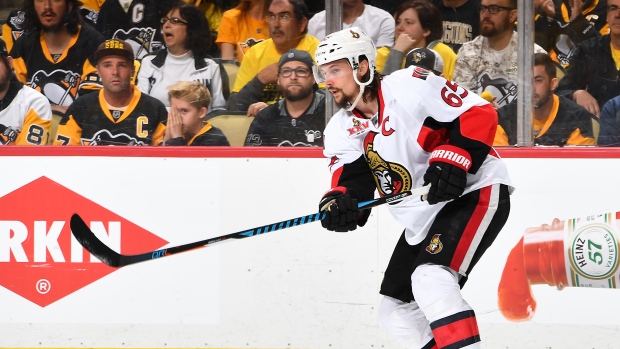 Keep updated on all the injury news and roster moves from around the NHL with daily Ice Chips.
Vancouver Canucks
Jake Virtanen, 21, and Brock Boeser, 20, are two promising right wingers heading into the 2017-18 season, but only one will be in the Canucks opening night lineup against the Edmonton Oilers Saturday night. Virtanen is in while Boeser, the 23rd overall pick in the 2015 Draft, will be a healthy scratch. Virtanen, selected sixth overall in 2014, only played in 10 games with the Canucks last season. He scored nine goals and added 10 assists over 65 AHL games. The team also released Ryan White from his professional tryout on Saturday. - Team Tweet
Projected Lineup vs. Oilers - Stu Walters, TSN
Forwards
Sedin Sedin Vanek
Baertschi Horvat Eriksson
Gagner Burmistrov Virtanen
Granlund Sutter Dorsett
Defence
Edler Tanev
Del Zotto Gudbranson
Hutton Stecher
Goalies
Markstrom
Edmonton Oilers
The Edmonton Oilers have recalled forward Anton Slepyshev from the American Hockey League's Bakersfield Condors (AHL). - Team Release
Projected Lineup vs. Canucks - Stu Walters, TSN
Forwards
Maroon McDavid Draisaitl
Lucic Nugent-Hopkins Kassian
Caggiula Strome Jokinen
Khaira Letestu Pekarinen
Defence
Klefbom Larsson
Russell Benning
Nurse Gryba
Goalies
Cam Talbot
Ottawa Senators
Captain Erik Karlsson is still recovering from off-season ankle surgery and will not be in the lineup Saturday against the Detroit Red Wings. "I'm not going to play tonight. It's going to be day-to-day here," he said after the morning skate. The 27-year-old also said he wasn't sure if he'll travel with the team on their upcoming West coast road trip. - Brent Wallace, TSN
The team recalled defenceman Ben Harpur from the American Hockey League. The 22-year-old Hamilton native has played in 11 NHL games, recording a single assist.
Winnipeg Jets
Projected lines vs. Flames
Forwards
Ehlers-Scheifele-Wheeler
Perreault-Little-Laine
Matthias-Lowry-Petan
Tanev-Copp-Armia
Defence
Morrissey-Byfuglien
Kulikov-Trouba
Enstrom-Myers
Goalies
Mason
Hellebuyck
Calgary Flames
Recently signed veteran forward Jaromir Jagr will not play in the team's home opener tonight against the Winnipeg Jets.
Projected Lines vs. Jets - Jermain Franklin, TSN
Forwards
Gaudreau-Monahan-Ferland
Tkachuk-Backlund-Frolik
Versteeg-Bennett-Lazar
Glass-Stajan-Brouwer
Hrivik-F.Hamilton-Lazar
Defence
Giordano-Hamilton
Brodie-Hamonic
Bartkowski-Stone
Kulak
Goalies
Smith starting
Lack
Toronto Maple Leafs
Projected Lines vs. Rangers - Kristen Shilton, TSN
Forwards
Hyman-Matthews-Nylander
Marleau-Kadri-Komarov
van Riemsdyk-Bozak-Marner
Martin-Moore-Brown
Defence
Rielly-Hainsey
Gardiner-Zaitsev
Rosen-Carrick
Anaheim Ducks
Ducks captain Ryan Getzlaf will likely miss Saturday's game against the Philadelphia Flyers with a lower-body injury that caused him to miss the opener on Thursday. Forward Patrick Eaves and goalie Ryan Miller, who are both on the injured reserve, will be eligible to return Wednesday. - The Orange County Register
Boston Bruins
Third-year forward Noel Acciari will miss the next six weeks after suffering a broken left index finger from blocking a shot. - Joe Haggerty, NBC Sports Boston
Chicago Blackhawks
Defenceman Cody Franson, who was signed by the team this week after a successful professional tryout, will likely be a healthy scratch Saturday when Chicago plays the Columbus Blue Jackets. Centre Tanner Kero is questionable with an undisclosed injury suffered Thursday. - Chicago Tribune
Minnesota Wild
Zach Parise could be ready to make his season debut next Saturday according to head coach Bruce Boudreau. Boudreau says the forward is skating well as he recovers from his back injury. Michael Russo, The Athletic
Colorado Avalanche
Promising defenceman Nikita Zadorov was scratched for the Avs' season opener on Thursday, but will be in the lineup Saturday against the New Jersey Devils. - Denver Post