Ice Chips: Gudbranson to undergo shoulder surgery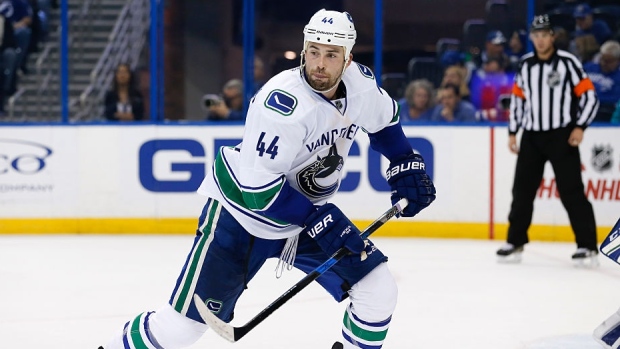 Keep updated on all the injury news and roster moves from around the NHL with daily Ice Chips.
---
Vancouver Canucks
Defenceman Erik Gudbranson was removed from the Canucks' active roster as he will undergo shoulder surgery in the near future. The 26-year-old sustained the injury on Nov. 12 and missed 12 games before returning to the lineup after rehabbing the shoulder. However, the team's medical staff has determined that surgery is the best course of action at this point of the season. Gudbranson has two goals and three assists over 52 games in Vancouver this season. - Team Tweet
---
Calgary Flames
The Flames activated forward Kris Versteeg off of injured reserve on Wednesday.
The 31-year-old winger has been out since undergoing hip surgery in November. He has three goals and eight points in 22 games this season.
Versteeg scored 15 goals and had 37 points in 69 games with the Flames last season.
---
Toronto Maple Leafs
With defenceman Nikita Zaitsev and Travis Dermott out with the flu, the Leafs called up D-man Calle Rosen from the American Hockey League on Tuesday. However, with Dermott participating in an optional skate Wednesday morning and likely to play against the Dallas Stars, Toronto sent Rosen back to the minors. Zaitsev, however, will miss a second straight game due to an illness.
Projected Lineup vs. Stars - Mark Masters, TSN
Forwards
Hyman-Nylander-Marner
Marleau-Kadri-Komarov
JvR-Bozak-Brown
Johnsson-Plekanec-Kapanen
Defence
Rielly-Hainsey
Gardiner-Polak
Dermott-Carrick
---
Winnipeg Jets
The Jets recalled goalie Eric Comrie from the Manitoba Moose of the American Hockey League. - Team Tweet
---
Dallas Stars
The team recalled defenceman Dillon Heatherington from the AHL. - Team Tweet
Defenceman Marc Methot is out with a hand injury and will not play Wednesday vs. the Maple Leafs. - Mark Masters, TSN
---
Columbus Blue Jackets
Defenceman Seth Jones, who left Monday's game with an upper-body injury, should be good to go Thursday against the Philadelphia Flyers. Winger Matt Calvert (illness) will be back Thursday as well. - George Richards and Steve Gorten, Columbus Dispatch
Jackets also signed defenceman Dean Kukan to a two-year contract extension. - Team Tweet
---
Vegas Golden Knights
Forwards James Neal and Reilly Smith are both dealing with upper-body injuries and both are expected to miss Wednesday's game against the New Jersey Devils. - David Schoen, Las Vegas Review-Journal
---
New York Rangers
Second-year defenceman Tony DeAngelo will miss the next three-to-four weeks after suffering a sprained ankle Monday night against the Carolina Hurricanes. - Team Tweet, Las Vegas Review-Journal
---
Florida Panthers
Defenceman Alex Petrovic is out day-to-day with a lower-body injury. - Jameson Olive, Panthers Website
---
Pittsburgh Penguins
Winger Bryan Rust, who has missed the last game with a concussion, will be a game-time decision against the New York Rangers Tuesday night. - Team Tweet
---
Buffalo Sabres
Winger Justin Bailey has been called up from the AHL. - Team Tweet
---