Ice Chips: Price to travel with Habs to Dallas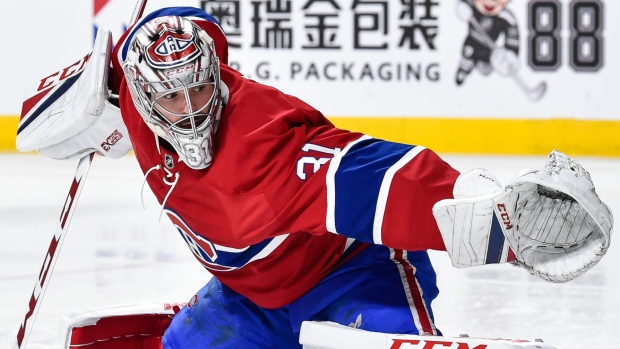 Keep updated on all the injury news and roster moves from around the NHL with daily Ice Chips.
Montreal Canadiens
Habs injured goalie Carey Price returned to the practice ice for the first time in a week on Monday. After practice, Canadiens head coach Claude Julien said the team will continue to take things day by day with Price, but the goaltender will join the team for their back-to-back games on the road on Tuesday and Wednesday.
Though Price will make the trip, Charlie Lindgren will start on Tuesday night against the Dallas Stars. Price has been sidelined since Nov. 2 with a lower-body injury.
Defenceman David Schlemko, who had hand surgery on Oct. 18, practiced for the first time since the opening of training camp on Monday and will also join the Canadiens for their road trip.
Fellow defenceman Shea Weber left the ice 10 minutes into practice. Julien said Weber will travel with the team as well.
Price's Monday Timeline - John Lu, TSN
9:53am - Hit ice
9:55am - Received shots by Stephane Waite, concentrating on lateral and post-to-post movements.
10:06am - Teammates started hitting the ice for practice
10:12am - Price finished his work
10:16am - Price took up the backup goalie's net for full practice
Monday's Practice Lines
Forwards
Pacioretty - Drouin - Galchenyuk
Byron - Danault - Shaw
Hudon - Plekanec - Gallagher
Deslauriers - De La Rose - Froese
Defence
Benn - Weber***
Alzner - Petry
Mete - Morrow
Schlemko** - Davidson
Goalies
Lindgren
Price*
Niemi
---
Ottawa Senators
Defenceman Mark Borowiecki suffered a concussion Sunday night against the New York Rangers. Borowiecki flew home to Ottawa Monday morning as the Sens prepare to battle the Capitals in Washington on Wednesday. - Ken Warren, Ottawa Citizen
---
Toronto Maple Leafs
Monday's Projected Lines vs. Coyotes - Kristen Shilton, TSN
Forwards
Hyman-Matthews-Nylander
Marleau-Kadri-Komarov
JvR-Bozak-Marner
Martin-Moore-Brown
Soshnikov-Leivo
Defence
Rielly-Hainsey
Gardiner-Zaitsev
Borgman-Carrick
Goalies
Andersen starts
McElhinney
---
Winnipeg Jets
Projected Lines vs. Predators - Brian Munz, TSN
Forwards
Connor-Scheifele-Wheeler
Ehlers-Little-Laine
Copp-Lowry-Tanev
Perreault-Hendricks-Armia
Defence
Morrissey-Trouba
Chiarot-Byfuglien
Kulikov-Myers
Goalies
Hellebuyck
Mason
---
Minnesota Wild
Forward Charlie Coyle, who has been sidelined since Oct. 12 with a broken right fibula, was activated from the long-term injured reserve on Monday. Forward Zach Parise was placed on the long-term injured reserve. Parise underwent successful microdiscectomy surgery on Oct. 24 and hasn't played a game this season. - Team Tweet
---
Vancouver Canucks
Forward Anton Rodin placed on unconditional waivers for the purpose of being released from his contract. - Team Tweet
---
Buffalo Sabres
Superstar Jack Eichel appeared to be skating on the third line at practice Monday. The 21-year-old has five goals and 11 assists over 20 games this season for the Sabres who sit last in the Atlantic Division. - Mike Harrington, Buffalo News
---
Dallas Stars
Dallas Stars defenceman Marc Methot will miss 4-6 weeks after having his knee scoped on Sunday. The Stars will also be without forward Martin Hanzal for the next three to seven days with a hand injury. Backup goalie Kari Lehtonen is unavailable indefinitely due to personal reasons. Dallas called up Mike McKenna from the Texas Stars of the American Hockey League to backup starter Ben Bishop. - Team Tweet
---
Philadelphia Flyers
Forward Matt Read was placed on waivers. The 31-year-old has played four games with the Flyers this season.
---