Ice Chips: Boucher says Brassard is ready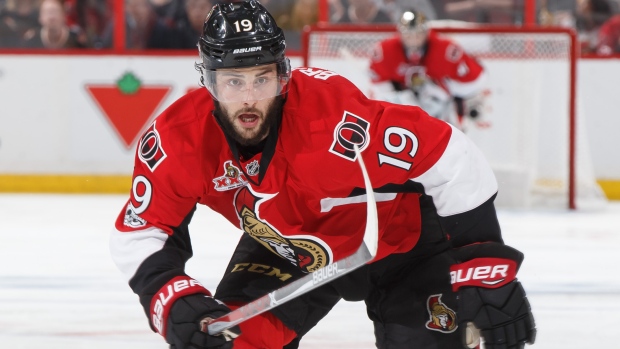 Keep updated on all the injury news and roster moves from around the NHL with daily Ice Chips.
Edmonton Oilers
Lines for Wednesday night's game against the Calgary Flames:
Maroon-McDavid-Draisaitl
Lucic-Nugent-Hopkins-Yamamoto
Caggiula-Strome-Jokinen
Khaira-Letestu-Kassian
Klefbom-Larsson
Russell-Benning
Nurse-Gryba
Talbot
---
Calgary Flames
Gaudreau-Monahan-Ferland
Tkachuk-Backlund-Frolik
Versteeg-Bennett-Brouwer
Glass-Stajan-Hathaway
Giordano-Hamilton
Brodie-Hamonic
*Bartkowski-Stone
- *Kulak a possibility for Bartkowski
Smith
---
Winnipeg Jets
Goaltender Steve Mason will make his first career start with the team in the season opener against the Toronto Maple Leafs tonight. - Winnipeg Sun.
WEDNESDAY'S LINES
Perreault-Scheifele-Wheeler
Ehlers-Little-Laine
Matthias-Lowry-Armia
Dano-Copp-Tanev
Morrissey-Trouba
Enstrom-Byfuglien
Kulikov-Myers
Mason
Hellebuyck
---
Ottawa Senators
Head coach Guy Boucher says centre Derick Brassard is good to go for Thursday's opener against Washington.
Brassard said earlier in the day that he is pain free from his off-season shoulder surgery and would be surprised if he isn't in the lineup.
Logan Brown has officially switched his jersey # from 51 to 21. It's the number his Dad, Jeff, wore his entire NHL career and the number Logan has always worn as well. Jeff and several other members of Logan's family will be in attendance tomorrow night.
---
Detroit Red Wings
Niklas Kronwall skated on his own Tuesday as he recovers from a groin injury. Head coach Jeff Blashill said the team would make a decision on the defenceman's status for their opener on Wednesday. The Red Wings host the Minnesota Wild on Thursday. - The Detroit News
---
Boston Bruins
Patrice Bergeron is hoping to play against the Nashville Predators on Thursday, but is dealing with a lower-body injury. Bergeron said he's taking his recovery one day at a time. Defenceman Torrey Krug, who sustained a broken jaw in the preseason will not play against the Predators. - Boston Herald.
---
Montreal Canadiens
WEDNESDAY'S LINES
Pacioretty - Drouin - Gallagher
Hudon - Plekanec - Lehkonen
Galchenyuk - Danault - Shaw
Byron - De La Rose -Hemsky
Mitchell
Mete - Weber
Alzner - Petry
Benn - Streit
Morrow - Davidson
Price
Montoya
---
Toronto Maple Leafs
WEDNESDAY'S LINES
Hyman-Matthews-Nylander
Marleau-Kadri-Komarov
JvR-Bozak-Marner
Martin-Fehr-Brown
Rielly-Hainsey
Gardiner-Zaitsev
Borgman-Carrick
---
Chicago Blackhawks
The team officially placed Marian Hossa on long-term injured reserve on Wednesday and signed defenceman Cody Franson to a one-year contract.
According to TSN Hockey Insider Pierre LeBrun, the deal is worth $1 million. Franson carried a $3.25 million cap hit last season.
Franson, 30, spent training camp with the Blackhawks on a professional tryout. He scored one goal and posted four points in three preseason games.
He scored three goals and posted 19 points in 68 games with the Buffalo Sabres last season.