Ice Chips: McDavid to return vs. Blues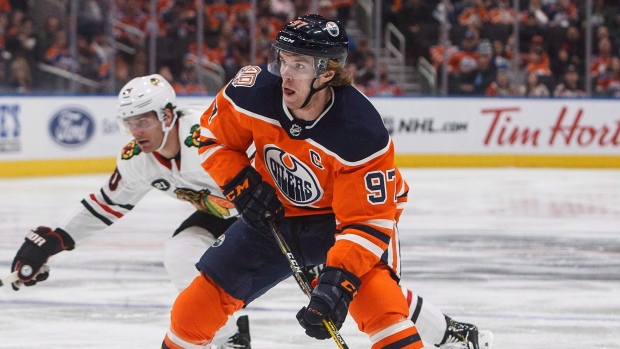 Keep updated on all the injury news and roster updates from around the NHL with daily Ice Chips.
---
Edmonton Oilers
Connor McDavid will return to the lineup tonight against the St. Louis Blues after sitting out Monday's loss to the Dallas Stars due to illness. Drake Caggiula will miss tonight's game against the Blues due to a hand injury, while Cam Talbot will start in net. - Jack Michaels.
McDavid has 14 goals and 35 points in 26 games this season.
The Oilers used the following forward lines at practice on Tuesday:
Chiasson-McDavid-Draisaitl
Khaira-RNH-Puljujarvi
Caggiula-Spooner-Rattie
Lucic-Brodziak-Kassian
Extras: P. Russell, Wideman, Garrison.
---
Dallas Stars
The Stars placed forward Gemel Smith on waivers Wednesday.
Smith, 24, has two goals and three points in 14 games with the Stars this season.
He scored six goals and posted 11 points in 46 games with the team last season.
---
Montreal Canadiens
Defenceman Noah Juulsen is awaiting medical clearance to return to the team's lineup. TSN's John Lu reports Juulsen could return as soon as Sunday, though he will be sporting a cage to protect his facial fracture into January.
Juulsen took two shots to the face against the Washington Capitals on Nov. 19.
Practice lines Wednesday:
Tatar - Danault - Gallagher
Drouin - Domi - Shaw
Byron/Hudon - Kotkaniemi - Lehkonen
Agostino - Chaput - Peca/Deslauriers
Kulak - Weber
Schlemko - Petry
Reilly - Benn
Ouellet - Juulsen
Price
Niemi
---
Columbus Blue Jackets
The Blue Jackets have loaned defenceman Dean Kukan to the AHL's Cleveland Monsters for a conditioning assignment.
Kukan, 25, is without a point in six games with the Blue Jackets this season and last dressed for the team on Nov. 6.
He has four assists in 25 career games with the team over the past three seasons.

---
Buffalo Sabres
The team assigned defenceman Matt Tennyson to the AHL's Rochester Americans on Wednesday morning,
Tennyson has not appeared in a contest with the Sabres this season. He dressed in 15 games last season, failing to record a point.
---
TSN Game Notes
Oilers (28P) at Blues (21P) - 8PM (Dec 5)
STL 2-1-0 vs EDM in 17-18, 1-0-0 at home. EDM has won 2 of their past 3GP in STL (lost last)
STL: (9-13-3)
3-8-0 last 11GP, 24GF, PP 4/28
O'Reilly (2G, 3A) last 5GP
EDM: (13-12-2)
1-6-1 last 8GP on road, 15GF, PP 5/23
McDavid missed last game with the flu (4G, 8A) last 8GP
Hurricanes (28P) at Sharks (31P) - 1030PM (Dec 5)
CAR 1-0-0 vs SJ in 18-19, SOW at home. SJ 3 straight home wins vs CAR
SJ: (13-10-5)
Coming off a 1-3-1 road trip, outscored 21-10, PP 5/16
Burns (1G, 4A) 4 game PT streak
CAR: (12-10-4)
1-2-1 last 4GP, 4GF, PP 1/13
Aho (1A) last 4GP
Blackhawks (23P) at Ducks (33P) - 1030PM (Dec 5)
CHI 1-0-0 vs ANA in 18-19, 3-1 win at home. ANA 2 straight home wins vs CHI, 10GF.
ANA: (14-10-5)
Won 4 straight, 14GF, PP 3/11
Getzlaf (2G, 3A) last 3GP
CHI: (9-14-5)
Lost 4 straight, 22GA, PK 10/15
Kane (1G, 4A) last 5GP