Ice Chips: Maroon out Thursday vs. Avs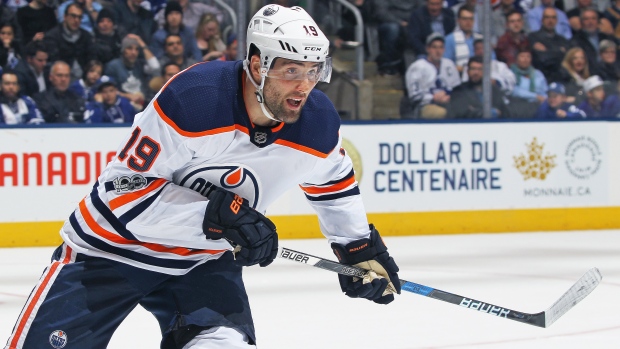 Keep updated on all the injury news and roster moves from around the NHL with daily Ice Chips.
---
Edmonton Oilers
Patrick Maroon has a minor lower-body injury and will not play Thursday night against the Colorado Avalanche but will likely return on the weekend, head coach Todd McLellan said. Maroon missed their optional skate Thursday morning and did not stake with the team Wednesday either.
According to TSN's Ryan Rishaug, Maroon was banged up during their 4-1 loss to the Vegas Golden Knights last week and hasn't looked quite right since.
Maroon currently occupies the No. 5 on TSN's Trade Bait list.
Forward Drake Caggiula also missed Thursday's skate with an illness and will not play against the Avalanche. He too could make his return on the weekend McLellan said.
---
Philadelphia Flyers
Newly acquired goaltender Petr Mrazek is expected to make his debut Thursday night at home against the Columbus Blue Jackets according to the Philadelphia Inquirer.
The Flyers got Mrazek from the Detroit Red Wings earlier in the week in exchange for conditional third and fourth-round picks.
"This is a sign that our players have done a really good job," Flyers general manager Ron Hextall said in a conference call. "Our players have worked hard for a long time now, and I didn't feel like it was fair to not have a proven NHL goaltender for this team. That's the reason we acted."
In 22 games so far this season, he has a GAA of 2.89 and a save percentage of .910.
---
Washington Capitals
Defenceman Michal Kempny is expected to make his Capitals debut on Thursday night against the Florida Panthers.
Kempny was acquired Monday from the Chicago Blackhawks for a third-round draft pick.
The 27-year-old had one goal and seven points with a plus-13 rating in 31 games with the Blackhawks.
---
Winnipeg Jets
The Winnipeg Jets have activated goaltender Michael Hutchinson (concussion) from injured reserve. He has not played since Jan. 30.
As a corresponding move, the club sent down goaltender Eric Comrie.
Head coach Paul Maurice said that both Adam Lowry and Shawn Matthias skated on their own prior to practice Thursday. Injured forward Brandon Tanev also practiced Thursday in a non-contact jersey and might make his return against the Nashville Predators next week.
The Jets announced that they have recalled rookie defenceman Tucker Poolman from the AHL's Manitoba Moose, the team announced Thursday.
Poolman has played 15 games so this season with the big club and scored his first NHL goal on Dec. 23 against the New York Islanders.
---
New York Rangers
The Rangers announced that they have recalled forward Vinni Lettieri from the AHL's Hartford Wolf Pack.
The 37-year-old has skated in 37 games this season for the Wolf Pack, scoring 14 goals and adding nine assists. In 16 NHL contests, he has one goal and four assists.
---
Detroit Red Wings
Injured Red Wings defenceman Mike Green (neck) could make his return on the weekend according to head coach Jeff Blashill.
He will miss his fourth straight game Thursday night against the Buffalo Sabres.
Green currently occupies the No. 3 spot on TSN Trade Bait list behind Rick Nash and Erik Karlsson.
---
Toronto Maple Leafs
Head coach Mike Babcock announced that an illness to someone on the team may mean Matt Martin plays Thursday night against the New York Islanders.
Martin has not played since the Leafs fell 4-2 to the Colorado Avalanche on Jan. 22. In that game, he was a minus-2 in just over seven minutes of ice time.
In 47 games so far this season, the 28-year-old has three goals and eight assists.
Connor Carrick could also return to the Leafs' lineup tonight in place of Roman Polak, as TSN's Mark Masters notes that the latter stayed out late at the club's optional skate, normally an indicator of sitting out.
---
Ottawa Senators
Ottawa Senators forward Bobby Ryan is expected to return to the team's lineup Thursday against the Tampa Bay Lightning after missing the past three weeks with a finger injury.
Senators head coach Guy Boucher made the announcement Wednesday. The 30-year-old Ryan was originally injured on Feb. 1 in the Senators' 1-0 win over the Anaheim Ducks.
In 39 games for the Sens this season, Ryan has seven goals and 13 assists.
---
Columbus Blue Jackets
Forwards Artemi Panarin and Josh Anderson did not skate with the team Thursday morning according to The Athletic's Aaron Portzline. Their availability for Thursday's game against the Philadelphia Flyers is unclear.
Panarin has 48 points in 60 games so far this season, while Anderson has 28 in 58 games.
---
New Jersey Devils
Devils head coach John Hynes announced that winger Drew Stafford will not play Thursday with a lower-body injury.
In 49 games so far this season, Stafford has eight goals and four assists.
In addition, forward Nick Lappin has been sent to the AHL's Binghamton Devils.
---
Pittsburgh Penguins
The Penguins could bring forward Patric Hornqvist back as soon as the weekend reports the Pittsburgh Tribune-Review. He practiced with the team Thursday and head coach Mike Sullivan said "all signs are looking positive at this point."
Hornqvist has been skating for over a week now since leaving the game on Feb. 2 with a lower-body injury.
In 49 games so far this season, he has 16 goals and 15 assists.
---
Dallas Stars
Stars forward Martin Hanzal left Wednesday's game against the Anaheim Ducks with a lower-body injury and did not return.
Head coach Ken Hitchcock said he was going back to Dallas to be evaluated and an update is expected in the next couple days.
In 38 games so far this season, Hanzal has five goals and five assists.
---
Game Notes
Best Records in February
Team GP W L OTL Pts%
Pittsburgh Penguins 9 7 1 1 .833
Boston Bruins 10 8 2 0 .800
Philadelphia Flyers 10 7 1 2 .800
Toronto Maple Leafs 10 8 2 0 .800
Nashville Predators 11 7 2 2 .727
Worst Home Records in 17-18
Team GP W L OTL Pts%
Buffalo Sabres 30 8 18 4 .333
Arizona Coyotes 29 9 16 4 .379
Vancouver Canucks 30 11 15 4 .433
Edmonton Oilers 29 12 15 2 .448
Calgary Flames 31 13 14 4 .484
Lundqvist Last 7GP in MTL
Rec 0-6-1
GAA 4.30
SV% .869
Pulled 1
Andersen During Leafs Home Win Streak
Rec 6-0-0
GAA 2.11
SV% .946
SO 2
Most Shots Faced in 2017-18
Player Team GP SA
Frederik Andersen Tor 51 1746
Henrik Lundqvist NYR 52 1609
Andrei Vasilevskiy TB 50 1580
Sergei Bobrovsky Cls 49 1500
Connor Hellebuyck Wpg 50 1491
Empty Net Goal Leaders
Grabner NYR 7
Trochek FLA 4
Marchessault VGS 4
Eichel BUF 4
Zucker MIN 4
(NHL record for ENG in a season is 9, Bure 99-00)
Wild (71P) at Devils (70P) - 7PM
NJ 1-0-0 vs MIN in 17-18, OTW in MIN. NJ 5 straight wins vs MIN, 2 of the wins at home
NJ (31-21-8):
1-3-0 last 4GP at home, 11GF, PP 1/13
Hall (13G, 14A) has a PT in 19 straight GP
MIN (32-20-7):
4-1-2 past 7GP, 24GF, PP 4/18
Staal (4G, 3A) last 7GP
Jackets (65P) at Flyers (72P) - 7PM
Both teams 1-0-1 in season series. Both games in CLS. PHI won 2 of past 3 at home vs CLS
PHI (31-19-10):
7-0-1 last 8GP, 30GF, PP 6/23. Opponent 0PP last 3GP
Giroux (5G, 7A) last 7GP
CLS (30-25-5):
1-2-1 last 4GP, 8GF, PP 0/7
Panarin (1G, 1A) last 2GP
Islanders (64P) at Leafs (79P) - 7PM
TOR 1-0-0 vs NYI in 17-18, 5-0 home win. TOR 3 straight home wins vs NYI, outscoring them 15-4
TOR (37-20-5):
won 7 straight at home, 31GF, PP 2/18
JVR (6G, 2A) last 10GP
NYI (29-26-6):
2-2-1 last 5GP on road, 10GF, PP 1/7
Tavares (2G) last 5GP
Sabres (45P) at Wings (57P) - 730PM
Teams have split 2GP in 17-18, DET 1-0-0 at home. BUF won 2 of past 3 in DET (lost last)
DET (24-26-9):
lost 2 straight, both at home, both 3-2, PP 1/4
Larkin (1A) last 4GP
BUF (17-32-11):
0-2-1 last 3GP, 6GF, PP 0/7
O'Reilly (2G, 5A) last 5GP
Lightning (83P) at Senators (52P) - 730PM
OTT 1-0-1 vs TB in 17-18, 1-0-0 at home. TB 3-1-0 last 4GP in OTT (lost last)
OTT (21-28-10):
won 5 straight at home, 20GF, PP 4/15
career GP 300 for Stone, 1G, 4A last 3GP
TB (40-17-3):
2-3-0 last 5GP, 17GF, PP 6/19
Kucherov (5G, 7A) 7 game PT streak
Capitals (75P) at Panthers (58P) - 730PM
Teams have split 2GP in 17-18, WSH 1-0-0 in FLA. WSH 2 straight wins in FLA
FLA (26-25-6):
lost 2 straight, both on road, 2GF, PP 2/6
Barkov (2G, 5A) last 5GP
WSH (34-19-7):
2-2-2 last 6GP, 18GF, PP 3/12
Ovechkin (4G, 5A) last 6GP
Rangers (59P) at Canadiens (52P) - 730PM
Teams have split 2GP in 17-18, MTL 1-0-0 at home. MTL won 5 of past 6 at home vs NYR
MTL (22-29-8):
0-4-2 last 6GP, 12GF, PP 3/15
Gallagher (5G, 7A) last 14GP
NYR (27-28-5):
lost 4 straight, outscoring opponent 19-9, PP 3/9
Nash (1G) last 5GP, 1P shy of 800 career
Sharks (74P) at Predators (81P) - 8PM
SJ 1-0-0 vs NSH in 17-18, winning at home. NSH 7-0-1 last 8GP at home vs SJ
NSH (36-14-9):
won 2 straight, 2GA in each game, PK 5/6
Subban (3A) last 6GP
SJ (33-19-8):
won 3 straight, outscoring opponent 12-5, PP 0/7
Couture (2G, 5A) last 7GP
Flames (69P) at Coyotes (44P) - 9PM
CGY 1-0-0 vs ARZ in 17-18, shutout win at home. CGY 3 straight wins in ARZ
ARZ (17-32-10):
won 4 straight, 14GF, PP 4/12
Stepan (1G, 6A) last 7GP
CGY (30-22-9):
0-2-1 last 3GP, 15GA, PK 5/8
Gaudreau (4G, 9A) last 11GP
Avalanche (68P) at Oilers (52P) - 9PM
EDM 1-0-1 vs COL in 17-18, 0-0-1 at home. EDM 1-2-1 last 4GP at home vs COL
EDM (24-31-4):
1-7-0 last 8GP, 31GA, PK 17/22
McDavid (3G, 0A) last 4GP (goals all in same game)
COL (32-23-4):
3-2-0 last 5GP, 18GA, PK 14/18
MacKinnon (1G, 4A) last 3GP
Stars (72P) at Kings (71P) - 1030PM
LAK 1-0-0 vs DAL in 17-18, shutout win in DAL. DAL 2 straight wins in LA
LAK (33-22-5):
won 3 straight, 6GA, PK 6/8
Phaneuf (3G) in 4GP since being traded
DAL (34-22-4):
lost 2 straight, both on road, 2GF, PP 0/4
Benn (4A) last 7GP