Ice Chips: Preds put Weber, Hartnell on IR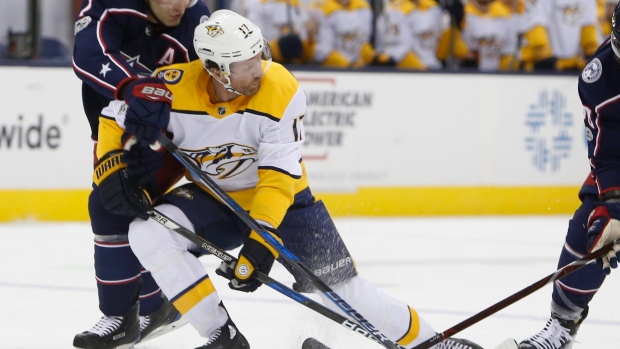 Keep updated on all the injury news and roster moves from around the NHL with daily Ice Chips.
---
Nashville Predators
The Predators announced that defenceman Yannick Weber (lower body) will be out two-to-four weeks and forward Scott Hartnell (lower-body) will be out three-to-five weeks. Both players were placed on injured reserve,
Hartnell, 35, owns four goals and seven points in 16 games with the Predators this season. Weber, 29, has posted two assists in 12 games this year.
It was not all bad news for the Predators on Tuesday, though, as head coach Peter Laviolette said centre Nick Bonino (lower-body) will return to face the Washington Capitals Tuesday night. Bonino has missed the last 11 games due to injury.
---
Montreal Canadiens
According to TSN's John Lu, Carey Price (lower body) did not skate today and will not skate tomorrow for the Canadiens.
Practice Lines
Forwards
Pacioretty - Danault - Shaw
Galchenyuk - Drouin - Byron
Hudon - Plekanec - Gallagher
De La Rose - Mitchell -Froese
Defencemen
Benn - Weber
Alzner - Petry
Mete - Morrow
Goaltenders
Lindgren starting
Fucale
Scratched: Davidson
Injured: Lehkonen (LBI), Montoya (concussion)
IR: Price (LBI), Schlemko (hand), Hemsky (concussion), Scherbak (knee)
Winger Artturi Lehkonen will not play tonight against the Columbus Blue Jackets due to a lower-body injury.
---
Toronto Maple Leafs
Although the Maple Leafs have the day off from practice, Auston Matthews (upper body) was at the team's practice facility skating along with Tyler Bozak and recently recalled winger Nikita Soshnikov. Matthews hasn't played since Nov. 6 against the Vegas Golden Knights.
---
Winnipeg Jets
Practice Lines - Brian Munz, TSN
Forwards
Connor-Scheifele-Wheeler
Ehlers-Little-Laine
Copp-Lowry-Tanev
Matthias-Hendricks-Armia
Defencemen
Morrissey-Trouba
Enstrom-Byfuglien
Kulikov-Myers
Goaltenders
Hellebuyck
Mason
---
Vancouver Canucks
Practice Lines - Jeff Paterson, TSN
Forwards
Baertschi-Horvat-Boeser
Sedin-Sedin-Eriksson
Vanek-Granlund-Gagner
Gaunce-Sutter-Dorsett
Defencemen
Edler-Pouliot
Del Zotto-Biega
Hutton-Gudbranson
Goaltenders
Nilsson
Markstrom
---
New Jersey Devils
According to Devils beat reporter Amanda Stein, forwards Travis Zajac (pectoral) and Michael McLeod (torn meniscus) were on the ice for full a team practice. Andrew Gross of the North Jersey Record reports that Zajac says he thinks he might be able to return for Thursday's game against the Maple Leafs. Zajac underwent pectoral surgery on Aug. 17 and has yet to play this season while McLeod had knee surgery on Oct. 12 and has been out since the preseason.
Stein also reports defenceman Mirco Mueller will have surgery on Thursday after suffering a fractured clavicle on Sunday against the Chicago Blackhawks and will be out indefinitely.
---
Washington Capitals
The Washington Post's Isabelle Khurshudyan reports that defenceman Matt Niskanen (hand) will return tonight for the Capitals' game against the Predators. Niskanen has missed the past 13 games due to a hand injury.
---
St. Louis Blues
The St. Louis Blues announced Beau Bennett has been assigned to the AHL's Chicago Wolves. The 25-year-old winger has yet to record a point in six games with the Blues this season.
---
Florida Panthers
Forward Jared McCann (lower body) has been placed on injured reserve retroactive to Nov. 4. According to Matthew DeFranks of the Sun Sentinel, McCann skated with his teammates in a non-contact jersey on Tuesday.
---
Game Notes
Best Records In NHL – Oct. 20th to Present
Team GP W L OTL Pts%
Tampa Bay Lightning 10 8 1 1 .850
New York Rangers 10 8 2 0 .800
Winnipeg Jets 10 6 1 3 .750
San Jose Sharks 11 8 3 0 .727
St. Louis Blues 11 7 3 1 .682
Worst Road PK's This Season
Team PK% TSH PPGA
Buffalo Sabres 66.7 27 9
Columbus Blue Jackets 66.7 21 7
Colorado Avalanche 70.5 44 13
Montreal Canadiens 70.7 41 12
Vancouver Canucks 72.7 33 9
Worst Home Records This Season
Team GP W L OTL Pts%
Arizona Coyotes 8 1 6 1 .188
Edmonton Oilers 9 3 6 0 .333
Buffalo Sabres 7 2 4 1 .357
Vancouver Canucks 9 3 4 2 .444
Anaheim Ducks 11 4 5 2 .455
Longest active games streaks in regular season in the NHL:
1 – Andrew Cogliano 803
2 – Keith Yandle 649
3 – Patrick Marleau 643
4 – Phil Kessel 629
5 – Karl Alzner 558
Sabres (13P) at Penguins (21P) - 7PM ET
PIT was 2-0-1 vs BUF last season. PIT has won 6 straight at home vs BUF
PIT (9-7-3):
1-2-2 last 5GP, 11GF, 2/19 on PP
Kessel (3G, 4A) 4 game PT streak
BUF (5-9-3):
0-1-1 last 2GP, 1GF in each game, 2/5 on PP
Kane (3G, 2A) last 6GP
Stars (18P) at Panthers (12P) - 7:30PM ET
Teams split 2GP last season. DAL winning in FLA. DAL has won 3 straight in FLA
FLA (5-9-2):
1-4-2 last 7GP, 28GA, 17/24 on PK
Huberdeau (5A) last 4GP
DAL (9-8-0):
lost 2 straight on the road, 5GA in each game, 4/7 on PK
Radulov (5G, 6A) 8 game PT streak
Blue Jackets (21P) at Canadiens (17P) - 7:30PM ET on TSN2 (regional)
CBJ were 2-0-1 vs MTL last season, 2GA
MTL (8-9-1):
4-1-0 last 5GP, 10GA, 10/14 on PK
Drouin (1G, 2A) last 4GP
CBJ (10-7-1):
1-3-1 last 5GP, 10GF, 0/13 on PP
Panarin (2G) last 5GP
Coyotes (7P) at Jets (21P) - 8PM ET on TSN3 (regional)
WPG is 1-0-0 vs ARZ this season, winning in ARZ. WPG is 7-0-0 at home all-time vs ARZ
WPG (9-4-3):
6-1-3 last 10GP, 34GF, 11/34 on PP
Wheeler (1G, 10A) last 5GP
ARZ (2-14-3):
0-2-2 last 4GP, 6GF, 1/11 on PP
Keller (0P) last 3GP
Capitals (21P) at Predators (20P) - 8PM ET
NSH was 2-0-0 vs WSH last season.3GA.
NSH (9-5-2):
won 4 straight, 16GF, 3/16 on PP
Forsberg (3A) last 3GP
WSH (10-7-1):
won 2 straight, 1GA in each game, 4/4 on PK
Ovechkin (3G, 1A) last 5GP
Flyers (18P) at Wild (16P) - 8PM ET
MIN is 1-0-0 vs PHI this season, shutout win in PHI. PHI has won 3 straight in MIN
MIN (7-7-2):
won 2 straight, both on road, 0GA, 6/6 on PK
Zucker (6G, 1A) 4 game PT streak
PHI (8-7-2):
2-1-1 last 4GP, 6GA, 10/12 on PK
Voracek (2G, 3A) last 3GP
Knights (21P) at Oilers (14P) - 9PM ET
First meeting between teams
EDM (6-9-2):
0-1-1 past 2GP, both on road, 3GF, 1/2 on PP
McDavid (2G, 1A) last 4GP
VGK (10-5-1):
1-4-1 last 6 road games, 24GA, 14/19 on PK
Perron (1G, 5A) 4 game PT streak
Canucks (18P) at Kings (26P) -10:30PM ET
VAN was 2-1-1 vs LAK last season. 1-0-1 at LAK
LAK (11-4-2):
lost 2 straight, both at home, 3GF, 1/7 on PP
Kopitar (2G, 8A) 8 game PT streak
VAN (8-7-2):
lost 2 straight, both on the road, outscored 9-1, 0/10 on PP
Boeser (1A) last 4GP