Ice Chips: Sabres' Eichel likely to return
Keep updated on all the injury news and roster updates from around the NHL with daily Ice Chips.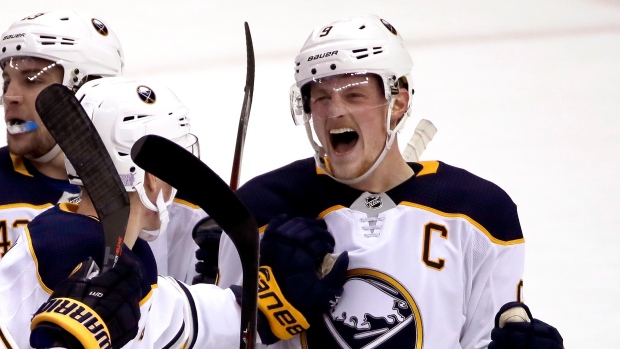 Buffalo Sabres
Captain Jack Eichel is likely to return to the lineup in Friday night's game against the Carolina Hurricanes. The 22-year-old has been managing an upper-body injury and has missed the last three consecutive games. The team released a quote saying that Eichel is "back to 100 percent". The forward has 15 goals and 34 assists this season.
---
Toronto Maple Leafs
The Leafs have loaned goaltender Kasimir Kaskisuo to the team's AHL affiliate, the Toronto Marlies. The 25-year-old has yet to make his NHL debut. While in net for the Marlies this season, Kaskisuo has a 3.85 goals-against-average, and a .867 save percentage in 14 games.
---
New Jersey Devils
Defenceman Egor Yakovlev has been sent to New Jersey's AHL affiliate, the Binghamton Devils. In the NHL, the 27-year-old has four points in 11 games.
Mackenzie Blackwood was on the ice for Friday's practice, after being placed on the IR with a lower-body injury he suffered on Jan. 4, per NHL's Mike Morreale. The goalie holds a record of 3-2-2, with a goals-against-average of 1.83, and a .947 save percentage.
---
Winnipeg Jets
Defenceman Tyler Myers is out of the lineup with a day-to-day injury he sustained on Thursday night, per TSN's Sara Orlesky. The 28-year-old has 13 points (four goals and nine assists) this season.
Projected Jets lines, per TSN's Orlesky:
Connor Scheifele Wheeler
Laine Little Roslovic
Perreault Lowry Tanev
Lemieux Copp Appleton
Morrissey Trouba
Chiarot Kulikov
Morrow Niku
Broissot
Hellebuyck
---
Arizona Coyotes
Brad Richardson has been placed on IR with an upper-body injury, and will be monitored on a week-to-week basis. The forward has 11 goals and five assists so far this season.
---
St. Louis Blues
Tyler Bozak will not accompany the Blues on their upcoming four-game road trip because of an upper-body injury. The 32-year-old has six goals and 12 assists this season.
Alexander Steen will travel with the team, despite being placed on IR on January 8. To date, the forward has 15 points (six goals and nine assists).
---
Nashville Predators
Troy Grosenick has been reassigned to Nashville's AHL affiliate, the Milwaukee Admirals. The goaltender was called up on emergency basis for Thursday night's game because of Juuse Saros' illness. The 29-year-old has yet to make an appearance with the Preds.
---
San Jose Sharks
Jacob Middleton and Rourke Chartier have been sent to the Sharks' AHL affiliate, the San Jose Barracuda. Middleton has only played in one game for the Sharks this season, and Chartier has one goal in 13 games.
---
NHL Game Notes
Teams With Most Players 1PT/Gm (min 25GP)
CGY 5
TOR 4
PIT 3
BOS 3
COL 3
OTT 3
TB 3
Sabres (52P) at Hurricanes (45P) - 730PM (Jan 11)
CAR 3-0-0 vs BUF in 17-18, 1-0-0 at home. CAR has won 6 straight vs BUF, 3 of the wins at home
CAR: (20-18-5)
Won 3 straight at home, 12GF, PP 0/7
Aho (3G, 3A) last 3GP at home
BUF: (23-14-6)
Lost 3 straight on road, 1GF in each game, PP 1/7
Skinner (3G) last 3GP
Wings (39P) at Jets (56P) - 8PM (Jan 11)
WPG 1-0-0 vs DET in 18-19, 2-1 in DET. WPG 2-0-1 last 3GP at home vs DET
WPG: (27-14-2)
Won 2 straight at home, 12GF, PP 4/7
Scheifele (2G, 3A) last 3GP
DET: (16-22-7)
1-6-2 last 9GP, 22GF, PP 2/25
Larkin (1G, 1A) last 4GP
Panthers (42P) at Flames (60P) - 9PM (Jan 11)
Teams split 2GP in 17-18, FLA winning in CGY. CGY 2-1-0 last 3GP at home vs FLA (lost last)
CGY: (28-13-4)
Won 3 straight, 12GF, PP 2/8
Giordano (4A) last 2GP
FLA: (17-17-8)
0-2-2 last 4GP, 16GA, PK 11/11
Hoffman (5G, 3A) last 9GP
Penguins (54P) at Ducks (46P) - 10PM (Jan 11)
ANA 1-0-0 vs PIT in 18-19, 4-2 win in PIT. ANA 3 straight wins vs PIT, 1 of the wins at home
ANA: (19-17-8)
0-6-3 last 9GP, outscored 29-12, PP 3/31
Getzlaf (0P) last 8GP
PIT: (24-13-6)
Won 5 straight on road, outscoring opponent 21-6, PP 7/13
Crosby (4G, 11A) last 8GP