Ice Chips: Sens' Anderson to start Thursday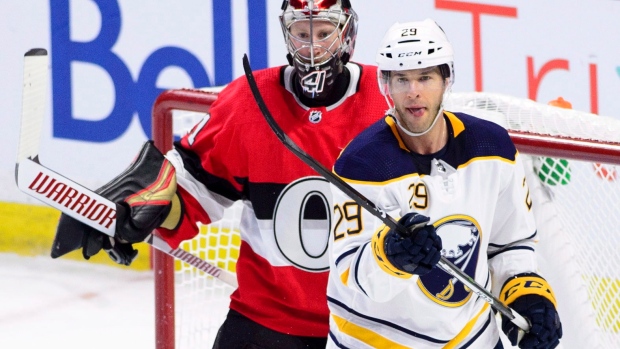 Keep updated on all the injury news and roster updates from around the NHL with daily Ice Chips.
Ottawa Senators
Goaltender Craig Anderson and forward Bobby Ryan both missed the team's practice on Tuesday, though neither appears to be dealing with anything serious.
Senators head coach Guy Boucher said Anderson will start Thursday, while he's hopeful Ryan will play.
Anderson stopped 30 shots against the New Jersey Devils before exiting the game with roughly five minutes left. Backup Mike McKenna stopped all six shots he faced in relief. Ryan logged 17:37 of ice time in the 7-3 win, posting an assist.
Rookie Brady Tkachuk skated in a regular contract jersey and he continues to work his way back from injury. Boucher said he's hopeful Tkachuk will return Thursday against the Vegas Golden Knights.
Practice lines Wednesday:
Dzingel Duchene Stone
Tkachuk Tierney Boedker
Paul White Paajarvi
McCormick Pyatt Rodewald
Chabot DeMelo
Lajoie Ceci
Borowiecki Jaros
Wideman Burgdoefer
---
Calgary Flames
The Flames placed rookie Dillon Dube on IR Wednesday, retroactive to Nov. 3.
The team recalled Anthony Peluso from the AHL's Stockton Heat to replace Dube on the 23-man roster.
---
Toronto Maple Leafs
The Maple Leafs assigned forward Trevor Moore back to the AHL's Toronto Marlies on Wendesday.
Moore, who was recalled by the Leafs last week, did not appear in a game with the Leafs during his recall.
The 23-year-old has eight goals and 11 points in 10 games with the Marlies this season. He had 33 points in the AHL each of the past two seasons.
---
International News
Veteran Jussi Jokinen signed with Swiss League Club EHC Kloten on Wednesday, but the deal will only take him through Dec. 5.
Jokinen spent training camp on a professional tryout with the Detroit Red Wings, but failed to land a contract with the team.
A veteran of 951 career NHL contest, Jokinen played for the Edmonton Oilers, Los Angeles Kings, Columbus Blue Jackets and Vancouver Canucks last season.
The 35-year-old had five goals and 17 points in 60 games across the four teams.
---
Tampa Bay Lightning
Victor Hedman took part in practice in full gear on Wednesday, but will not play Thursday night. Head coach Jon Cooper said Hedman is close, though, and should return to the lineup in the near future.
---
Pittsburgh Penguins
Casey DeSmith will start Wednesday night against the Washington Capitals.
---
Philadelphia Flyers
AHL call-up Alex Lyon skated with the Flyers once again on Wednesday, though injured goaltender Brian Elliott was also on ice for the practice
Lyon served as Calvin Pickard's backup on Monday night against the Arizona Coyotes after Elliott was hurt Sunday in practice when he collided with Travis Konecny. Regular backup Michael Neuvirth is also dealing with an injury and is on IR.
UPDATE: Lyon was assigned back to the AHL on Tuesday, meaning Elliott will healthy enough to dress for the team's game Thursday night.
---
Boston Bruins
Practice lines Wednesday:
Marchand-Bergeron-Pastrnak
Nordstrom-Krejci-DeBrusk
Bjork-Backes-Heinen
Wagner-Kuraly-Acciari
Chara-Carlo
Krug-Moore
Grzelcyk-Kampfer
Halak
Rask
---
New York Islanders
Forward lines at Wednesday's practice:
Lee-Nelson-Bailey
Beauvillier-Barzal-Kuhnhackl
Ladd-Filppula-Komarov
Johnston-Cizikas-Clutterbuck
---
TSN Game Notes
Heartbreak Kids
Flames Goals For By Period
Total (52)
3rd 28*
2nd 9
1st 13
OT 2
5 Come from behind wins when trailing in 3rd Pd
*Leads NHL
3rd period goal leaders
CGY* 28
TB 21
WPG 20
COL 20
TOR 19
*52G on the season (3rd-28, OT-2)
Crosby vs Ovechkin H2H
NHL Reg Season
Crosby Ovechkin
27 Wins 19
20 G 31
45 A 19
2 GWG 1
Penguins (15P) at Capitals (15P) - 730PM (Nov 7)
PIT 1-0-0 vs WSH in 18-19, OTW at home. WSH 4-1-1 last 6 reg season home games vs PIT
WSH: (6-4-3)
2-2-1 last 5GP, 19GA, PK 13/16
Ovechkin (3G, 1A) last 4GP
PIT: (6-4-3)
0-3-1 last 4GP, outscored 18-6, PP 2/15
Crosby (0P) last 3GP, 4 shots on net
Predators (22P) at Avalanche (17P) - 10PM (Nov 7)
NSH 4-0-0 vs COL in 17-18, 17GF. NSH 10 straight wins vs COL
COL: (7-4-3)
0-2-1 last 3GP, all on road, 16GA, PK 9/13
Rantanen (1G, 7A) last 4GP
NSH: (11-3-0)
won 3 straight, 2GA, PK 9/10
Rinne in 2GP since coming off IR, 2-0-0, 1GA, stopped 68 of 69 shots
Flames (15P) at Ducks (15P) - 1030PM (Nov 7)
Each team 2-2-0 in season series last year, both 1-1-0 at home. ANA 26-1-0 last 27GP at home vs CGY
ANA: (6-7-3)
1-6-2 last 9GP, 17GF, PP 2/27
Rakell (1G, 3A) last 4GP
CGY: (9-5-1)
won 4 straight, 16GF, PP 3/15
Gaudreau (1G, 6A) 5 game PT streak