Ice Chips: Canadiens move Drouin to wing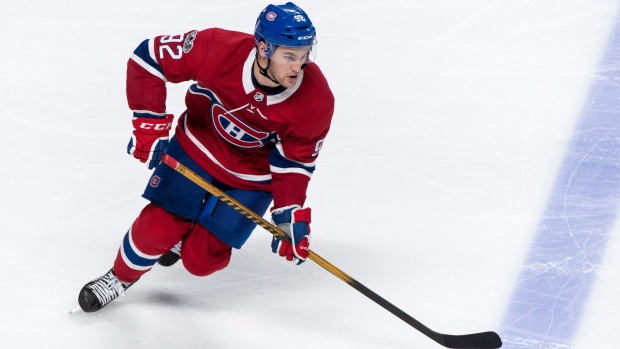 Keep updated on all the injury news and roster moves from around the NHL with daily Ice Chips.
---
Montreal Canadiens
Jonathan Drouin was on the wing Tuesday at Canadiens practice for the first time in a Habs' uniform. He has been playing centre since the start of training camp. Drouin has six goals and 21 points with a minus-19 rating in 39 games this season.
Canadiens general manager Marc Bergevin said earlier this month Drouin was likely better suited to play on the wing, but the team needed him at centre.
"Probably a better option would be on the wing but, in the situation we're in, it's not possible," Bergevin said. "In a perfect world, if we had that No. 1 centre, that guy who can make plays, a high-end centre, (Drouin would) probably be on the wing."
Paul Byron served as the team's first line centre during Tuesday's skate, while Jacob De La Rose centred a line with Alex Galchenyuk and Drouin.
Here were the lines at practice:
Forwards
Pacioretty-Byron-Hudon
Lehkonen-Plekanec-Gallagher
Galchenyuk-De La Rose-Drouin*
Deslauriers-Froese-Carr
Defencemen
Alzner-Petry
Benn-Jerabek
Mete-Schlemko
Morrow
Goaltenders
Price
Niemi
Power play:
Gallagher
Drouin-Pacioretty-Galchenyuk
Petry
Carr
Mete-Lehkonen-Hudon
Schlemko
---
Toronto Maple Leafs
Forward Nikita Soshnikov was on the ice Tuesday morning for the Leafs for the first time since he went on IR last month with a lower-body injury.
Head coach Mike Babcock said the Leafs plan to send him on a conditioning stint in the AHL before he re-joins the big club.
Once he's ready to be activated, the Leafs will have to make a roster move. They called up Frederik Gauthier and Travis Dermott Monday, giving them a full 23-man roster. - TSN's Kristen Shilton
Frederik Andersen is expected to get the start in the crease.
Here were the lines at their morning skate:
Forwards
Hyman-Matthews-Nylander
Marleau-Kadri-Komarov
van Riemsdyk-Bozak-Marner
Martin- Gauthier -Brown
Defence
Rielly-Hainsey
Gardiner-Carrick
Dermott-Polak
Goaltenders
Andersen
McElhinney
---
Nashville Predators
Forward Vikor Arvidsson was back on the ice for the Predators Tuesday morning after he needed to be helped off the ice during Monday's practice with what appeared to be a lower-body injury. - Adam Vingan
In 42 games so far this season, he has 13 goals and 14 assists.
Here were the lines at practice Tuesday morning:
Forwards
Sissons-Johansen-Arvidsson
Fiala-Turris-Smith
Hartnell-Bonino-Aberg
Salomaki-Jarnkrok-Watson
Defencemen
Josi-Irwin
Emelin-Subban
Ekholm-Ellis
Goaltender
Saros
---
Dallas Stars
Stars general manager Jim Nill said Monday he expects Spezza to return to the team's lineup on Tuesday against the Detroit Red Wings after being a healthy scratch the day before.
"Like I said I think he knows he can be better too and we need more from him," Nill told Mark Stepneski of the team's website. "I think we got a really good thing going here and he's a big part of it, he's one of our leaders and we want him at his best." - DallasStars.com
---
Boston Bruins
Forward Jake DeBrusk and defenceman Kevan Miller were missing from Bruins practice Tuesday with the flu, while forward Noel Acciari missed the skate with a lower-body injury he sustained during Monday's loss to the Dallas Stars. Head coach Bruce Cassidy said he expects him to play Wednesday against the Montreal Canadiens. - Joe Haggerty
---
Detroit Red Wings
Forwards Darren Helm and Justin Abdelkader will not play Tuesday or Saturday, head coach Jeff Blashill said Tuesday. Both were injured during Saturday's loss in Pittsburgh and did not play Sunday in the Red Wings' 4-0 victory over the Chicago Blackhawks. - Detroit Red Wings
---
Tampa Bay Lightning
The Lighting have recalled goaltender Louis Domingue from the AHL's Syracuse Crunch.
In eight NHL games so far this season, Domingue has a GAA of 4.02 to go along with a save percentage of .870. - AHL.com
---
Vegas Golden Knights
Head coach Gerrard Gallant said that forward Cody Eakin is day-to-day and will not be in the lineup Tuesday night against the Predators in Nashville. He is expected to accompany the team on their four-game road trip.
Ryan Carpenter will be back in the lineup. - Vegas Golden Knights
---
St. Louis Blues
Goaltender Carter Hutton is expected to start for the Blues Tuesday night against the Maple Leafs. - Jim Thomas
In 12 starts so far this season, Hutton has a GAA of 1.84 and a save percentage of .940.
---
NHL Game Notes
Leafs Dec 12 to Present
Rec 5-7-2
GF/G 2.7
GA/G 3.1
PP% 20.5
PK% 88.4
(last regulation win Dec 28th)
Kadri Last 16GP
G 1
A 0
PPPts 1
+/- -4
Shots/Gm 2.9
Blues (55P) at Leafs (53P) - 7PM
STL 1-0-0 vs TOR in 17-18, winning at home. TOR 1-0-1 last 2GP at home vs STL
TOR (25-17-3):
2-3-2 last 7GP, 15GF, PP 2/20
Matthews 0P last 2GP, 3 shots on net
STL (26-17-3):
0-2-1 last 3GP, 17GA, PK 7/10
Schenn (0G, 5A) last 10GP
Devils (52P) at Islanders (50P) - 7PM
NYI 1-0-0 vs NJ in 17-18, SOW at home. NYI 8 straight wins at home vs NJ
NYI (23-18-4):
1-2-0 last 3GP at home, outscored 13-5, PP 1/11 (win came in a shootout)
Tavares (2G, 2A) last 3GP
NJ (22-12-8):
0-3-3 last 6GP, 24GA, PK 12/18
Hall (3G, 5A) 4 game PT streak
Flyers (48P) at Rangers (49P) - 7PM
NYR 3-1-0 vs PHI in 16-17, 1-1-0 at home
NYR (22-17-5):
lost 3 straight, outscored 14-5, PP 1/6
Zuccarello (3A) last 8GP
PHI (20-15-8):
won 4 straight, 21GF, PP 7/14
career GP 700 for Giroux, 1G, 7A 4 game PT streak
Stars (53P) at Red Wings (43P) - 730PM
DAL 1-0-0 vs DET in 17-18, winning at home. DET has won 2 of past 3 at home vs DAL
DET (18-18-7):
1-2-0 last 3GP, 7GF, PP 1/15
Larkin (1G, 0A) last 3GP
DAL (25-17-3):
3-1-0 last 4GP, 13GF, PP 1/12
Benn (2G, 3A) 4 game PT streak
Knights (61P) at Predators (56P) - 8PM
VGS 2-0-0 vs NSH in 17-18, 1-0-0 in NSH (SOW)
NSH (25-11-6):
won 2 straight, 4GA, PK 4/5
Subban (5G, 9A) last 13GP
VGS (29-10-3):
2-0-1 last 3GP, 9GF, PK 0/9
Marchessault (6G, 9A) points in 10 of past 11GP
Sharks (52P) at Coyotes (27P) - 9PM
SJ 2-0-0 vs ARZ in 17-18, 1-0-0 in ARZ. SJ 2 straight wins in ARZ, 1GA in each game
ARZ (10-28-7):
0-1-2 last 3GP, 11GA, PK 2/3
Keller (3G, 8A) last 12GP
SJ (23-13-6):
won 2 straight, 10GF, PP 1/2
Thornton (2G, 2A) last 2GP