Ice Chips: VGK claim Subban from Bruins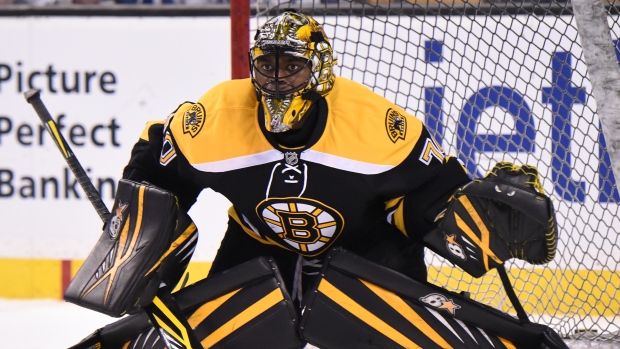 As NHL teams trim their rosters ahead of the deadline, many teams are placing their extra players on waivers. Keep updated on all the injury news and roster moves from around the NHL with daily Ice Chips.
Calgary Flames
The Flames signed winger Tanner Glass to a one-year, $650,000 contract on Tuesday and assigned Luke Gazdic to to the AHL. Glass spent training camp with the Flames on a professional tryout.
Glass is a veteran of 511 career games and owns 24 goals and 69 points in the NHL. He spent the past three seasons with the New York Rangers.
Winnipeg Jets
The Jets have announced they assigned forward Kyle Connor to the AHL's Manitoba Moose and have also placed F Matt Hendricks on the injured reserve retroactive to Sept. 27.
WAIVERS
The Vegas Golden Knights have claimed goaltender Malcolm Subban from the Boston Bruins. The Colorado Avalanche claimed defenceman Patrik Nemeth from the Dallas Stars.
The 23-year-old Subban made one appearance for the Bruins last season and has spent the the better part of the last four season with Boston's AHL affiliate Providence Bruins. Subban has a career 2.40 goals-against average and .918 save percentage in the AHL.
Nemeth appeared in 40 games last season for the Stars and had three assists and a minus-4 rating. The 25-year-old also played four games for the AHL's Texas Stars and had a goal and two assists.
Everyone else placed on waivers Monday has cleared. The full list is available below.
The Nashville Predators placed Harry Zolnierczyk on waivers on Tuesday. According to TSN Hockey Insider Pierre LeBrun, the Predators have signed him to a two-way deal expected to be announced on Wednesday, should he clear waivers.
MONTREAL CANADIENS
Twenty-three players practised for the Canadiens on Tuesday. Schlemko once again skated solo on a separate pad. - TSN
Tuesday's Practice Lines
Pacioretty - Drouin - Gallagher
Hudon - Plekanec - Lehkonen
Galchenyuk - Danault - Shaw
Byron - De La Rose/Mitchell -Hemsky
Mete - Weber
Alzner - Petry
Benn - Streit
Morrow - Davidson
Price
Montoya
Injured: Schlemko (hand)
WINNIPEG JETS
Tuesday's Practice Lines
Perreault-Scheifele-Wheeler
Ehlers-Little-Laine
Tanev-Lowry-Armia
Dano-Matthias-Petan
Also on ice: Connor, Copp
Injured Reserve: Hendricks
Morrissey-Trouba
Enstrom-Byfuglien
Kulikov-Myers
Chiarot-Poolman
Mason
Hellebuyck
WAIVERS
Claimed on waivers
SUBBAN, MALCOLM claimed by VGK from BOS
NEMETH, PATRIK claimed by COL from DAL
Cleared waivers
DI GIUSEPPE, PHILLIP - CAR
RAMAGE, JOHN - CBJ
GAZDIC, LUKE - CGY
HATHAWAY, GARNET - CGY
BERUBE, JEAN-FRANCOIS - CHI
JURCO, TOMAS - CHI
TOOTOO, JORDIN - CHI
BOURQUE, GABRIEL -COL
MCKENZIE, CURTIS - DAL
BOOTH, DAVID - DET
SPROUL, RYAN - DET
MURPHY, RYAN - MIN
FROESE, BYRON - MTL
MARTINSEN, ANDREAS - MTL
GIBBONS, BRIAN - N.J
STRAIT, BRIAN - N.J
BERNIER, STEVE - NYI
GIONTA, STEPHEN - NYI
READ, MATT - PHI
BOLLIG, BRANDON - S.J
GROSENICK, TROY - S.J
MASHINTER, BRANDON - S.J
BINNINGTON, JORDAN - STL
CONACHER, CORY -T.B
GREENING, COLIN - TOR
LOVERDE, VINCENT - TOR
MUELLER, CHRIS - TOR
RYCHEL, KERBY - TOR
SMITH, BEN - TOR
SPARKS, GARRET - TOR
PEDAN, ANDREY - VAN
PULKKINEN, TEEMU - VGK
LIPON, JC - WPG
PELUSO, ANTHONY - WSH
Placed on waivers
ZOLNIERCZYK, HARRY - NSH