Iginla's pair lift Avs past Blackhawks
Jarome Iginla's second power-play goal with 32.9 seconds left lifted the Colorado Avalanche to a 3-2 victory over the slumping Chicago Blackhawks on Saturday night. Semyon Varlamov had 28 saves and Cody McLeod also scored for Colorado, which won four of its last five.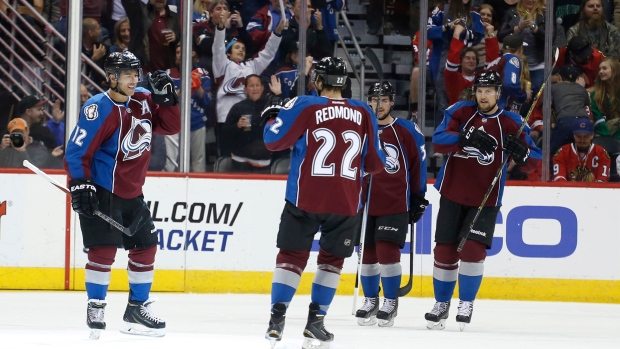 DENVER - Jarome Iginla and the Colorado Avalanche finished the season on a high note. The Chicago Blackhawks hope they can put together another playoff run.
Iginla's second power-play goal with 34 seconds left lifted the Avalanche to a 3-2 victory over the slumping Blackhawks on Saturday night.
The Blackhawks, who won the Stanley Cup in 2010 and 2013 and made it to the Western Conference finals a year ago, don't appear to be too concerned about their four-game skid heading into the playoffs.
"I'm not worried about carryover," defenceman Niklas Hjalmarsson said. "Especially when you have so many people that have played a ton of playoff games the last couple of years."
Semyon Varlamov had 28 saves and Cody McLeod also scored for Colorado, which won four of its last five despite being eliminated from the post-season a week ago.
"We know what kind of hockey team we can be and I honestly think we're closer to a Stanley Cup now than we were at the end of last year," Matt Duchene said. "We're going to be better for this season I guarantee it. Sometimes you have to take a step back before you can jump forward."
The Blackhawks rested captain Jonathan Toews and defenceman Duncan Keith after learning they were locked into the No. 3 seed in the Central Division. Minnesota's loss to St. Louis earlier Saturday clinched a first-round matchup with Nashville.
Chicago managed just five goals while losing its last four games of the regular season. But it went 3-1 against the Predators this season, with two of those wins coming after regulation.
"We haven't seen them for so many games. It's pretty amazing, we're going back almost 45 games," Chicago coach Joel Quenneville said. "They had a great start to the season. They've got a tremendous back end, strong in net, they have some assets up front. So certainly they're dangerous in a lot of ways. They had a great year from where they were last year. I'm sure they're excited about the playoffs this year. It'll be a great matchup."
Brandon Saad and Patrick Sharp scored for the Blackhawks, and backup goalie Scott Darling stopped 21 shots.
Chicago also played without centre Brad Richards and defenceman Kimmo Timonen, who were sidelined by upper-body injuries. Both are expected back for Game 1 of the playoffs at Nashville.
Other than Patrick Kane, who broke his collarbone in February and could return at some point in the post-season, Quenneville said the team's health is fine.
"I think we're as good as you would ever want," he said.
Starting goaltender Corey Crawford also got the night off.
Despite not having their full lineup, the Blackhawks outshot the Avalanche 30-24.
It looked as if the game was headed for overtime when Saad scored at 15:20 of the third period. But Marcus Kruger was sent off for tripping at 17:59 and Iginla's slap shot beat Darling for his 29th goal.
"It was a power play and we were running out of time," Iginla said. "It's fun as a team to get a goal in the last minute, to go ahead. It was nice to shoot that and see it go in."
McLeod beat Darling midway through the first period to give Colorado a 1-0 lead. Sharp tied it at 8:03 of the second period with his 16th of the season.
With Bryan Bickell off for hooking, Iginla gave the Avalanche the lead again. His slap shot from the top of the left circle beat Darling at 14:22 of the second.
NOTES: Iginla has scored 28 or more goals in 14 seasons. He has 589 career goals. ... Avalanche D Duncan Siemens made his NHL debut. He was recalled from Lake Erie after D Brad Stuart was ruled out with a leg injury suffered in Thursday's win over Winnipeg. ... The Blackhawks set a franchise record for road wins with 24. ... McLeod's goal was his first since March 8. ... Blackhawks D Michael Paliotta played 12:45 in his NHL debut and got an assist on Sharp's goal.