MLS On TSN: Impact open key stretch, Montero returns to Seattle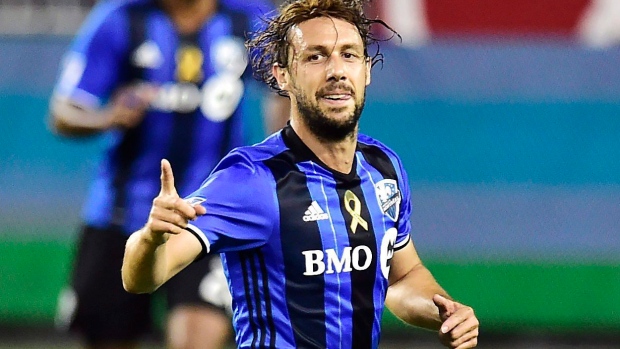 MONTREAL — All those points frittered away at home earlier in the season cost the Montreal Impact control of their own destiny.
So the seventh-place Impact (11-13-6) must find a way to beat second-place New York City (15-8-7) when they meet Wednesday night at Saputo Stadium, and then hope for some help from lowly D.C. United to get into a playoff position heading into the final stretch of the season.
The Impact are three points out of the MLS playoffs. The team they are chasing, the sixth-place New York Red Bulls, play what is, on paper, an easy game at home against last-place D.C.
"We can say we need these teams to do this or that, but we need to focus on ourselves," defender Kyle Fisher said Tuesday. "It's desperation."
The Impact take the blame for three games in particular this season: their home opener when they blew a 2-0 lead and settled for a 2-2 draw with Seattle, and a pair of 3-2 losses to Columbus and Minnesota on late, inexcusable counterattack goals.
With only four regular-season games left to play, those and other setbacks have them in danger of missing the playoffs one season after their exhilarating run to the Eastern Conference final.
"It's so difficult today because of the parity in this league," said coach Mauro Biello. "It's not like the big clubs in Europe where you go into those stadiums and it's a guaranteed loss.
"You saw we were able to get three points against Toronto. That could happen anywhere in the league. It can switch quickly. What's important is the games we have in front of us. We've got to collect points and then hope for a little help to get in."
The Impact are 1-5-0 in their last six games and have lost their last three home games. The lone win was a surprise 5-3 result in Toronto last week, but that was followed by a 2-0 defeat Saturday in Atlanta.
New York City has also struggled, going 1-1-3 in their last five, a span in which they scored only four goals.
An Impact win would end NYC's slim hopes of catching Toronto for the Supporters Shield, as MLS calls its regular-season championship trophy. And NYC also has to worry about being caught by third-place Atlanta, because only the top two teams in each conference get a bye past the knockout round of playoffs.
But NYC will be a tough opponent, even if there are questions about the health of scoring star David Villa. Coach Patrick Viera's squad is defensively sound and has a solid 5-6-3 away record.
"They're always very well organized and difficult to break down defensively," said Biello. "Then you've got two or three players that can make a difference at any moment in a game.
"They haven't really been blown out on the road (except for a 4-0 setback in Toronto in July). We need to shut them down and we need that fluidity we had against Toronto, where we were finding the player between the lines, we were engaging our wing backs and spreading the team and then finishing our actions. If we can do that we are a difficult team to play against."
Fatigue may also be a factor. The Impact are halfway through a stretch in which they play four games in 11 days. After NYC, they travel to Colorado for a game at high altitude on Saturday.
Biello will need to use his bench. Fisher will return from a hamstring injury and may start. Midfielder Marco Donadel could get back in the lineup after sitting out a game.
"Guys that haven't played may get a chance," said Biello. "This is an opportunity to do well.
"Now it's not about whether you're disappointed if you play or not. Now we've got to survive."

Montero set for emotional Seattle return as first-place Whitecaps visit Sounders
Fredy Montero isn't sure what to expect Wednesday night.
One of the catalysts for the resurgent Vancouver Whitecaps, the striker will be making his return to Seattle to take on the rival Sounders — the club that gave him his start in Major League Soccer and allowed him to eventually fulfil a dream of playing in Europe.
"Honestly, I don't know," Montero said when asked how he thinks the crowd at CenturyLink Field will react. "I'm excited to see that. I respect all the people in Seattle.
"I have a good past with them."
With 13 goals to match his career-high in MLS, the Colombian has helped push the Whitecaps (14-9-6) to first place atop the crowded Western Conference thanks to a seven-game unbeaten run (5-0-2).
Vancouver sits a point better than the Portland Timbers and Sporting Kansas City, while Seattle (11-8-11) is four back.
Montero's connection to the Sounders isn't just a case of a player suiting up against his former team. He spent four seasons with Seattle from 2009 to 2012, buried the club's first goal in MLS, and won three domestic U.S. Open Cup titles.
The 30-year-old also met his future wife while playing for the Sounders.
"It was a good time," said Montero. "Seattle adopted me."
He scored 47 goals and set up 34 others in 119 regular-season games, but with an eye towards playing overseas, the Sounders let him to return to Colombia on loan in 2013 before a similar move to Portuguese giants Sporting CP was eventually made permanent.
After three seasons in Portugal, Montero was sold to Tianjin Teda of the Chinese Super League in 2016. Despite scoring nine goals in 29 appearances, his stay was short-lived as newly implemented rules regarding foreign players paved the way for the club to loan him to Vancouver.
"(Seattle) gave me the opportunity to go to Europe and to make my dream come true," added Montero. "I'm so thankful to them."
Thankful off the pitch, that is.
On it, Montero has been lethal against the Sounders in two home games at B.C. Place Stadium this season, scoring twice in a 2-1 victory back in April before adding another goal last month as the 10-man Whitecaps salvaged a 1-1 draw.
A designated player earning US$1.8 million, Montero has formed a great understanding with electric midfielder Yordy Reyna in Vancouver, scoring four times and adding four assists during the club's unbeaten run.
The Whitecaps, who could clinch a playoff spot as early as Wednesday, control their own destiny in the hunt for first place in the West with five games remaining on the schedule.
Vancouver has largely flown under the radar in a league where clubs with bigger budgets and brighter stars get more attention, but the Whitecaps are content to quietly go about their business.
"If people want to give us credit, great," said head coach Carl Robinson, whose team is 8-2-3 over its last 13. "If they don't, hey, no problem.
"I'll shake your hand and smile."
After the matchup against the Sounders, the Whitecaps travel to Kansas City to meet Sporting on Saturday — a tough stretch against teams that have combined to lose just once at home this season.
"Those are the games you want to play," said Vancouver goalkeeper David Ousted. "Those are the games that make it fun."
The Whitecaps have the top road record in the West at 5-6-2 thanks to an ability to grind out results with a squad that has more depth than the club has ever had since joining MLS in 2011.
"Every game that we play against Seattle, we know they're tough," said Robinson. "We'll go and attack that game. We'll have a right go."
And that attack will centre around Montero, who is both anxious and excited for what will be an emotional return.
"I don't know what's going to happen," said Montero. "I'm just going to try and win the game for my team."
Notes: Whitecaps defender Kendall Waston is eligible to play after serving a one-game suspension. ... The Sounders have one loss and four ties over their last five. ... Kansas City has five games left on its schedule, while Seattle has four, and Portland just three.