Increasing ice time shows Boucher's belief in Ceci
Senators defenceman Cody Ceci has struggled offensively, but Ottawa coach has confidence young blueliner can shoulder a greater workload.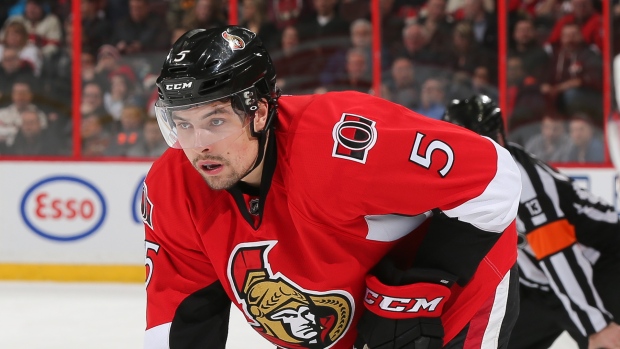 Cody Ceci may be having a tough start to the 2016-17 campaign, but his ice time isn't going to be reduced any time soon.
In fact, quite the opposite is happening to the young defenceman.
Ceci has seen an increase of almost three minutes per game this month, putting him in the same stratosphere as Ottawa captain Erik Karlsson in terms of ice time. The 22-year-old played a career-high 28:38 on Sunday against Anaheim, and head coach Guy Boucher hinted Tuesday that Ceci should expect the heavy workload to continue in the near future.
"Yes, we are giving Ceci a lot of minutes because we feel that the organization is going to grow much faster when young guys like that are asked to play a big part. And he's ready to take it," said Boucher. "Maybe a year before or two years ago, you can't ask that of him because we'd sink him. I think now he's getting all the minutes and the confidence from us to continue improving.
"We're trying to accelerate the process with him since Day 1. We're giving him big minutes and big responsibilities because we think he can manage it."
Part of Ceci's increased ice time on Sunday in Anaheim was a result of a confluence of factors, including a suspension to Mark Borowiecki, an in-game injury to Chris Wideman and Boucher's reluctance to play rookie Andreas Englund. But even before Sunday's career-high, Ceci had been logging more time than usual. He also surpassed Karlsson in ice time in two other games this month – against Philadelphia and San Jose.
The two-time Norris Trophy winner is only averaging 35 seconds more per game than Ceci's 25:44 in December.
"They've been liking the way I've been playing so they've been playing me as much as possible. I take it as a compliment that I'm playing that much," Ceci told TSN.ca. "It is a little more tiring – especially on last half of a back to back – but it is fun on my side of things."
It's interesting to note that Ceci is watching his ice time and role increase while his offensive game sputters. Following a 10-goal campaign in 2015-16, the Senators were relying on Ceci to provide a significant amount of offence from the back end this season. But Ceci has failed to score a goal and has registered just two assists in 29 games this season.
He's currently on a 20-game pointless streak – having last picked up an assist on Nov. 1. While his role on the penalty kill has increased, he's watched his role on the man advantage diminish to the point where he's barely averaging a minute of power-play time per game.
"I am getting a lot of shots and chances, but it is frustrating obviously. I'm trying not to think about it," said Ceci. "I'm just trying to play solid and shut down the other team's top guys. I'm hoping the goals will come in bunches, but we'll see. I need to get one out of the way and we'll go from there."
For his part, Boucher sounds like a believer in Ceci and will be relying on him to play big minutes in the second half of the season.
"He's a horse," Boucher said. "What I mean by that is defining a type of player. A guy who has tremendous shape, great acceleration and can get himself out of trouble with the puck."