Inevitable Hoffman trade raises more questions for Senators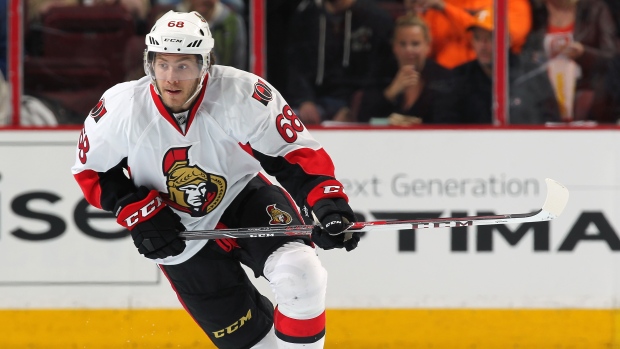 For the past few days, the hockey world has been debating the value of Mike Hoffman on the trade market.
A player with his skill set and under team control for two more seasons at a fairly reasonable cap hit would usually elicit offers that include a high draft pick and a prospect. That appeared to be the asking price for Hoffman when the Senators were shopping the talented winger before the deadline.
But most agreed Hoffman's trade value had diminished greatly in the wake of accusations that his long-time girlfriend was behind a campaign of social media harassment that targeted Erik and Melinda Karlsson. The Senators had no choice but to trade Hoffman to rid themselves of a situation that had spiralled out of control – no matter how that story plays itself out from here.
The Senators were forced to move Hoffman and it didn't sound like teams were lining up for him, given the swirl of negativity surrounding him. Senators' fans had been bracing themselves for the past few days that the return for Hoffman was going to be underwhelming.
And so when the Senators announced at 8 a.m. Tuesday morning that they had acquired Mikkel Boedker, defenceman Julius Bergman and a sixth-round pick in the 2020 draft from San Jose in exchange for Hoffman, defenceman Cody Donaghey and a 2020 fifth-round pick, it was met with a collective sense of resignation from Ottawa fans.
Boedker is a recognizable name to the average hockey fan, but by no means is anybody looking at him to be a suitable replacement for Hoffman. The Senators traded a player with first-line talent in exchange for a solid, dependable third-liner.
Once the market was set for Hoffman, it seemed as though the Senators just took the best offer they could get by making this deal.
But then, just a couple of hours later, the Sharks were able to acquire a handful of draft picks from Florida – a second, fourth and fifth-rounder – in exchange for Hoffman and a seventh-round selection.
So this raises the question: Why couldn't the Senators have landed a couple of draft picks for Hoffman?
For a team that seems to be reluctantly careening towards a full-scale rebuild, the acquisition of multiple picks for Hoffman would have been more advantageous to the Senators. With all due respect to Boedker's abilities, it probably would have been more palatable to the fans in this market if the club was able to land a couple of draft picks.
The Senators were never going to win a Mike Hoffman trade, but seeing another team potentially get a better return than they received for the same player just minutes later is somewhat disheartening. And the fact that Hoffman is now back in the Atlantic Division is only adding salt to the wounds of Senators fans, who will now see him play against Ottawa at least four times a season.
Some will suggest that general manager Pierre Dorion should have put a condition on the trade with San Jose that the Sharks couldn't turn around and flip Hoffman back to the Atlantic Division. But considering that many in the hockey world thought that Hoffman was a compromised commodity, it would have seemed ludicrous that multiple teams would have traded for him on the same day.
Others will still claim that Dorion should have taken care of this problem before the trade deadline, when there were at least whispers of turmoil inside the Senators room. It's pure conjecture to speculate what the general manager knew and when he knew it until Dorion is asked point-blank about his version of the timeline of events.
It feels like the only way out of this tangled mess – at least from a public relations aspect – would be for the Senators to re-sign Erik Karlsson to a mammoth contract in the next two weeks. There are Senators fans clinging to the hope that trading Hoffman – who clearly couldn't co-exist with Karlsson moving forward – will make it more likely that the captain decides to stay in Ottawa long-term, even if all signs point to him being on the move.
The fact that Dorion went out of his way to mention the locker room dynamics in his comments about the trade seem to amplify that notion.
"Today's trade showcases our determination to strengthen the future of the team by improving chemistry, leadership and character in the locker room and on the ice," Dorion's statement read.
If there was an issue inside the locker room in Ottawa, Dorion is trying to make it clear who he is siding with by trading away Hoffman.
Seems simple, right? Trade Hoffman and keep Karlsson.
But as we've learned lately in Ottawa, nothing is ever as simple as it seems.