Inside McDavid's quest for goal-scoring greatness
TSN Senior Hockey Reporter Frank Seravalli with a scary thought for the rest of the NHL: The Edmonton Oilers star is intent on adding to his already impressive offensive game.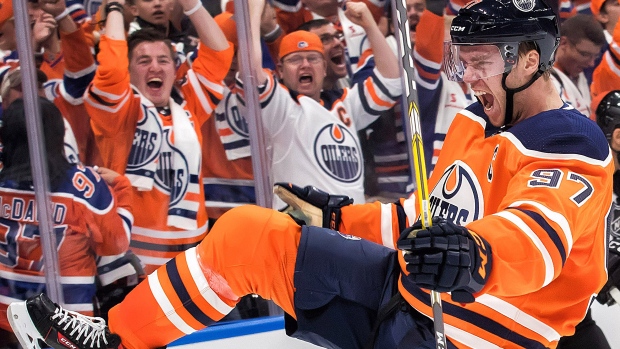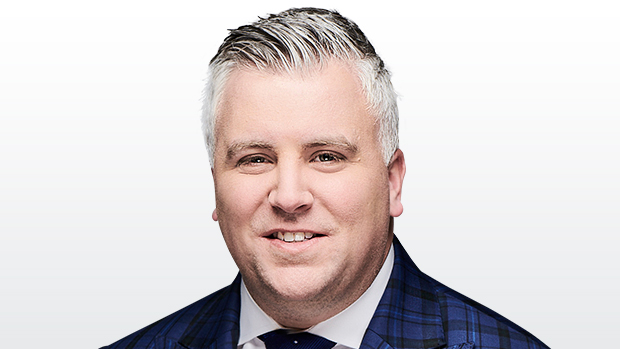 EDMONTON - Connor McDavid glanced at the scrap of paper covered in a reporter's scrawl and, yes, the numbers seemed to reflect what he pictured in his mind's eye.
The reigning Hart Trophy winner's summer mission was to climb from 30-goal scorer to Rocket Richard chaser, but his execution was not necessarily data-based.
McDavid said he spent time studying Auston Matthews, Joe Pavelski and last year's league leader, Sidney Crosby, and visualized the bridge to the 14-goal gap that separated him from Sid.
McDavid pointed to Matthews' third period deflection in Winnipeg on Wednesday night as a model goal – even though Matthews scored just a few minutes before McDavid stepped onto the ice on opening night and netted a hat trick that worked Oil Country into a frenzy.
McDavid pointed out Wednesday that he hadn't scored on one deflection since his first NHL goal in 2015.
"Like zero," McDavid said.
More tip-ins would be one way to make up ground. The other, he figured, would be rebound goals around the crease – where Crosby earns his money.
"He's always in the right spot at the right time," McDavid said. "The puck seems to sit there, but it's not by accident. It's not a coincidence. It's something that he's doing. It's something that I want to do."
The trait that puts McDavid in the class with Crosby, Wayne Gretzky and other greatness is that he recognized his own perceived deficiency. Data wasn't handed to him by the Oilers' video team or coach Todd McLellan to review over the summer.
"I just go by memory," McDavid said. "I remember most plays that happen."
So when McDavid was handed this breakdown on Thursday, showing where his goals were scored compared to Crosby's, the numbers seemed to jibe with what he saw in his own head.
"Look, 17 rebounds," McDavid said, pointing. "That's pretty remarkable. He's always in the right spot."
Breaking Down Crosby and McDavid's 2016-17 Goals
| Category | Crosby | McDavid |
| --- | --- | --- |
| Rebounds/Crease Area | 17 | 9 |
| Tips/Deflections | 7 | 0 |
| Breakaways | 1 | 8 |
| Shots Outside Slot | 12 | 5 |
| Others | 7 | 6 |
| TOTAL | 44 | 30 |
McLellan was not surprised.
"Most of it is done on his own," McLellan said. "He's a self-motivator. He studies his games. He works with skills coaches. They study situations. They study what might happen or occur in a game and then they go out in practice, next thing you know he's executing it."
Then McLellan deadpanned: "If you look up my stats, I don't know if I'm the one who should be helping him score more goals."
Many of the goals that McDavid does score – like the dazzling end-to-end rush in the third period on opening night that pulled 18,347 orange-clad fans out of their seats the second he scooped up the puck – are the ones that can't be taught. Few players on the planet can do that.
What has to make McLellan excited and the rest of the NHL nervous is that what McDavid is endeavouring to add to his game can be learned. Every team has a player or two who can do it well.
"You have to learn how to arrive on time," McLellan said. "You have to learn how to hit the hole at the right time, as the puck's coming off the pads. You can be too far ahead of it."
The rest of the NHL is scampering to catch up to McDavid, but he wants to slow down.
"If you're flying through the slot, flying by the net, you're taking yourself out of a chance to score," McDavid said. "Arriving on time, the great goal scorers they know how to do that."
Wednesday's rousing opener was just that: one game in a 27-week test of survival. It was a night McLellan said McDavid "emptied the tank," which also captured the attention of the newest member of the Battle of Alberta.
"McDavid is too good, man," Jaromir Jagr told reporters Thursday. "You know, to score 100 for him, it's possible. He scored three and [had] three other breakaways. I've never seen anything like that in my life, somebody dominate like that."
Forget 100 goals. Even 50 would mark an enormous leap. The last time an Oiler netted 50 was in 1986-87 when Jari Kurri (54) and McDavid's mentor, Gretzky, scored 62.
The oddsmakers have installed McDavid as the sixth-most likely players to lead the league in goals. No TSN panel member on The Quiz picked McDavid to lead the league in goals during Tuesday night's season preview show.
Maybe Wednesday night was a one-off special performance. Or, maybe it was a hint of what's to come this from a player who honed in on one of the few areas he can improve.
"I've never been one of those goal scorers, that guy who goals come easy to," McDavid said. "You reach a point where you need to find new ways to be successful."
Contact Frank Seravalli on Twitter: @frank_seravalli