Insider Trading: Could Soshnikov clause pressure Leafs to make a move?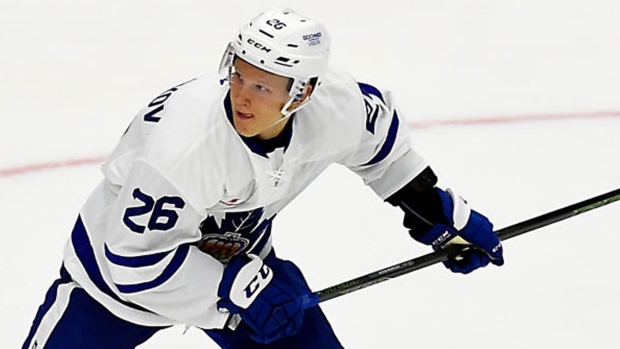 TSN Hockey Insiders Bob McKenzie, Pierre LeBrun, and Darren Dreger joined host Geno Reda to talk about Nikita Soshnikov, who the Maple Leafs can either call up by the deadline of Nov. 14 or allow him to return to the KHL on loan, as well as the trade interest surrounding forwards Evander Kane and Sam Bennett.
Nov. 14 deadline to call up Soshnikov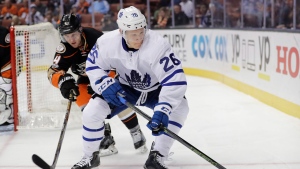 Nikita Soshnikov, who has yet to appear in a game this season with the Toronto Maple Leafs, instead spending all his time with the Marlies, has a clause in his contract that would allow him to return to the KHL on loan, potentially for the reminder of the season, if he's not called up by the Maple Leafs by Nov. 14.
Pierre LeBrun: "We can all be sure that the Leafs will, in fact, call up Soshnikov before [the deadline so that he doesn't return to the KHL]. The other point of note here is that he's three NHL games away from becoming waiver eligible, in terms of going up and down between AHL and NHL. So the Leafs have to call him up. The Leafs have a glut at the forward position, and a lot of teams around the NHL are looking at the Leafs and saying 'something has to give at some point. They have a lot of depth up front, they need help on defence. Will this lead to a trade at some point?'"
Kane's trade value high in Buffalo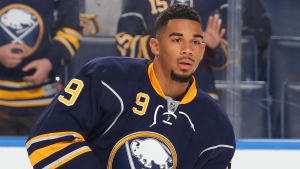 Evander Kane of the Buffalo Sabres now sits at No. 1 on TSN's Trade Bait List, following Matt Duchene being moved to the Ottawa Senators earlier in the week. Interest in Kane from other clubs is picking up as he's set to become an unrestricted free agent at season's end, and he's virtually been a point per game player with the Sabres this season.
Darren Dreger: There's a connect with Phil Housley, so it's possible that Jason Botterill and the Sabres at least consider the notion of an extension, but teams all around the NHL believe that he will get traded and the interest is definitely there. But he's so impactful for the Sabres that it's a tough deal to make right now.
Flames getting calls on pointless Bennett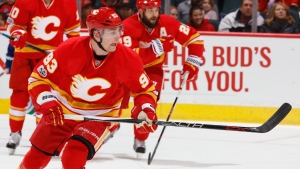 Sam Bennett, the fourth overall pick of the 2014 draft, has struggled, to say the least, this season, unbelievably having yet to record a point through 14 games this season.
Bob McKenzie: The Calgary Flames do not want to trade Sam Bennett, but they would like him to get a goal or a point. The player who we all thought was going to a star thought was going to be a star in the NHL is not playing very well right now; his confidence seems shattered right now. Teams are calling Calgary and asking about him, but as you would expect, there's a wide gap between the Calgary perception of a fourth overall pick who's only 21 years old and could still blossom versus teams that are calling up and [thinking that maybe all Bennett needs is a change of scenery]. This will be one to keep an eye on. The Flames don't want to trade him but they are listening when teams call, but there's a wide gap in terms of value right now."
Sens may not be done dealing
Despite landing Duchene just last week, the Senators are one of a number of teams that are on the market for a forward.
Dreger: Senators general manager Pierre Dorion is still interested in adding another forward. This isn't a huge burning issue for him, perhaps there's an internal candidate like Nick Paul, who's called up to make the trip to Sweden. Or, if Paul isn't the answer, perhaps they use Paul as part of the trade bait to add that piece down the road.
With Getzlaf sidelined, could the Ducks be in the market for a forward?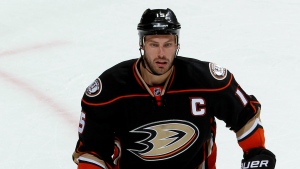 Ryan Getzlaf could be out for as much as two months after taking a puck to the face over a week ago. The Ducks were already short-handed before the Getzlaf and even more so now.
LeBrun: Yeah, they are looking a top-six forward, in fact, they've been looking for one since the off-season but now there's a little more urgency. They were in on the Duchene situation. They kept tabs on it, wanted to know what it would take to get him ... in the meantime, a top-six forward, preferably, a left winger or a left-handed centre is what the Ducks would look for between now and the deadline with a little more urgency now with the injuries.