Insider Trading: What's the latest with Nylander?
TSN Hockey insiders Bob McKenzie, Pierre LeBrun and Darren Dreger joined host James Duthie to discuss the latest with William Nylander, what Jake Gardiner could earn on his next deal with another good season and what might happen with Zack Smith in the nation's capital.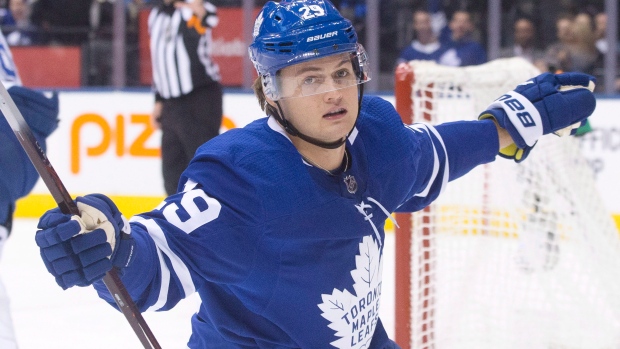 TSN Hockey insiders Bob McKenzie, Pierre LeBrun and Darren Dreger joined host James Duthie to discuss the latest with William Nylander, what Jake Gardiner could earn on his next deal with another good season and what might happen with Zack Smith in the nation's capital.
---
What's the latest with Nylander?
William Nylander is one of two restricted free agents yet to reach a deal with their club. As the clock ticks closer to the season, is anything close?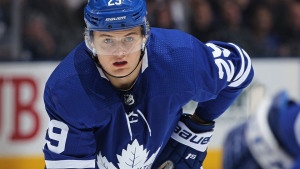 McKenzie: Well what we can say is this – The cone of silence is down obviously from the agent Lewis Gross, who represents Nylander as well as Kyle Dubas of the Toronto Maple Leafs' management team. But we do have strong reason to believe there has been dialogue over the course of this week and they continue to work at it. And one of the issues here is trying to determine Nylander's value on a long-term deal. Nylander and the Leafs would likely prefer a six or a seven-year contract, but getting there has been tough sledding. So how do you break that log jam? Well one of the possibilities that the Leafs and Nylander may be looking at is a short-term bridge deal. Not a two-year deal, I wouldn't think. But something along these lines: when Ryan Johansen couldn't come to terms with the Columbus Blue Jackets, he took a three-year deal at $4 million and when Nikita Kucherov couldn't come to terms on a long-term deal with the Tampa Bay Lightning, he took a three-year deal at $4.77 million. You'll notice that each of these guys then, two or three years later after doing that short-term bridge deal, they were able to come in and hit home runs. Eight million a year for Johansen, $9.5 million for Kucherov. One of the fears – or the expected fears – of Nylander is that he locks himself into a six or seven-year contract at $6 million a year and then sees Mitch Marner and Auston Matthews blow by him next summer. This format would allow him another kick at the can in a couple or three years, and it might be the way to solve this problem.
Is Nylander drawing trade interest?
If the Leafs and Nylander don't reach an agreement soon, is it possible teams could come calling about the 22-year-old?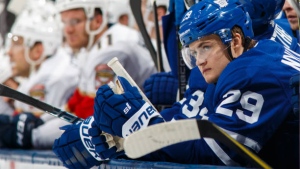 LeBrun: Yeah, that's begun to happen as you might suspect. Hey, why not, if you're another team watching this drag out. I'm told a couple of teams have phoned over the past seven days and I'm told they got a uniform answer from Kyle Dubas, which is no thanks, we're not trading him, we're going to sign this guy. So for now that's not an avenue at all I don't think. In the meantime, you've heard whispers from around the league and I think it's people gossiping more than anything else about the value of an offer sheet. Would a team be willing to do that to the Leafs and try and get Nylander on a one-year deal at let's say $8.1 million with the idea that it would be a difficult qualifying offer for the Leafs to absorb next year. Forget about it. The Leafs have a ton of cap room, they would match under any circumstance and in fact I'm told the Nylander camp is not focused on that at all right now, they're absolutely focused on trying to get a deal done with the Leafs. In fact, as Bob said about the dialogue continuing, I'm told Kyle Dubas and the agent Lewis Gross had a conversation in the past 24 hours. That's the focus and the rest is all white noise at this point.
What about free-agent-to-be

Jake Gardiner

?
With all eyes on Nylander, Jake Gardiner's pending free agency next summer has gone under the radar. What might he be looking for, and can the Leafs afford it?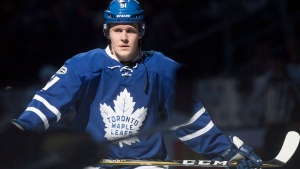 Dreger: Well we can perhaps save the offer sheet talk for Mitch Marner at another point in the season, but here's a player that's kind of slipped under the free agent radar – and that is of course Jake Gardiner, who is a pending unrestricted free agent next July 1. And when you look at the bigger picture in terms of the cap issues that the Leafs are going to face, just add one more body into that mix. Jake Gardiner is coming off a career year of 52 points. If he were to equal that or better that this season, he's going to command as an unrestricted free agent in the high sixes, or the low sevens (in terms of million) so dialogue between the Toronto Maple Leafs and Jake Gardiner is expected to get underway in the next several weeks.
What's next for

Zack Smith

and the Sens?
Forward Zack Smith cleared waivers and will return to the team, so how do the two sides patch things up?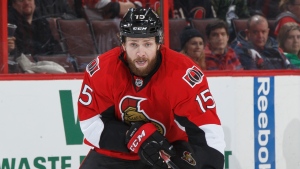 LeBrun: Well what's next is he'll be centering the second line Thursday night in Ottawa playing alongside Mark Stone so back to business as usual, I guess. A lot of players I think were stunned in that dressing room that a popular player like Smith was put on waivers. But the reality is as we know, we had Zack Smith on the TSN Trade Bait Board last February. He's been out there. The Senators have talked to teams and clearly couldn't find a taker and so they do this. Now sometimes when you put a player on waivers and even though he clears, it can ignite a further trade conversation with a team that has some mild interest if the Senators were willing to eat some of that deal or take a contract back. But the reality is he may just play the rest of the year in Ottawa and this was just one quick attempt by the Senators to see if there was a taker.
NHL fight rules
Over the weekend, Emerson Clark and Tyler Randall threw hands the old fashioned way – without helmets.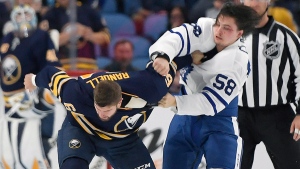 Dreger: You remember why the National Hockey League employed some of the further restrictions when it comes to taking your helmet off prior to a fight, even if that helmet comes off in the fight, there's an allowance with the on-ice officials to call the additional penalty. But have a look at Emerson Clark of the Toronto Maple Leafs and Tyler Randell of the Buffalo Sabres. I mean buckets off, this is old-school major junior hockey. The officials had plenty of time to intervene to stop that fight, they opted not to even though it was safe to do so. Bill McCreary, the supervisor, was there so I'm sure there was a discussion post-game reminding them to jump in when you can, otherwise if you can't, if the buckets are taken off intentionally, it's an additional minor penalty.