It's still the Jack Hughes Draft
The gap between the star American and the rest of the field has narrowed, but Jack Hughes remains the unanimous No. 1 on TSN's Mid-Season NHL Draft Rankings, TSN Hockey Insider Bob McKenzie writes.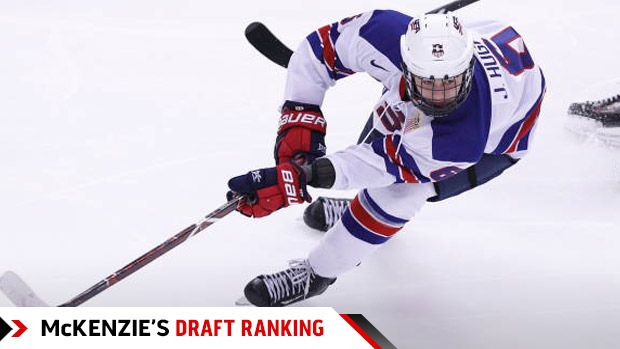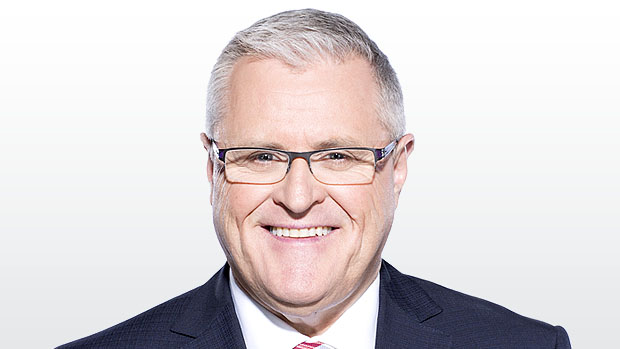 It is the Jack Hughes Draft.
Still.
Amid speculation that perhaps the star American's grip on No. 1 status for the 2019 NHL draft was in question after the World Junior Championship, the 5-foot-10-1/4, 168-pound centre remains the unanimous No. 1 on TSN's Mid-Season NHL Draft Rankings.
Just as he was on TSN's Pre-Season Rankings in September.
Each of the 10 NHL scouts surveyed by TSN this week had Hughes at No. 1 on their list. Ten for 10.
But that doesn't mean there hasn't been some closing of what started this season as a considerable gap between Hughes and the rest of the 2019 draft class.
"We still have Hughes at No. 1," one NHL scout said, "but he's No. 1 within a group of five or six. At the start of the season, Hughes was in a group by himself. He has company now."
Many of the scouts surveyed said the strong play of Finnish forward Kaapo Kakko, who scored the gold-medal winning goal at the WJC, and Russian forward Vasili Podkolzin, who played a prominent role in Russia's bronze-medal performance at the WJC, represent a challenge of sorts to Hughes.
But not one of those scouts was prepared to put Hughes anywhere other than No. 1. And some of them said that while the strong play of Kakko and Podkolzin, who are Nos. 2 and 3 respectively on TSN's mid-season list, has tightened the race somewhat, there's no need to overthink things.
"Hughes was the clear No. 1 to start the season, he is, for me, the clear No. 1 right now and I strongly suspect he'll be the clear No. 1 at the draft," another scout added. "There have been times this season where [Hughes] hasn't been as productive or dominant as we expected, but he's still playing at a really high level and putting up points. He's a special player. So have Kakko and Podkolzin closed the gap? Yes, they have. But does a gap still exist? I would say yes."
In 28 games with the Under-18 U.S. National Development Team, Hughes has averaged two points per game, scoring 13 goals and 56 points. These numbers do not include the four assists he had in four WJC games for Team USA, where Hughes missed three WJC games with an upper-body injury.
Hughes' 13 goals in 28 games is tied for third on the U-18 team, although his 56 points are tops and he's played seven less games than most of his U-18 teammates because of the WJC.
The U.S. U-18 team plays a hybrid schedule against competition from the United States Hockey League, NCAA college teams and international tournaments.
Hughes was, not surprisingly, most productive when he was playing against same-aged competition. At the Five Nations U-18 tournament in Europe in November, Hughes tore it apart, collecting six goals and 16 points in four games. Scouts at the time said he was on another planet in that tourney.
Perhaps surprisingly, Hughes has fared better scoring goals against older and tougher NCAA competition than when he plays against USHL teams.
Hughes has scored only three goals in 13 games versus the USHL, although he also has 19 assists. In 11 games against NCAA competition — some of the best college teams in the country, many of which have players four to six years older than Hughes — he has scored four goals and 17 points.
There have only been five games all season, including the WJC (where he had a point in each of his four games), when Hughes failed to register a point.
"You can really see how he's on another level when he's playing against his [own age] peers," a third scout said. "And he's still putting up numbers against older, better competition. I don't doubt he has another gear we haven't seen yet."
Hughes also has the advantage of being projected as a No. 1 NHL centre while his chief competition for No. 1 status in this draft comes from two players — Kakko and Podkolzin — who are natural wingers.
The Finn and Russian played at a high level at the WJC, reinforcing their projections as top-line NHL wingers.
Kakko is 6-foot-2-1/4, 194 pounds and has an attractive blend of size, strength, speed and skill. He's played well against men in Finland's top league and while he's been mostly a winger, there are occasions when he's played centre. He was a driving force for the gold-medal winning Finns.
Nine of 10 scouts surveyed by TSN ranked Kakko No. 2 overall. The only scout who didn't have him No. 2 had him No. 3.
"He has all the tools you want in a big, skilled NHL winger," one scout said. "He helped himself a lot (at the WJC)."
Podkolzin, a 6-foot-1, 190-pound winger, was a dominant offensive force at the Hlinka-Gretzky Under-18 tournament in August and demonstrated at the WJC that he could be a factor against older competition. On a Valeri Bragin-coached Russian team that usually relies on older players, Podkolzin played notable and significant minutes, including on the power play and in late stages, protecting a one-goal lead.
"He isn't the biggest or fastest but he sure can play," a scout said. "He's smart, he wins battles and makes plays. He scores goals. He creates offence."
All 10 scouts had Podkolzin in their Top 5. Five of 10 scouts surveyed had him at No. 3 although one placed him at No. 2, behind only Hughes. Three others had him at No. 4 and one at No. 5.
It's fair to say, though, Hughes and Kakko, at this moment in time, seem more locked into Nos. 1 and 2 than Podkolzin is at No. 3.
The odds appear high that the first-overall selection this season will be an American, which is perhaps fitting insofar as this year's U.S. Under-18 program is being touted by many as the best U-18 team USA Hockey has ever iced. There are eight members of the team among the top 23 ranked prospects on TSN's mid-season list, including three in the Top 10.
In all, there are 10 Americans ranked in TSN's Top 31, 11 if you count one prospect (Mississauga Steelhead defenceman Thomas Harley at No. 22) who has dual Canadian-American options and 12 if you include No. 27-ranked Nolan Foote, another dual citizen who was born in the U.S. but has chosen to be Canadian for international hockey purposes.
There are 13 Canadians in TSN's Top 31 — 14 if you include Harley — including three of the Top 6 and eight of the Top 20.
It's also a very big year for the Western Hockey League (seven in TSN's top 31, including four of the Top 10), a good year for the Quebec League (three in the Top 31) and a sub-par year for the Ontario Hockey League (four in the Top 31, none in the Top 10).
Beyond the Hughes-Kakko-Podkolzin triangle at the top of the draft, the next three prospects on TSN's mid-season list are Canadians who play in the WHL.
No. 4 is Kirby Dach, a 6-foot-3-1/2, 199-pound right-shot playmaking centre from the Saskatoon Blades. Dach has 18 goals and 50 points in 43 games this season. He's capable of scoring goals, but his natural inclination is to pass. He is viewed as having elite skill level. While Dach has the size NHL scouts covet, he's not blazing fast, though no one is suggesting his skating is a notable liability and his blend of size and skill is what separates him.
Eight of 10 scouts surveyed by TSN had Dach in their Top 5.
No. 5 is Dylan Cozens, a big, strong and powerful 6-foot-3, 181-pound centre who plays for the Lethbridge Hurricanes. Cozens is a unique story, born in Whitehorse in Yukon Territory. Cozens has 25 goals and 58 points in 45 games this season. He's the opposite of Dach in many respects. Cozens is a shoot-first centre with a tremendous shot. He is a fast and powerful skater who plays a bullish power game.
Seven of 10 scouts had Cozens in their Top 5.
No. 6 is Bowen Byram, the top-ranked defenceman in the draft. He is a 6-foot-0-1/2, 194-pound Vancouver Giant blueliner who does his best work when he has the puck on his stick, which is often. Byram has 16 goals and 43 points in 43 games. He plays a strong two-way game and has a healthy amount of grit in his game but his strength is skating and passing the puck up the ice, creating offence for others or himself with a good shot from the point. He can also quarterback a power play.
Only two scouts surveyed by TSN put Byram in their Top 5 but eight had him in their Top 10.
The rest of TSN's Top 10 is as follows:
No. 7 is Matthew Boldy, the 6-foot-1-1/2, 187-pound goal-scoring winger from the U.S. Under-18 team who has committed to Boston College for next season. Boldy has 21 goals in 35 games; he's a natural goal scorer with the size, skill and speed to beat people one on one.
Five of 10 scouts surveyed by TSN had Boldy at No. 7 or higher, including one who pegged him as high as No. 4. Eight of 10 had him in the top 10.
No. 8 is Philip Broberg, the 6-foot-2-3/4, 199-pound offensive defenceman from Sweden who plays for AIK in Sweden's second-level professional league. Broberg appears to be the only legitimate threat to Bowen Byram as the top defenceman in the draft. Broberg is considered an excellent skater who, as one scout put it, is a "one-man breakout" who exhibits strong offensive tendencies.
Broberg, at No. 8, is the prospect and the point in the rankings where consensus becomes more difficult to achieve. Five of 10 scouts surveyed had Broberg in their Top 10, including one who ranked him as high as No. 5. Four of the five scouts who had Broberg outside the Top 10 ranked him No. 12 and one as low as No. 23.
No. 9 is Peyton Krebs, the sub-6 foot, two-way centre from the Kootenay Ice, the fourth and final Canadian WHLer in the Top 10. Krebs, at 5-foot-11-1/4 and 180 pounds, is an energetic and industrious playmaking pivot who has a high hockey IQ. He has 16 goals and 37 assists for 53 points in 44 games, which reinforces his reputation as playmaker more than a scorer but some questions about size and offensive upside will be raised.
Six of 10 scouts surveyed by TSN had Krebs in their Top 10.
No. 10 is Trevor Zegras, the third member of the U.S. Under-18 team in TSN's Top 10. Zegras is a 6-foot, 166-pound playmaking centre who at times has played on the wing, sometimes with Hughes. Zegras has 13 goals and 49 points in 34 games, second in points to Hughes on the U-18 team. He's committed to Boston University for next season.
Six of 10 scouts had Zegras in their Top 10, including one who ranked him No. 4 overall.
If, as expected, Hughes goes first overall - and even if he doesn't and one of Kakko or Podkolzin does - it will be an unprecedented fourth consecutive year a non-Canadian has gone No. 1 overall.
The first three are: American Auston Matthews in 2016, Switzerland's Nico Hischier in 2017 and Sweden's Rasmus Dahlin in 2018.
Whatever happens, there's likely to be a lot of American flag-waving at this year's draft in Vancouver, June 21-22.
Beyond Hughes at No. 1, Boldy at No. 7 and Zegras at No. 10, other notables from the U.S. U-18 team include:
- Centre Alex Turcotte, the son of former NHLer Alfie Turcotte, is No. 11 and a legit threat to break into the Top 10 despite playing only 13 games this season because of injury.
- Defenceman Cam York is No. 15 and emerging as a strong two-way blueliner who can quarterback a power play and recently had a seven-point game in the USHL.
- No. 18-ranked right winger Cole Caufield, all 5–foot-6-3/4 of him, is arguably the pre-eminent natural goal-scorer in the draft. He has 31 goals in 35 games to lead, by far, the U.S. U-18 team in goals. Yes, the prospect who is viewed as the second coming of Chicago's Alex DeBrincat often lines up alongside Jack Hughes but Caufield continued to score goals while Hughes was away at the WJC. In fact, in six games against NCAA competition while Hughes was at the World Junior Championship, Caufield scored seven goals.
- Goaltender Spencer Knight is No. 19 and the clear choice as the top stopper in this draft, a potential franchise player at his position. There are those associated with USA Hockey who believe the 6-foot-3, 197-pound elite athlete is on a trajectory to become one of the best American goalies ever. All 10 scouts surveyed by TSN ranked Knight a first rounder; half of them had him in their Top 15 and one as high as No. 7.
- Defenceman Alex Vlasic, at No. 23, is a huge 6-foot-5-3/4, strong skating puck-mover and defender who is the eighth member of the U-18 team ranked in the first round.
Two Americans who don't play on the U-18 team - Hamilton Bulldog scoring winger Arthur Kaliyev at No. 13 and mobile blueliner Ryan Johnson of Sioux Falls in the USHL at No. 30 - round out the American contingent ranked in the Top 31.
In spite of Kaliyev's presence at No. 13, and Barrie Colt centre Ryan Suzuki (younger brother of Montreal prospect and NHL first-round Nick Suzuki) at No. 12, it's a lean year for the OHL, which has been a standard-bearer for Canadian prospects in recent drafts. Mississauga defenceman Harley, at No. 22, and London Knight forward Connor McMichael at No. 26, fill out the OHL's four-man group in the Top 31.
While four OHLers is considered low output for Ontario, having three Quebec League players in the Top 31 is cause for celebration in La Belle Province. It's notable because all three prospects are francophones from Quebec — Halifax Mooseheads scoring winger Raphael Lavoie of at No. 14; Sherbrooke Phoenix forward Samuel Poulin (son of former NHL forward Patrick Poulin) at No. 28; and Moncton Wildcats left winger Jakob Pelletier at No. 31.
There is one player in TSN's Top 31 representing Canadian Junior A hockey. Centre Alex Newhook of the Victoria Grizzlies may be No. 20 on the TSN list, but he's No. 1 in British Columbia Hockey League scoring, earning 70 points in 41 games. He's a native of Newfoundland who played some minor hockey in the Greater Toronto Area and now plays on the west coast, which is to suggest Newhook has literally gone coast to coast.
One other significant player earning a first-round ranking is Prince Albert Raider forward Brett Leason at No. 25. Leason, who played for Team Canada at the WJC, has 31 goals and 73 points in 39 WHL games. In his final year of junior eligibility, Leason was not taken in each of the last two NHL drafts. He'll try to duplicate what Tanner Pearson did in 2012; Pearson was picked 30th overall in the first round by the Los Angeles Kings after being bypassed twice in the draft.
Leason is something of a wild card with a wide variance of ratings. He was ranked as high as No. 17 by one scout and as low as No. 65 by another.
The Top 80
| RK | Player | Team | POS | HT | WT | GP | G | P |
| --- | --- | --- | --- | --- | --- | --- | --- | --- |
| 1 | Jack Hughes | USA NTDP (USHL) | C | 5'10 ¼ | 168 | 28 | 13 | 56 |
| 2 | Kaapo Kakko | Turku (SM Liiga) | RW | 6'2 ¼ | 194 | 29 | 11 | 22 |
| 3 | Vasili Podkolzin | St. Petersburg (MHL) | RW | 6'1 | 190 | 11 | 6 | 8 |
| 4 | Kirby Dach | Saskatoon (WHL) | C | 6'3 ½ | 199 | 43 | 18 | 50 |
| 5 | Dylan Cozens | Lethbridge (WHL) | C | 6'3 | 181 | 45 | 25 | 58 |
| 6 | Bowen Byram | Vancouver (WHL) | D | 6'0 ½ | 194 | 43 | 16 | 43 |
| 7 | Matthew Boldy | USA NTDP (USHL) | LW | 6'1 ½ | 187 | 35 | 21 | 39 |
| 8 | Philip Broberg | AIK (SWE-Als) | D | 6'2 ¾ | 199 | 30 | 1 | 8 |
| 9 | Peyton Krebs | Kootenay (WHL) | C | 5'11 ¼ | 180 | 44 | 16 | 53 |
| 10 | Trevor Zegras | USA NTDP (USHL) | C | 6'0 | 166 | 34 | 13 | 49 |
| 11 | Alex Turcotte | USA NTDP (USHL) | C | 5'11 | 189 | 13 | 9 | 18 |
| 12 | Ryan Suzuki | Barrie (OHL) | C | 6'0 ¼ | 178 | 41 | 15 | 44 |
| 13 | Arthur Kaliyev | Hamilton (OHL) | RW | 6'1 ¼ | 190 | 46 | 35 | 68 |
| 14 | Raphael Lavoie | Halifax (QMJHL) | C | 6'3 ½ | 191 | 43 | 21 | 45 |
| 15 | Cam York | USA NTDP (USHL) | D | 5'11 ¼ | 171 | 34 | 6 | 28 |
| 16 | Matthew Robertson | Edmonton (WHL) | D | 6'3 | 201 | 34 | 6 | 22 |
| 17 | Victor Soderstrom | Brynas (SWE J20) | D | 5'11 | 179 | 26 | 2 | 4 |
| 18 | Cole Caufield | USA NTDP (USHL) | RW | 5'6 ¾ | 155 | 35 | 31 | 46 |
| 19 | Spencer Knight | USA NTDP (USHL) | G | 6'3 | 197 | 15 | 2.42 | .920 |
| 20 | Alex Newhook | Victoria (BCHL) | C | 5'10 ¼ | 195 | 40 | 25 | 70 |
| 21 | Moritz Seider | Mannheim (DEL) | D | 6'3 ½ | 183 | 25 | 1 | 4 |
| 22 | Thomas Harley | Mississauga (OHL) | D | 6'3 | 188 | 45 | 8 | 38 |
| 23 | Alex Vlasic | USA NTDP (USHL) | D | 6'5 ¾ | 193 | 33 | 3 | 14 |
| 24 | Ville Heinola | Lukko (SM Liiga) | D | 5'11 ¼ | 178 | 23 | 1 | 6 |
| 25 | Brett Leason | Prince Albert (WHL) | C | 6'3 ¾ | 200 | 39 | 31 | 73 |
| 26 | Connor McMichael | London (OHL) | C | 5'10 ¾ | 172 | 43 | 27 | 51 |
| 27 | Nolan Foote | Kelowna (WHL) | LW | 6'3 ¼ | 190 | 43 | 22 | 42 |
| 28 | Samuel Poulin | Sherbrooke (QMJHL) | RW | 6'1 ¼ | 206 | 45 | 19 | 47 |
| 29 | Nils Hoglander | Rögle (SHL) | LW | 5'9 | 185 | 32 | 5 | 8 |
| 30 | Ryan Johnson | Sioux Falls (USHL) | D | 6'0 | 173 | 28 | 4 | 14 |
| 31 | Jakob Pelletier | Moncton (QMJHL) | LW | 5'9 | 161 | 44 | 25 | 60 |
| | | | | | | | | |
| 32 | Anttoni Honka | JYP (SM Liiga) | D | 5'11 ¼ | 179 | 16 | 1 | 4 |
| 33 | Bobby Brink | Sioux City (USHL) | RW | 5'8 ¼ | 159 | 19 | 15 | 33 |
| 34 | Phillip Tomasino | Niagara (OHL) | C | 5'11 ¾ | 178 | 44 | 22 | 47 |
| 35 | Lassi Thomson | Kelowna (WHL) | D | 6'0 | 188 | 44 | 10 | 29 |
| 36 | Hunter Jones | Peterborough (OHL) | G | 6'4 | 196 | 39 | 3.18 | .910 |
| 37 | Kaedan Korczak | Kelowna (WHL) | D | 6'2 ¾ | 192 | 45 | 3 | 19 |
| 38 | Nicholas Robertson | Peterborough (OHL) | LW | 5'8 ¾ | 162 | 31 | 17 | 33 |
| 39 | Vladislav Kolyachonok | Flint (OHL) | D | 6'0 ¼ | 176 | 34 | 3 | 23 |
| 40 | Ilya Nikolaev | Yaroslavl (MHL) | C | 6'0 | 190 | 33 | 8 | 18 |
| 41 | John Beecher | USA NTDP (USHL) | C | 6'2 ¾ | 204 | 34 | 5 | 20 |
| 42 | Egor Afanasyev | Muskegon (USHL) | LW | 6'3 ½ | 201 | 33 | 18 | 40 |
| 43 | Jamieson Rees | Sarnia (OHL) | C | 5'10 | 173 | 28 | 8 | 23 |
| 44 | Albin Grewe | Djurgardens (SWE J20) | RW | 5'10 ½ | 187 | 19 | 11 | 28 |
| 45 | Tobias Bjornfot | Djurgardens (SWE J20) | D | 6'0 | 202 | 27 | 9 | 16 |
| 46 | Vladislav Firstov | Waterloo (USHL) | LW | 6'0 ¾ | 181 | 36 | 18 | 38 |
| 47 | John Farinacci | Dexter (USHS) | C | 5'11 ¼ | 185 | | | |
| 48 | Matvei Guskov | London (OHL) | C | 6'1 ¼ | 177 | 35 | 7 | 21 |
| 49 | Nathan Legare | Baie Comeau (QMJHL) | RW | 6'0 | 205 | 45 | 34 | 64 |
| 50 | Simon Holmstrom | HV71 (SWE J20) | RW | 6'1 | 183 | 12 | 6 | 9 |
| 51 | Colten Ellis | Rimouski (QMJHL) | G | 6'0 ¾ | 185 | 33 | 2.37 | .914 |
| 52 | Michal Teply | Liberec (CZE) | LW | 6'3 | 187 | 15 | 0 | 2 |
| 53 | Shane Pinto | Lincoln (USHL) | C | 6'2 | 192 | 30 | 17 | 32 |
| 54 | Henry Thrun | USA NTDP (USHL) | D | 6'2 | 190 | 35 | 7 | 23 |
| 55 | Mikko Kokkonen | Jukurit (SM Liiga) | D | 5'11 | 198 | 38 | 1 | 14 |
| 56 | Jackson LaCombe | S. St. Mary's (USHS) | D | 6'1 ¼ | 171 | 33 | 13 | 49 |
| 57 | Nikita Okhotyuk | Ottawa (OHL) | D | 6'0 ¾ | 191 | 33 | 1 | 8 |
| 58 | Artemi Kniazev | Chicoutimi (QMJHL) | D | 5'10 ¾ | 176 | 35 | 9 | 21 |
| 59 | Josh Williams | Edmonton (WHL) | RW | 6'1 | 194 | 41 | 9 | 21 |
| 60 | Drew Helleson | USA NTDP (USHL) | D | 6'2 ¼ | 181 | 35 | 5 | 15 |
| 61 | Graeme Clarke | Ottawa (OHL) | RW | 5'11 ½ | 175 | 32 | 15 | 22 |
| 62 | Robert Mastrosimone | Chicago (USHL) | LW | 5'9 ¾ | 158 | 27 | 14 | 26 |
| | | | | | | | | |
| 63 | Ryder Donovan | Duluth East (USHS) | C | 6'3 ¼ | 184 | 18 | 9 | 27 |
| 64 | Pyotr Kochetkov | Ryazan (RUS-2) | G | 6'3 | 205 | 13 | 1.91 | .937 |
| 65 | Pavel Dorofeyev | Magnitogorsk (MHL) | LW | 6'1 | 167 | 16 | 13 | 25 |
| 66 | Maxim Cajkovic | Saint John (QMJHL) | RW | 5'10 ¾ | 185 | 39 | 13 | 32 |
| 67 | Valentin Nussbaumer | Shawinigan (QMJHL) | C | 5'10 ½ | 167 | 36 | 10 | 23 |
| 68 | Daniil Gutik | Yaroslavl (MHL) | LW | 6'3 | 179 | 24 | 3 | 9 |
| 69 | Dillon Hamaliuk | Seattle (WHL) | LW | 6'2 ¾ | 190 | 31 | 11 | 26 |
| 70 | Case McCarthy | USA NTDP (USHL) | D | 6'0 ½ | 194 | 31 | 4 | 14 |
| 71 | Oleg Zaytsev | Red Deer (WHL) | C | 6'0 ¾ | 186 | 42 | 8 | 29 |
| 72 | Judd Caulfield | USA NTDP (USHL) | RW | 6'3 | 204 | 35 | 6 | 23 |
| 73 | Michael Vukojevic | Kitchener (OHL) | D | 6'3 | 205 | 44 | 2 | 13 |
| 74 | Samuel Fagemo | Frolunda (SHL) | LW | 6'0 | 194 | 26 | 7 | 14 |
| 75 | Nikita Alexandrov | Charlottetown (QMJHL) | C | 6'0 | 179 | 37 | 18 | 36 |
| 76 | Marcus Kallionkieli | Sioux City (USHL) | LW | 6'1 ½ | 192 | 25 | 15 | 25 |
| 77 | Billy Constantinou | Kingston (OHL) | D | 5'11 ¾ | 185 | 22 | 4 | 15 |
| 78 | Massimo Rizzo | Penticton (BCHL) | C | 5'9 ¾ | 175 | 24 | 8 | 26 |
| 79 | Michael Koster | Chaska (USHS) | D | 5'9 ¼ | 171 | 16 | 9 | 33 |
| 80 | Matias Maccelli | Dubuque (USHL) | LW | 5'11 | 165 | 36 | 18 | 43 |
Honourable Mentions
| Player | Team | POS | HT | WT | GP | G | P |
| --- | --- | --- | --- | --- | --- | --- | --- |
| Leevi Aaltonen | Kalpa (SM Liiga Jr) | RW | 5'8 ¾ | 177 | 22 | 7 | 24 |
| Mikhail Abramov | Victoriaville (QMJHL) | C | 5'10 ½ | 154 | 41 | 6 | 34 |
| Layton Ahac | Prince George (BCHL) | D | 6'1 ¾ | 188 | 40 | 0 | 20 |
| Roman Bychkov | Yaroslavl (MHL) | D | 5'11 | 161 | 32 | 2 | 14 |
| Jake Lee | Seattle (WHL) | D | 6'1 ¾ | 216 | 42 | 2 | 19 |
| Simon Lundmark | Linkoping (SWE J20) | D | 6'2 | 201 | 25 | 2 | 17 |
| Ilya Mironov | Yaroslavl (MHL) | D | 6'3 | 201 | 22 | 1 | 6 |
| Ethan Phillips | Sioux Falls (USHL) | C | 5'9 ¼ | 148 | 22 | 8 | 24 |
| Patrik Puistola | Tappara (SM Liiga Jr) | RW | 6'0 | 174 | 17 | 9 | 16 |
| Mads Sogaard | Medicine Hat (WHL) | G | 6'6 ¾ | 192 | 21 | 2.40 | .931 |
| Jordan Spence | Moncton (QMJHL) | D | 5'9 ½ | 164 | 47 | 3 | 36 |
| Jayden Struble | St. Sebastian's (USHS) | D | 6'0 | 194 | | | |
| Antti Tuomisto | Assat (SM Liiga Jr) | D | 6'4 | 190 | 36 | 7 | 26 |
| Marshall Warren | USA NTDP (USHL) | D | 5'10 ½ | 169 | 26 | 4 | 14 |
| Cade Webber | Rivers Academy (USHS) | D | 6'5 ¾ | 194 | | | |
| Dustin Wolf | Everett (WHL) | G | 5'11 ½ | 156 | 42 | 1.88 | .927 |