Janikowski, Dickson emerge from Seahawks camp competition
The Seattle Seahawks training-camp kicking competition ended predictably, with former Oakland Raider Sebastian Janikowski earning the starting role and rookie Michael Dixon landing the punting job.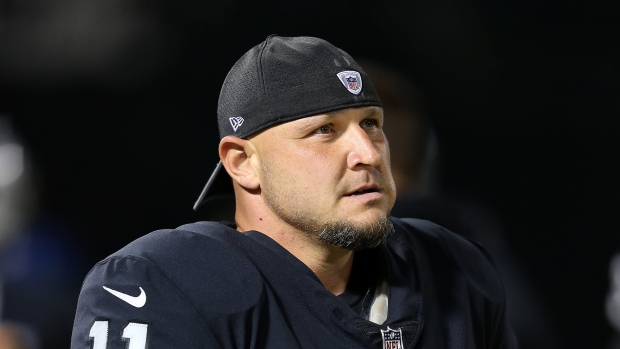 RENTON, Wash. — There were so few competitions for starting roles when the Seattle Seahawks arrived for training camp that the daily assessment of where things stood with the kicker and punter became a major topic.
The competition ended as expected with veteran Sebastian Janikowski appearing to be a lock as Seattle's kicker beating out Jason Myers and rookie Michael Dickson as the punter with Jon Ryan's tenure coming to an end.
So much for any drama. And for Ryan it meant the end for the longest-tenured Seahawks player.
"First, let me say this: Jon Ryan has been a great Seahawk," Carroll said. "We loved the time we spent together. He's been here since the beginning, and I know everybody would understand that it's a very difficult decision when you have to make one like this after all this time together. He was doing great.
"Michael was just kicking out of this world and was doing the things that we had hoped he could do. ... It was the right time to help Jon get moving too. So he's been a great player, been a great competitor, been a great team guy, community guy. We love him."
Dickson was expected to land the punter job from the moment he was selected in the fifth round by Seattle. The Seahawks didn't invest a draft pick like that without wanting Dickson to win the job. Ryan was kept around in case Dickson struggled or there was an injury, but Seattle was able to save money by letting go of the veteran and going with the rookie from Texas.
"There's just a lot of things we're excited about with him and we're excited to get it going," Carroll said. "It's good for him to feel the confidence in the program and that we're behind him."
Dickson has been impressive in the first two preseason games, averaging 51.7 yards per kick, with better hang time and directional control than what Ryan showed. Still, while Dickson was excited to win the job, finding out he had arrived with some bittersweet feelings about Ryan's departure.
"It was something that I was battling for every day, and I wanted to win the spot more than anything," Dickson said. "But it was surprisingly more bittersweet than anything, just because Jon was such a great mentor to me when he was here. He was probably one of the funniest people I've ever met. So, yeah, it was a little bittersweet. But I'm super excited."
Carroll said the decision to release Ryan with two weeks remaining in training camp was also to give him plenty of time to find a new opportunity. It didn't take long. Ryan signed a one-year deal with the Buffalo Bills on Tuesday.
Janikowski said he's fully recovered from the back injury that caused him to miss the entire 2017 season. It's the first time in his career Janikowski has kicked anywhere but Oakland, where he played for 17 seasons and made more than 80 per cent of his field goal attempts. He said there was some conversation with the Chargers, but he decided Seattle was the better opportunity.
"It's a good change," Janikowski said. "It's like a start over again, but I feel great."
Making the decision about the punter and kicker at this point also allows Seattle two weeks of having the duo work together in the kicking game. As simple as holding sounds, Dickson has limited experience in the job, only starting to do it his final year at Texas. After holding for Myers in the first preseason game, Dickson held for Janikowski last weekend against the Chargers.
"It's all about timing," Janikowski said. "I mean, (Tyler Ott) is a great snapper, (Dickson's a good) holder, it's all about timing you just have to figure it out with time. And I think we got it down."
NOTES: Seattle practiced indoors on Tuesday because of the unhealthy air quality in the Seattle area because of smoke from wildfires. ... Carroll said WR Doug Baldwin remains on track to be ready for Week 1 at Denver. Baldwin has missed most of training camp with a knee injury, but has resumed running. "He's really excited about coming back, he's running. He'll want to play next week, we'll just get him back out here (at practice) and we'll make that determination next week. But he's going to be there for the opener," Carroll said. ... RB Rashaad Penny was also doing running on the side on Tuesday after having surgery on a broken finger suffered last week in practice. Penny is also expected to be ready for Week 1.
___
More AP NFL: https://apnews.com/tag/NFL and https://twitter.com/AP_NFL