Jays call up OF prospect Alford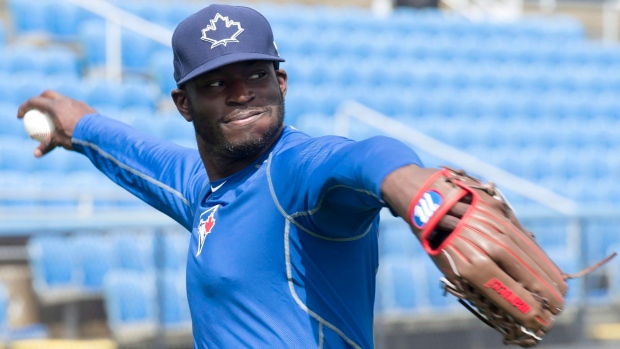 One of the more intriguing prospects in the Toronto Blue Jays' minor-league system has arrived the big leagues.
Dealing with injuries and suspensions in the outfield, the Jays called up Anthony Alford from Double-A New Hampshire on Friday, and the 22-year-old made his debut in left field, hitting eighth, in Baltimore.
Over the past few days the Blue Jays have watched Steve Pearce (calf) and Darrell Ceciliani (shoulder) hit the disabled list, while Kevin Pillar will sit out his second game of a two-game suspension Friday for uttering a homophobic slur.
Alford, a right-handed hitter, had been enjoying a breakout season in his first taste of Double-A, slashing .325/.411/.455 with three home runs and nine stolen bases in 141 plate appearances.
After striking out 29.2 per cent of the time with High-A Dunedin last season, the key progression for the 2012 third-round pick has been cutting his strikeout rate to just 17 per cent, while maintaining an impressive 11.3 per cent walk rate.
Coming into 2017, Baseball Prospectus and Baseball America both ranked Alford No. 2 in the Blue Jays' system, while MLB.com placed him third.
Baseball America also slotted Alford at No. 59 on its pre-season top 100 prospects list, but he jumped to the No. 34-overall prospect in baseball when the publication updated its list earlier this month.
The 6-foot-1, 215-pounder is considered a terrific athlete, evidenced by the two-sport background that saw him play two NCAA football seasons as a defensive back, one at the University of Southern Mississippi and one at Ole Miss, where he was teammates with future first-round NFL picks Laremy Tunsil, Laquon Treadwell, Robert Nkemdiche, and Evan Engram.
A potential first-round pick in 2012 if it weren't for football clouding the picture, the Blue Jays gave him a $750,000 bonus when they drafted him out of Petal High School in Mississippi and signed off on the baseball in the summer, football in the fall plan.
Football, however, was seen as a reason Alford's baseball development had been lagging, but on Sept. 30, 2014 he announced he was leaving Ole Miss to play baseball full time.
Alford, who is viewed as a potential above-average major league centre fielder defensively, was assigned to Dunedin to start the 2016 season, but he suffered a dislocated kneecap and had to be stretchered off the field after an outfield collision later in the year.
Upon returning, he struggled, but rebounded with an all-star stint in the Arizona Fall League, and the Blue Jays placed him on their 40-man roster in November.