Jays' Donaldson named AL MVP
Josh Donaldson made it rain one final time for the Toronto Blue Jays in 2015. After one of the greatest seasons in Jays' history, Donaldson was named the American League's Most Valuable Player on Thursday. The 29-year-old third baseman earned 23 of 30 first-place votes.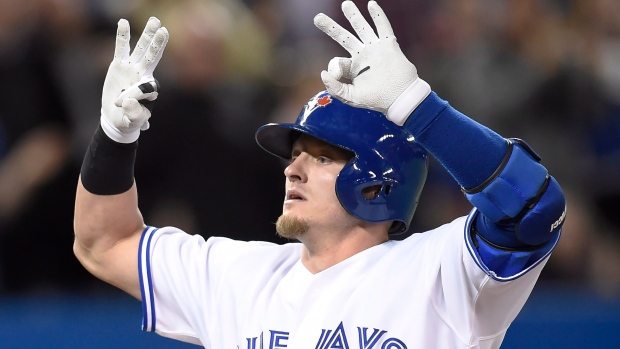 NEW YORK -- Toronto Blue Jays third baseman Josh Donaldson has been named the American League MVP. Donaldson hit .297 with a league-best 123 runs batted in to help the Blue Jays to their first AL East title -- and first playoff appearance -- since 1993.
The 29-year-old beat Los Angeles Angels outfielder Mike Trout for the honours and joined 1987 winner George Bell as the only Blue Jays players to be named AL MVP.
"Enjoy the club, man," Bell said in a video message sent out by the Blue Jays. "I'm glad for you, for your family and for Toronto Blue Jays fans."
What was characterized as a close race leading up to Thursday's announcement turned out to be an easy win for Donaldson, who took 23 first-place votes and seven second-place votes.
Trout had seven first-place and 22 second-place votes, as well as one third-place vote.
Outfielder Lorenzo Cain of the Kansas City Royals was third with 20 third-place votes.
Washington Nationals outfielder Bryce Harper was a unanimous choice as National League MVP. Harper became the youngest unanimous MVP winner in baseball history, capturing the NL award despite his Washington Nationals missing the playoffs.
Harper turned 23 on Oct. 16, after the playoffs had already started. He got all 30 first-place votes from members of the Baseball Writers' Association of America.
The 2012 NL Rookie of the Year led the majors in slugging percentage and on-base average. The outfielder hit .330 with 42 home runs and 99 RBIs.
Diamondbacks first baseman Paul Goldschmidt finished second and Toronto native Joey Votto, a first baseman with Cincinnati, was third.
Blue Jays slugger Jose Bautista congratulated his teammate on social media moments after the MVP announcement was made.
"The best of the best!!! Without a doubt!!!" Bautista tweeted at Donaldson's verified account.
Earlier this month, Donaldson was named a Silver Slugger award winner for the first time in his career.