Jays P Stroman to play catch Thursday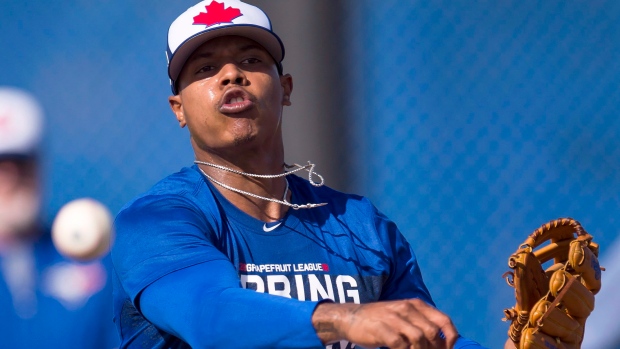 Toronto Blue Jays pitcher Marcus Stroman is expected to test his arm on Thursday for the first time since being shut down with shoulder inflammation last month.
Pitching coach Pete Walker told reporters that Stroman will play catch on Thursday, throwing for the first time since his injury was announced on Feb. 27.
Stroman has not comitted to being ready for Opening Day on March 29, but has said he plans to be ready for early in the season.
"It's some thing that I could probably get through if I needed to get through it," Stroman said on Feb. 27. "This is some thing that I rather deal with now, get it out now rather than some thing that lingers throughout the year."
Blue Jays bench coach DeMarlo Hale added that the team is not going to rush him back. "He's such a big part of this team and this rotation (that) being cautious is something necessary to do," he explained to The Toronto Sun. "Sometimes coaches, staff, the front office, we definitely have to manage the player.
"His competitive edge, we have to manage that. He'll let us know when he's ready, but we have to be smart too."
Stroman pitched 201.0 innings over a career-high 33 starts a season ago. He was 13-9 with a 3.09 earned run average and a WHIP of 1.308. His 5.8 WAR was fourth among American League starters behind only Corey Kluber, Justin Verlander and Chris Sale.