Jeff Skinner joins TSN's Trade Bait board
The Carolina Hurricanes winger is the most prominent among 10 new names to the list, TSN Senior Hockey Reporter Frank Seravalli writes.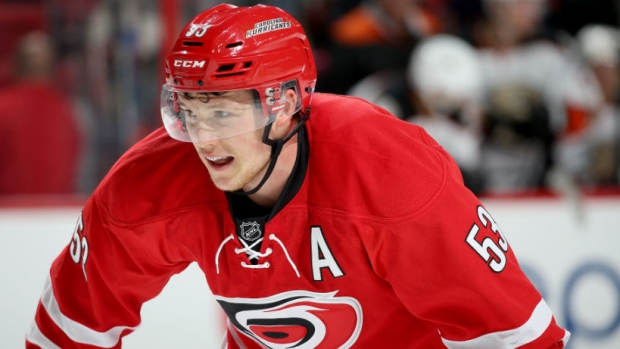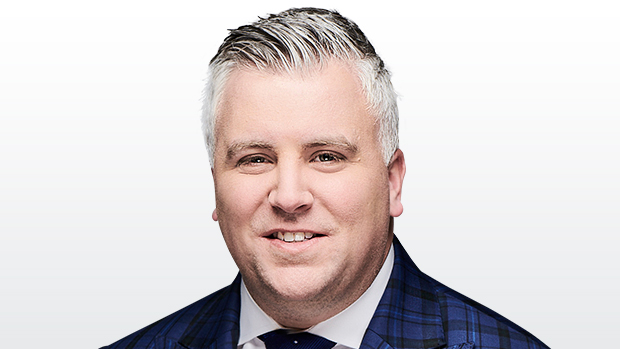 Carolina Hurricanes coach Bill Peters raised eyebrows this week when he blasted his roster, saying, "We can't put that group out again after that," following a loss to the San Jose Sharks.
Peters vowed "it'll be different Tuesday." Marcus Kruger and Haydn Fleury bore the brunt of his anger as scratches against the Philadelphia Flyers.
That doesn't mean other, bigger changes might not be on the horizon for the Hurricanes.
Canes winger Jeff Skinner is the most prominent among 10 new names to hit TSN Hockey's latest Trade Bait board ahead of the Feb. 26 trade deadline. The belief is that the Hurricanes, while not actively shopping Skinner, would be willing to listen to offers on him.
Skinner, 25, is in his eighth NHL season with Carolina. The Hurricanes have never made the Stanley Cup playoffs during his tenure.
With 15 goals and 31 points in 54 games this season, Skinner is on pace for his lowest offensive output since 2014-15, coming off a 37-goal campaign last year. Skinner undoubtedly has the high-end skill and speed teams covet, plus he has one more season of cost certainty remaining at $5.725 million before becoming a free agent.
Skinner is no stranger to TSN's Trade Bait board, having first appeared two seasons ago. But this time there seems to be a growing friction between him and Peters that is likely destined to come to a head – whether in the next two weeks or the summer.
Under aggressive new majority owner Tom Dundon, the Hurricanes are looking to end the NHL's longest playoff drought (since 2009). Dundon said last week the Canes won't make a deal to "make us feel good for two weeks that's going to set us back two years." Carolina is treading water in the Metropolitan Division, just 6-8-2 in 2018, but remains one point back of a wild-card spot.
One team the Hurricanes are chasing for that final playoff spot may also be listening to offers for its young alternate captain. Blue Jackets centre Boone Jenner, 24, is having a tough season.
Jenner is receiving 10 per cent more ice time this season under coach John Tortorella, but his offensive production is less than half of what it was two seasons ago when he hit 30 goals.
That would mean the Blue Jackets would have to sell low on Jenner, which doesn't seem like GM Jarmo Kekalainen's style, since he hung onto Cam Atkinson and watched him blossom after he was on the trade block two years ago. He is an intriguing name nonetheless.
For the first time, TSN's Trade Bait board features trending arrows, a helpful indicator of which players are perceived to be closer or less likely to moving before the deadline.
James Neal and David Perron have consistently slid down the list as the Vegas Golden Knights seem more likely to hang onto their pending free agents for the franchise's first playoff run.
Rangers captain Ryan McDonagh increasingly feels like he will be traded in a larger off-season deal, if at all, but GM Jeff Gorton remains open to any and all possibilities.
Playoff-bound teams were also buzzing about Canadiens forward Andrew Shaw earlier in January, but that conversation has cooled considerably with Shaw missing the last 10 games with a lower-body injury.
Three other newcomers are trending up: Flames prospect Jon Gillies, Wild centre Matt Cullen and Habs centre Tomas Plekanec. The board's other newbies are Canucks defenceman Ben Hutton, Red Wings winger Gustav Nyquist and Maple Leafs spare forward Josh Leivo. Sabres net minder Robin Lehner and Blackhawks defenceman Cody Franson make their return to the board.
Hutton, 24, has been a healthy scratch eight times for the Canucks over the last two months.
Plekanec and Cullen are two additions to a shallow centre pool. The Flames may have to consider parting with Gillies in order to acquire the impact winger they're seeking at the deadline, especially with their franchise depth in net with Tyler Parsons and David Rittich.
Here is TSN Hockey's Top 40 Trade Bait, whose ranking seeks to blend prominence of players with likelihood of a trade:
The Top 40
| Trend | Player | Pos | Age | Cap Hit | GP | G | PTS | Years | Clause |
| --- | --- | --- | --- | --- | --- | --- | --- | --- | --- |
| | 1. Evander Kane, BUF | LW | 26 | $5.25M | 53 | 16 | 36 | UFA | |
| | 2. Mike Green, DET | RD | 32 | $6M | 52 | 5 | 26 | UFA | NTC |
| | 3. Patrick Maroon, EDM | LW | 29 | $1.5M | 50 | 13 | 26 | UFA | |
| | 4. Mike Hoffman, OTT | LW | 28 | $5.19M | 52 | 14 | 36 | 2 | M-NTC |
| | 5. Michael Grabner, NYR | LW | 30 | $1.65M | 52 | 21 | 26 | UFA | |
| | 6. Max Pacioretty, MTL | LW | 29 | $4.5M | 53 | 16 | 33 | 1 | |
| | 7. Thomas Vanek, VAN | LW | 33 | $2M | 53 | 15 | 37 | UFA | |
| | 8. Alex Galchenyuk, MTL | LW | 23 | $4.9M | 53 | 12 | 31 | 2 | |
| | 9. Rick Nash, NYR | LW | 33 | $7.8M | 54 | 16 | 25 | UFA | M-NTC |
| | 10. Jeff Skinner, CAR | LW | 25 | $5.73M | 54 | 15 | 31 | 1 | NMC |
| | 11. Zack Smith, OTT | C/LW | 29 | $3.25M | 38 | 4 | 13 | 3 | M-NTC |
| | 12. Mark Letestu, EDM | C | 32 | $1.8M | 51 | 8 | 17 | UFA | |
| | 13. Boone Jenner, CBJ | C | 24 | $2.9M | 46 | 5 | 13 | RFA | |
| | 14. Ian Cole, PIT | LD | 28 | $2.1M | 41 | 3 | 11 | UFA | |
| | 15. Jordan Kyrou, STL | C/RW | 19 | $894K | 0 | 0 | 0 | 3 | Slide |
| | 16. Ryan McDonagh, NYR | LD | 28 | $4.7M | 49 | 2 | 26 | 1 | M-NTC |
| | 17. Derek Ryan, CAR | C | 31 | $1.45M | 52 | 11 | 26 | UFA | |
| | 18. Aaron Dell, SJS | G | 28 | $625K | 23 | 2.44 | .919 | UFA | |
| | 19. Jon Gillies, CGY | G | 24 | $725K | 1 | 5.14 | .750 | RFA | |
| | 20. J-G Pageau, OTT | C | 25 | $3.1M | 48 | 7 | 17 | 4 | |
| | 21. Matt Cullen, MIN | C | 41 | $1.7M | 51 | 4 | 11 | UFA | |
| | 22. Tomas Plekanec, MTL | C | 35 | $6M | 53 | 5 | 20 | UFA | |
| | 23. Petr Mrazek, DET | G | 25 | $4M | 19 | 2.75 | .914 | RFA | |
| | 24. Ben Hutton, VAN | LD | 24 | $2.8M | 46 | 0 | 6 | 1 | |
| | 25. Gustav Nyquist, DET | RW | 28 | $4.75M | 52 | 15 | 24 | 1 | NTC |
| | 26. Jack Johnson, CBJ | LD | 31 | $4.35M | 53 | 2 | 7 | UFA | |
| | 27. Nick Holden, NYR | LD | 30 | $1.65M | 49 | 3 | 9 | UFA | |
| | 28. Erik Gudbranson, VAN | RD | 26 | $3.5M | 35 | 1 | 3 | UFA | |
| | 29. James Neal, VGK | LW | 30 | $5M | 53 | 23 | 36 | UFA | M-NTC |
| | 30. David Perron, VGK | RW | 29 | $3.75M | 47 | 13 | 47 | UFA | M-NTC |
| | 31. Josh Leivo, TOR | LW | 24 | $613K | 12 | 1 | 3 | 1 | |
| | 32. Andrew Shaw, MTL | C/RW | 26 | $3.9M | 43 | 10 | 19 | 4 | |
| | 33. Blake Comeau, COL | RW | 31 | $2.4M | 52 | 10 | 22 | UFA | |
| | 34. Nic Petan, WPG | C | 22 | $863K | 7 | 1 | 1 | RFA | |
| | 35. Robin Lehner, BUF | G | 26 | $4M | 40 | 2.83 | .913 | RFA | |
| | 36. Nikita Soshnikov, TOR | RW | 24 | $736K | 3 | 0 | 0 | RFA | |
| | 37. Cody Franson, CHI | RD | 30 | $1M | 23 | 1 | 7 | UFA | |
| | 38. Sam Reinhart, BUF | RW | 22 | $3.54M | 53 | 10 | 23 | RFA | |
| | 39. Tyson Barrie, COL | RD | 26 | $5.5M | 38 | 4 | 29 | 2 | |
Contact Frank Seravalli on Twitter: @frank_seravalli​