Jennings, defence give Lions a chance against Stampeders
B.C. Lions rookie quarterback Jonathon Jennings has garnered most of the headlines leading into the Western Semi-Final matchup with the Calgary Stampeders. Well, him and TSN CFL analyst Jock Climie.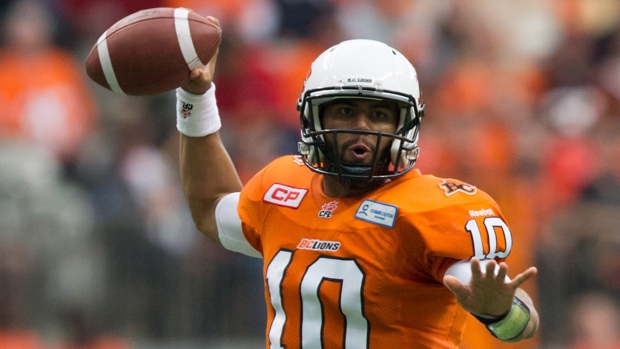 B.C. Lions rookie quarterback Jonathon Jennings has garnered most of the headlines leading into his team's Western Semi-Final matchup with the Calgary Stampeders this weekend. Well, him and TSN CFL analyst Jock Climie.
The CFL rookie played a key part in the Lions' late-season turnaround, and could be the reason Climie will have to eat his prediction – a Stampeders' win by virtue of the team showing up – after the game.
"If both teams play their best, logic says that Calgary wins," said CFL on TSN analyst Chris Schultz. "But with the advent of Jennings and his style of play, his ability to throw on the run, his ability to throw accurately past 20 yards, there is no doubt that they [the Lions] have a shot to win the game."
Jennings took over as the Lions' full-time starter in later September and led the team down the stretch their final seven games. The Saginaw Valley State product finished the regular season with 142 completions in 215 attempts for 2,004 yards. He had 15 touchdowns to 10 interceptions as the Lions went 4-3 over that stretch.
"If you look at his statistics over the six games (before the meaningless season finale), they're really good. There's no reason why he won't play his best, even in a playoff game where things are a little more intense. He looks so calm, so relaxed. I think he's got it, whatever it is."
While Schultz feels Jennings is ready for the bright lights of the playoffs, the added pressure of postseason football on a first-year starter has to be at least a little concerning for the Lions ahead of Sunday's tilt.
"Having a Bo Levi Mitchell, who is a Grey Cup MVP, versus Jon Jennings, who hasn't had a professional playoff game and only has two collegiate playoff games under his belt – he was 0-2 in four years in college – certainly the Lions will try to pretend that doesn't matter and we'll find out in the fourth quarter if it does," said TSN's Farhan Lalji.
"I think they want to run their offence through Andrew Harris to help the young quarterback," CFL on TSN analyst Milt Stegall continued. "[Jennings] seems poised but he's never been in a pressure situation like he's about to go into in his first playoff game."
Stegall, who had the experience of playing with quarterbacks making their first postseason starts during his career, had some advice for Jennings.
"He won't face the pressure that Ryan Dinwiddie did in his first start, and that was the Grey Cup in 2007, but it's still a lot of pressure. What I told Ryan was, 'You're not trying to fill Kevin Glenn's shoes, just make sure yours are put on tight. You have a lot of other products around you who can help you out.' "
Improved Defence
A big game from B.C. running back Harris would take a lot of pressure off Jennings, but the team's improved defence can also do their part Sunday in limiting Mitchell and the Stampeders' strong offensive attack.
After using the early part of the regular season to find their groove, the Lions defence played their part in the team's late-season run as well.
"I know a lot of people are saying it's all on Jonathon Jennings - how well he plays, or how well he doesn't play - but I think it's more on that defence. I think they've been coming together as a defence lately," Stegall said.
Lalji said the advantage the Stamps used to enjoy in the trenches, as recently as earlier this season, shouldn't be as prominent Sunday.
"I'm not sure the matchup in the front seven is as one-sided because the biggest change in B.C.'s overall team in the last six weeks has not been Jon Jennings, it has been the play of their defence and their defensive line in particular."
"Their defensive line has been able to get up field and get a push, protect the linebackers and be a much more assertive defence. I don't know that Calgary's offensive line is going to be able to mismatch B.C.'s defensive line like they would a year ago when Calgary was healthy, or at the beginning of the year when B.C. was green."
Stegall agreed the battle across the line would be vital to limiting the Stamps' impact on offence.
"That's big [stopping the run). I think that Bo Levi Mitchell is a good quarterback, but he's a great quarterback when they have that balance of a run game and a passing game."
Bulletin Board Material via Jock Climie
We all heard it, and Lions players certainly heard it, Climie saying the Stampeders will win just by showing up. We know how they reacted in B.C., but what did Climie's fellow panelists think of his prediction?
"I think the Lions have been a lot better in the final half dozen games of the season than they were at any point earlier, so they're certainly more equipped to handle it," Lalji said. "And despite their record, Calgary hasn't played to the level they did a year ago when they were simply dominating everybody. I think the comment that they just have to show up is a little bit of a stretch. That said, there is no question Calgary should be favoured."
"I understand where [Jock] is coming from, the Calgary Stampeders are just so sound, not only as a team but also as a coaching staff; just everybody involved in that organization," Stegall said. "So if they're on their A game, B+ game, it's going to be difficult for the B.C. Lions to beat them. But they do have a chance."
"I do think they'll take the underdog mentality. Those comments by Jock, guys listen to that and they do take it personally," Schultz said. "And you should do that – blow it up, take it as disrespect. And no disrespect to Jock but that's what you want them to do. You want them to hold an 'us against them' mentality, and by doing that it brings out the best in people."
Schultz added that feeling slighted definitely helped him during his career.
"I loved being the underdog. The underdog is more fun, it's more freeing because you go in there and just go for it because it's almost like you have nothing to lose and you're a little bit more relaxed and you play intense but you actually enjoy it a little more."
Closer Than You Think
For most of the year, the Stampeders were leading or fighting for the lead in the West Division. Meanwhile, the Lions were staving off a crossover effort from the Montreal Alouettes. The reputation of the two teams kind of stuck, but late-season performances suggest the two teams could be closer than originally thought.
"I think they're [the Lions] a legitimate playoff team at this stage, given the way they're playing now," said Lalji. "Their overall body of work over 20 weeks suggests otherwise, but given the way they're playing now I think they're a better team."
"You never look at it in the context of the full season, you look at it as who is playing their best right now," continued Schultz. "Calgary is playing well. Edmonton is playing well. But I think B.C. is one of those teams that are playing their best right now. And I do think they're confident."