Jets crush Wild; win first series for Winnipeg in 31 years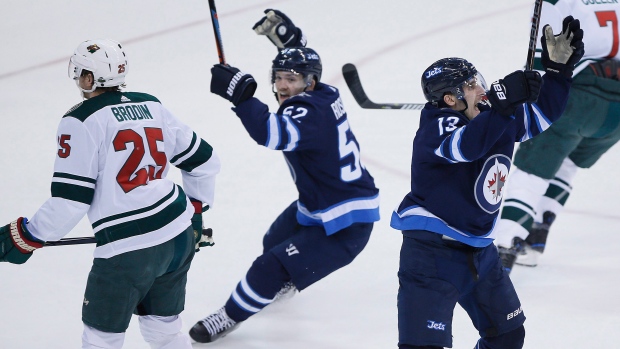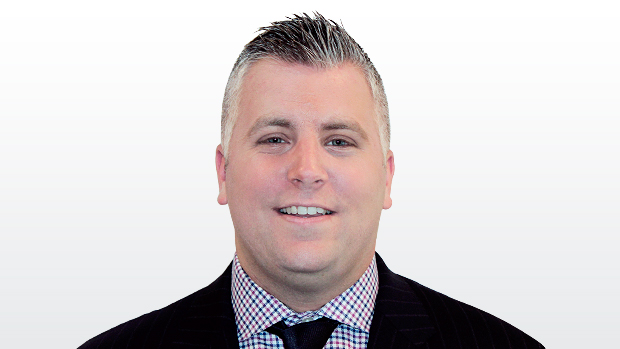 WINNIPEG — Bruce Boudreau didn't even have a chance to turn his usual shade of Elimination Game purple on the Minnesota Wild bench.
The Jets buzzed the tower 31 seconds in, and dropped bomb after bomb in an all-out first period assault as Bell MTS Place exploded into a 114-decibel frenzy.
It was a fitting time for Jacob Trouba's ice-breaker, considering Friday was a night 31 years in the making.
More than 20,000 fans enveloping the downtown arena in a street party outside and another 15,321 fans jammed inside had a front row seat to history as Winnipeg celebrated its first Stanley Cup playoff series victory since April 16, 1987, in the only way it knows how: with true Whiteout conditions.
At long last.
The Winnipeg Jets 2.0 chased Devan Dubnyk with four first period goals – the same number they scored in that last 1987 clincher's first period – en route to a 5-0 drubbing that eliminated the Wild in Game 5 of their Western Conference first-round series.
"I guess if there's a way to start a game, that's the way," Dustin Byfuglien said. "We never let up."
The Jets set a new franchise record for most goals in a single playoff period en route to their first-ever series win, which came among a series full of firsts, including their first playoff win.
The result was never in doubt, the Jets pummelling the Wild literally from the time the rubber hit the ice.
"I didn't expect that," Boudreau said. "I thought we were pretty ready. The way we were talking, we were ready to go. I thought we were rattled. I mean, we couldn't handle the puck very well. Looked like we were nervous out there and they obviously took advantage of that."
Game 5 was the capper to one of 2018's most lopsided first-round matchups. The Jets dominated the Wild in puck possession from start to finish in the series. Still, the blowout actually made for a bit of a strange culmination, a drama-free finish on a night full of pent-up emotion.
That left the white-clad Jets faithful with little but to chant "We Want Nashville" in singsong unison just minutes into the third period. Winnipeg will face the winner of the Nashville-Colorado series, setting up a potentially epic second-round series of Big Boy Hockey against the Predators.
Nashville got the best of Winnipeg, 3-2-0, in the regular season with four of the five games combining for at least eight goals.
Friday night, though, served as a moment to take stock of just how far the Jets have come – especially for the four players on the ice that moved with the team from Atlanta including Blake Wheeler, Toby Enstrom, Bryan Little and Dustin Byfuglien.
"It's been a long journey, a lot of ups and downs," Little said. "Not many playoff games. A lot of long summers watching this hockey, so it definitely feels nice to be moving on and doing well in the playoffs. Once you get that action, that taste, you want to keep going."
Since 2011, those Core Four endured more losing than just about any quadrangle of players in the NHL. Their only previous taste of the postseason was a 2015 sweep at the hands of the Anaheim Ducks.
Boy, did those years make the post-series handshake line feel sweet.
"I didn't know what to say," Little said of the handshake line. "That was the first thing that went through my mind. Last time I won a playoff series was in the minor leagues my first year [in 2007]."
It took considerable buy-in from those players, Wheeler and Byfuglien in particular, who could have bolted for equally handsome paydays to a market with perhaps a better shot to win.
They saw it through, helping nurture rising stars like Mark Scheifele, Patrik Laine, Kyle Connor, Nikolaj Ehlers and Josh Morrissey.
"It's been a grind," Jets coach Paul Maurice said. "Especially the last two years because of all of this youth movement. It's the veteran guys who, in a lot of ways, pay for it. The kids are on the ice, they make a mistake and go back out. But the veteran guys have the cameras in their face the last two years.
"But they all understand the shortest distance [for] us going from where we were to getting better was playing these kids all the time and that included Connor Hellebuyck. It's been a grinder for those guys."
Hellebuyck, the Vezina Trophy finalist chiefly responsible for this season's turnaround, will carry a 121:37 shutout streak into the second round.
Little and Byfuglien featuring prominently on the scoresheet was a stick tap to the original Jets 2.0, but their scoring also helped highlight the true depth of these Jets.
Each one of the Jets' four lines scored in the first period onslaught. On a night when Winnipeg was without three of its top-six defencemen and Ehlers was a late scratch, they didn't blink. Morrissey will be eligible to return for Game 1 from his suspension, while Enstrom and Dmitry Kulikov are possibilities to come back from injury the deeper the Jets go.
That is why the Jets will be a tough out for any team in these Stanley Cup playoffs – and why the Whiteout isn't going anywhere anytime soon.
"It's a great step," Wheeler said. "I'm not pinching myself. This isn't a fairy tale. It feels real."
Contact Frank Seravalli on Twitter: @frank_seravalli​