Jets' Perreault likely out until playoffs
The Winnipeg Jets took a big hit to their playoff drive on Wednesday as the team placed forward Mathieu Perreault on injured reserve and announced he'll likely be out of the lineup until the post-season. Perreault, who joined the Jets last summer as a free agent, has 18 goals and 36 points in 56 games.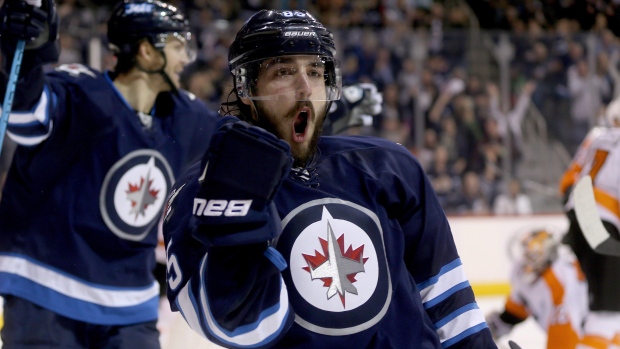 WINNIPEG -- Dustin Byfuglien could once again show why he's worth his weight in gold for the Winnipeg Jets.
Byfuglien was moved to forward for Wednesday's practice because Mathieu Perreault was placed on injured reserve with a "significant" lower-body injury that might keep him out for the remainder of the regular season.
"We have a huge advantage, literally and figuratively, that Dustin Byfuglien can transition up front and then be a powerful force," Jets coach Paul Maurice said.
Byfuglien practised on the second line with Michael Frolik and centre Mark Scheifele before the Jets flew to Washington for Thursday's game against the Capitals (31-17-10).
Winnipeg (30-19-10) holds the first wild-card spot in the Western Conference with 70 points, four ahead of San Jose before Wednesday's NHL action. The Jets are also four points back of third-place Chicago in the Central Division.
Perreault left Winnipeg's 5-4 shootout win over the Edmonton Oilers on Monday after being hit into the boards by defenceman Jeff Petry. He was later seen wearing a walking boot on his left foot.
"We would be hopeful that he'll return by the end of the regular season. If he does, it won't be much sooner than that," Maurice said.
Perreault is fifth in team scoring with 36 points in 56 games, including 18 goals. He scored four of those goals in an 8-2 victory over Florida on Jan. 13.
Forward Drew Stafford, acquired in a trade with Buffalo last week, also exited Monday's game with an upper-body injury and is listed as day-to-day.
Maurice said Stafford will take the morning skate on Thursday, while forward Carl Klingberg, who was called up from the St. John's IceCaps, will meet the team in Washington.
After that skate, Maurice said he'll know his lineup.
What he does know for sure, though, is having the option to play the six-foot-five, 260-pound Byfuglien at forward is invaluable.
Byfuglien, who's fourth in team scoring with 40 points, was named an NHL all-star defenceman this season. He started at forward, moved to defence in early December when the team was hit with a rash of injuries on the blue-line, then bounced back to forward and defence again.
He's taken his hybrid role in stride.
"First of all, he's smart," Maurice said. "When he saw the guys leaving the ice (injured against Edmonton), he was probably wondering if he was going up front last game.
"But when I talked to him today, he didn't even joke around. He said, 'Whatever you need.' And he's willing to do that and you see it in his play. There's no drop-off.
"He'd prefer to play defence, but he goes out and competes as hard and he's trying to win hockey games and he's been a great, great leader in our room."
He acknowledged replacing Perreault won't be easy.
"He gets on that puck as well as any forward that we have," he said. "And he gets in on the forecheck and he creates a lot off that intensity. We'll miss that intensity level from him."
Frolik said Byfuglien, who wasn't available to the media, is a prime example of players stepping up when needed.
"It's huge," Frolik said. "It can help your depth when you can move a player like that. Obviously, it's not very usual, but I think he shows that he can play both roles."
Good character and good leadership has helped the Jets deal with their injuries this season, said Maurice, whose team has lost 125 man games to injury.
And Byfuglien's versatility has been "a key piece."
"He's the reason that I think that we've handled our adversity so well on our injuries," Maurice said.
Rookie goaltender Michael Hutchinson, who's won his last three starts, took Wednesday off for "maintenance." Maurice didn't say whether he or Ondrej Pavelec would start against the Capitals.