Jets in pilot's seat after Game 1 victory in WCF over Golden Knights
If there was any doubt about how the Winnipeg Jets would respond just 47 hours after an emotional Game 7 triumph in the Music City, it dissipated in short order Saturday night with a 4-2 thumping to open the Western Conference final against the Vegas Golden Knights, TSN's Frank Seravalli writes.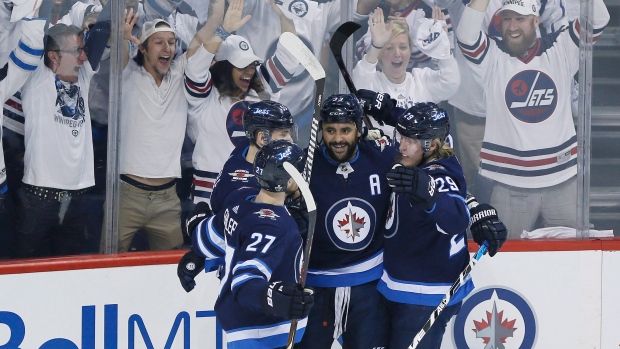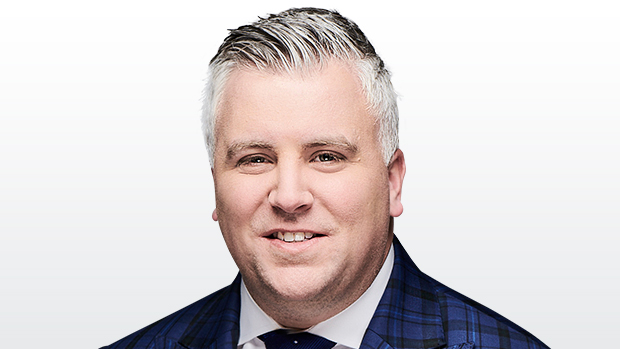 WINNIPEG — Game 1 was barely seven minutes young when the seventh Whiteout of the spring broke out into a sing-song chant of "We Want Sub-ban, We Want Sub-ban!"
They weren't talking about P.K. Subban.
They were frothing at the mouth for his brother, Malcolm, the Vegas Golden Knights' backup netminder.
That's because their Jets had already pierced the aura of invincibility of Golden Knights starter Marc-Andre Fleury.
"I don't know what happened," Golden Knights defenceman Brayden McNabb said.
If there was any doubt about how the Winnipeg Jets would respond just 47 hours after an emotional Game 7 triumph in the Music City, it dissipated in short order Saturday night.
Apparently, what happens in Nashville doesn't stay in Nashville.
Three goals on eight shots in seven minutes for the Jets - against a goaltender that entered the night with a playoff-best .951 save percentage.
"The first game of a new round, I think everyone wants to get that first shift out of the way," Jets centre Paul Stastny said. "But then all of the sudden you have the lead and you can relax a little bit."
With goals from top guns Mark Scheifele, Patrik Laine and Byfuglien to open the Western Conference final with a convincing 4-2 win, Winnipeg has quickly put Vegas on a Highway to the Danger Zone.
The Jets can take a 2-0 series edge to Sin City with a win in Game 2 on Monday night. Playoff hockey comes at you fast, the Golden Knights learned in the introduction to their stiffest test yet.
"We're going to see what kind of team we are," Vegas forward Jonathan Marchessault said. "Monday is definitely a must-win game."
Consistently and completely under siege, the Pacific Division champion Knights were limited to 11 shots through the first 34 minutes of Game 1. Winnipeg's skating stifled the Golden Knights' transition game - a decided change of pace from their world-beater first 10 Stanley Cup playoff games (8-2) in franchise history.
"We're just moving a lot. The less turnovers we have the faster we go," Stastny said. "The more times we turn it over, we feed it into their game and in turn it makes us look slow. For us, it's sometimes not making that extra play."
The truth is, Saturday night seemed like the perfect night for Vegas to steal the opening salvo in the series, considering the short rest for the Jets and the fact that the Golden Knights crushed San Jose last round after similar time off. This was a Winnipeg team that had scored just one goal in its last two home games against the Predators.
But the Jets, used to playing every other day for most of last round, never broke rhythm.
"We were still in game mode," said Dustin Byfuglien.
Identity is the Jets' big buzzword, which they define as their ability to enact their pace and style of play on the opponent. It's something that starts with captain Blake Wheeler. For the Jets, it's been a lot easier to execute their identity so far in these playoffs partly because they've never had to chase a series.
"We were chasing the game all night," Vegas coach Gerard Gallant said.
Winnipeg has won all three Game 1s so far. They've trailed for a grand total of 53 seconds in those games, the only time they've ever trailed in any series.
"Part of our identity all year is we've gotten off to good starts at home," Wheeler said. "That allows our crowd to be into it. It allows our team to get rolling a little bit, especially in the offensive zone."
Wheeler and Scheifele were rolling. Wheeler picked up his playoff-best 15th assist on a three-point night; 11 of those 15 apples are primary assists. Scheifele netted his 13th goal in 15 playoff games - and could quietly threaten the single-season playoff record of 19 held by Jari Kurri (1985) and Reggie Leach (1976).
Jets coach Paul Maurice said he wasn't sure whether the fact they've led every series has enabled them to stay true to their identity, because they've stuck to it even after games that they've lost. But the true test for any identity or stylistic approach is when the chips are down. Does that force change? The Jets have never been down and those first line drivers are a big reason for that.
"We get the lead and it seems like we've been able to play really well with the lead," Jets shutdown defenceman Josh Morrissey said.
Morrissey reminded that momentum does not exist in the Stanley Cup playoffs. The Jets know that better than anyone, after winning a second-round slugfest with the Predators in which no team won consecutive games.
There will be a push from the Golden Knights, already calling Monday a must-win. The see-saw will swing and the Jets know the next one won't come as easy as it did in Game 1.
But in this Western Conference final, the Jets captured control of the pilot's seat, and they can begin to gently steer this ship toward the ultimate 'ship. Nine down, seven to go.
Contact Frank Seravalli on Twitter: @frank_seravalli