Jets sign Byfuglien to five-year extension
'Big Buff' can fish and hunt to his heart's content in Manitoba. The defenceman will call Winnipeg home at least for the next five years. Dustin Byfuglien signed a five-year, $38-million contract extension with the Jets on Monday afternoon after talks heated up over the weekend.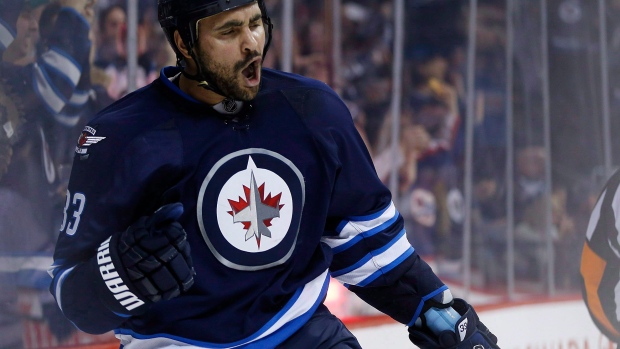 A normal Winnipeg Jets huddle around coach Paul Maurice during practice on Monday in St. Louis turned into a mob scene of congratulations for Dustin Byfuglien when Maurice announced the big news.
'Big Buff' can fish and hunt to his heart's content in Manitoba. He will call Winnipeg home for at least the next five years.
Byfuglien signed a five-year, $38 million contract extension with the Jets on Monday after talks heated up over the weekend.
The deal will pay Byfuglien an AAV of $7.6 million per season, giving him the NHL's third-highest salary cap hit among defencemen, behind only Montreal's P.K. Subban and Nashville's Shea Weber.
"I guess it could've been worse. They could've skated away from me," Byfuglien told TSN 1290 Radio, laughing when asked about his teammates' on-ice reaction. "I'm excited. My family and I have found Winnipeg nice and we're very happy to stay here and sign this. It never really crossed my mind to go anywhere. I'm excited to be a Jet."
Byfuglien, 30, was set to become an unrestricted free agent on July 1. His signing represents a significant commitment from the Jets in both term and salary, but more importantly as a foundational pillar to build the future around.
Where Byfuglien's extension leaves fellow free agent and captain Andrew Ladd remains to be seen.
Jets GM Kevin Cheveldayoff negotiated with both Byfuglien and Ladd over the last handful of months with the real possibility that extending one may preclude the return of another.
Cheveldayoff was asked by reporters on Monday whether Byfuglien's $38 million deal left room for Ladd.
"There's a lot of pieces to the puzzle, there's no question," Cheveldayoff responded. "You don't deal with any one thing in a singular fashion. There's a lot of moving parts behind the scenes. Obviously, we've got a lot of work to do ahead of us, whether it's now or in the summer."
His translated answer: Maybe.
"It's a question that's certainly fair to ask," Cheveldayoff said. "But with all the moving parts and (salary cap) projection, it's hard to really say for sure where everything falls into place. Because there are a lot of factors that are external that we have to get a good feel for where we can be internally."
The Jets have more salary cap space than any of the NHL's other 29 teams, but that flexibility will quickly evaporate once Byfuglien's contract kicks in next year, plus new deals for defenceman Jacob Trouba and centre Mark Scheifele (both restricted free agents) are brokered. Trouba, 21, is due a massive raise from his rookie contract - and given the trend of long-term deals for other young, standout blueliners, it is unlikely to be a short "bridge" deal.
The "external" pressures Cheveldayoff was referencing with regard to Ladd is the reality of what the market will pay this summer for a 30-year-old left winger with a Stanley Cup ring, leadership qualities and a nose for both ends of the ice.
If Ladd isn't going to get it in Winnipeg, he will get it on the open market. Which is same reason the Jets had to pay up for Byfuglien on Monday - keeping it within a five-year term that probably pushed the salary cap hit a little north of where the Jets originally budgeted.
"I've been here five years now. Where we've started and where we are now, as an organization or as a group, I don't feel we're far off," Byfuglien told reporters. "We've (taken) the right steps. I believe in what they're trying to do here. You can't win a Stanley Cup overnight. It's a process and I feel like they're in the right (direction)."
If the decision for the Jets really was one of Byfuglien or Ladd, 'Buff' made the decision easy.
He leads all Jets skaters in ice time and the team seems to feed off the 6-foot-5 behemoth's physicality, energy and emotion. Byfuglien has piled up the points lately, too. He has 15 goals and 17 assists for 32 points in 52 games this season - and seven points in his last five games alone. Byfuglien is tied for second in the NHL in goals among defencemen.
Maurice called Byfuglien the Jets' "everyman," and Buff's play and maturation have long left behind any lingering questions about fitness or commitment. Now permanently on defense where he prefers, Byfuglien said he feels more in control of the game, no longer has to chase the puck "like a dog on a bone."
Cheveldayoff has been to this precipice before with Byfuglien. He was the Blackhawks' assistant GM when they traded away Byfuglien to Atlanta on June 24, 2010, just days after Byfuglien's tour-de-force helped Chicago to their first Stanley Cup in 49 years. The cap crunch was real then, too.
Bowman and Cheveldayoff chose correctly, building around Duncan Keith, Brent Seabrook, Jonathan Toews and Patrick Kane. The Hawks bid adieu to Byfuglien, Ladd, Brian Campbell and Troy Brouwer.
Cheveldayoff wasn't prepared to trade Byfuglien for a second time. He's seen him grow into a better player, a responsible defenceman with a unique skillset. He's banking that he picked the right pillar again.
"There's lots of things that the average person doesn't get to see regarding Dustin," Cheveldayoff said. "To see him grow to the family man that he is, proud to call Winnipeg home for the foreseeable future, those are (signs) of maturity. I think he's really mature. You never know what's out there in free agency. This was something that ourselves and Dustin's representatives could feel comfortable with."
Frank Seravalli can be reached at frank.seravalli@bellmedia.ca.