Johnson's goal in shootout, Bobrovsky's 39 saves power Blue Jackets to win over Blackhawks
Jack Johnson scored the winner in the ninth round of a shootout and Sergei Bobrovsky stopped 39 shots in regulation and eight in the tiebreaker to give the Columbus Blue Jackets a 3-2 victory over the Chicago Blackhawks on Saturday night.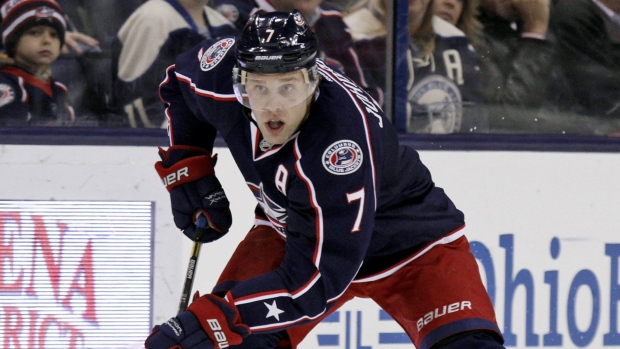 COLUMBUS, Ohio - The Columbus Blue Jackets had lost 13 consecutive times to the Chicago Blackhawks in a span of almost four years.
Jack Johnson and Sergei Bobrovsky didn't let it happen a 14th time.
Johnson scored the winner in the ninth round of a shootout and Bobrovsky stopped 39 shots in regulation and eight in the tiebreaker to give the Blue Jackets a 3-2 victory over the Blackhawks on Saturday night.
"It's big because it gets the monkey off of our backs," said Johnson, who faked a forehand and then jammed in a backhand before Bobrovsky clinched the win by blocking Bryan Bickell's low attempt. "I wasn't really aware of it until this morning. Coach (Todd Richards) told us we hadn't beaten these guys in a while. So that feels good."
It was the sixth game in a row to go past regulation for the Blue Jackets — one shy of the NHL record. The suddenly hot Blue Jackets have a nine-game point streak (8-0-1).
Bobrovsky gave all the credit to his teammates.
"The last nine games, they block shots, they sacrifice and they help out a lot," he said. "It doesn't seem like it, that they had (41) shots on goal."
Columbus had not beaten the Blackhawks since Feb. 18, 2011, going 0-11-2 during that span.
Jack Skille and Kevin Connauton scored goals in regulation for injury-riddled Columbus, which bounced back from the announcement Saturday morning that it wouldn't have star centre Boone Jenner for one to two months due to a stress fracture in his back. The club continues to battle a mountain of injuries to several top players.
"Big picture, it was a huge two points for us," Richards said. "It's been a good December. We'll enjoy tonight, definitely because of all the adversity we've faced so far."
Patrick Sharp and Ben Smith scored for the Blackhawks, and Corey Crawford made 17 saves in his first game back after missing the last eight with an ankle injury.
"I thought we did everything but win that game tonight," coach Joel Quenneville said. "We played well in all areas of the game and did a lot of good things. I'll give their goalie credit. In the shootout, it just didn't happen."
With the score tied at 1 heading into the third, the Blue Jackets scored on a holdover power play. Connauton's hard, rising shot through traffic beat Crawford for a 2-1 lead.
The Blackhawks pulled even after a long review in Toronto.
Bobrovsky made the initial save before Chicago's Marcus Kruger — without a stick — dove skates first into the net and kicked the puck. But it went off Connauton's stick briefly before Smith, almost behind the cage, reached around to tap it across the goal line at the 8:49 mark.
Not initially ruled a goal, it was overturned and Smith had his fifth of the season.
Columbus killed two penalties before regulation ended.
"There was an extra point there for us," Crawford said. "That could be a big point at the end of the year. But we missed it tonight."
Jeremy Morin, acquired in a trade with the Blackhawks on Sunday, scored the first goal of the shootout in the fifth round. But Andrew Shaw came right back to extend it until the ninth round when Johnson and Bobrovsky came up big.
"We had some opportunities on power plays late in the game and more chances in the shootout to put it away," Chicago captain Jonathan Toews said. "We just couldn't quite find the back of the net."
NOTES: Chicago returns home to host Toronto on Sunday and Winnipeg on Tuesday. ... Columbus was playing the second of a five-game homestand. ... Sharp's goal was his 27th and the point his 46th in 47 career games against the Blue Jackets.
___
Follow Rusty Miller on Twitter: http://www.twitter.com/RustyMillerAP