Jones not concerned with QB Masoli's knee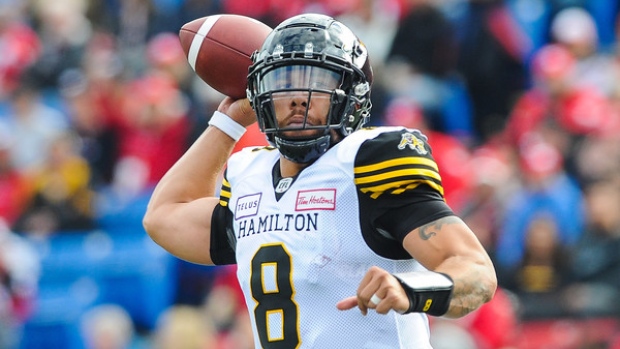 Hamilton Tiger-Cats starting quarterback Jeremiah Masoli sported a brace on his right knee during practice on Wednesday, but eventually took it off as it was causing him to move awkwardly, according to TSN's Matthew Scianitti.
After practice, head coach June Jones said the brace was a precautionary measure and is unconcerned heading into Sunday's East Division semi-final game against the BC Lions (9-9). Masoli also said it won't affect his mobility this weekend.
Coverage of the game from Tim Hortons Field begins Sunday at 12pm ET/9am PT on TSN 1/4/5 and streaming on TSN.ca, the TSN App and TSN Direct.
Hamilton rested many starters, including Masoli, in their regular season finale last weekend against the Montreal Alouettes. However, the 30-year-old played all 17 games prior, putting up 5,209 passing yards (second behind Mike Reilly for the league lead) with 28 touchdowns and 18 interceptions.
The Tiger-Cats have lost three straight games and finished with an 8-10 record, good enough for second in the East Division.