Jones starts, leads No. 1 Ohio State over Virginia Tech
Cardale Jones is starting at quarterback for No. 1 Ohio State against Virginia Tech. Jones, who led the Buckeyes to three postseason victories and a national championship last season, was locked in a tight preseason competition with J.T. Barrett for the No. 1 job.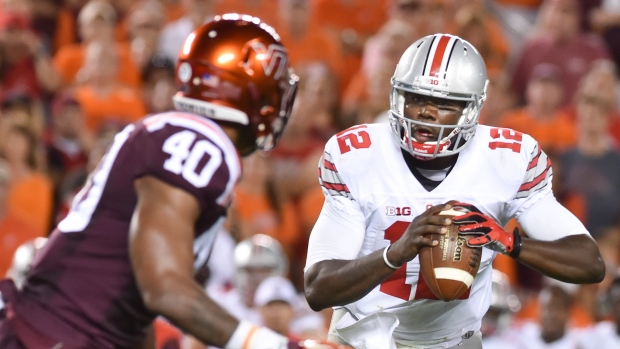 BLACKSBURG, Va. -- Cardale Jones was yucking it up on the sideline, mimicking Braxton Miller's spin move and celebrating an Ohio State touchdown.
Jones, the quarterback who seemingly came out of nowhere last December to lead the Buckeyes to the national title, is the man for Ohio State again. And he clearly plans to have a good time with his new gig.
Jones started at quarterback for top-ranked Buckeyes in their 42-24 victory against Virginia Tech on Monday night after winning maybe the most-talked about quarterback competition in college football history.
J.T. Barrett, last year's Big Ten player of the year, has been relegated to best backup in the country for now.
A soap opera that started as soon as Ohio State won the national championship behind Jones in January finally came to an end in Lane Stadium when Jones jogged onto the field for Ohio State's first series.
Jones picked up right where he left off last post-season. He completed 3 of 4 passes on the drive, right on the money with every throw, including a 24-yard touchdown he lofted off-balance to Curtis Samuel in the end zone.
Jones finished 9 for 18 for 186 yards and two touchdowns and rumbled 99 yards on the ground, including a 10-yard touchdown early in the fourth quarter that made it 35-17 for the Buckeyes.
Barrett stayed engaged on the sideline, dapping up the offensive linemen and greeting his teammates after touchdowns. He got his chance to play in the fourth quarter and promptly led a touchdown drive, ripping off a 40-yard run and throwing a 26-yard scoring pass to Michael Thomas.
Ohio State coach Urban Meyer really could not make a bad choice, but he refused to show his hand going into the opener against the last team to beat the Buckeyes. Right up until kickoff, he did everything he could to keep his pick a mystery.
Jones and Barrett stretched and warmed up their arms together during pregame. Pretty typical. Reporters watched for any signs that might predict the starter.
Jones took a couple of snaps from first-team centre Jacoby Boren -- then Barrett did the same thing.
On Barrett's last throw before heading back to the locker room, he was out of receivers, so he waved Jones to go deep and hit him in stride as the big QB ran toward the end zone.
When the starters were announced over the public address system in Lane Stadium, no quarterback was announced for Ohio State.
In 7-on-7 drills, Barrett took the first rep, but then the two alternated. When the Buckeyes went to full 11-on-11, same thing.
The Buckeyes won the toss and deferred until the second half, which is standard operating procedure but felt almost comical because it pushed the great reveal back a few more minutes.
The only question now is can Jones keep the job.
After his sizzling start, he completed just 3 of 9 the rest of the second half with lazy lob pass that was picked off. Virginia Tech took a 17-14 halftime lead and Meyer said about his quarterbacks at the half during an ESPN interview "we might get the other one ready."
Not necessary.
Jones hooked up with Ohio State's old quarterback, Braxton Miller, for a 54-yard touchdown pass on the first drive of the third quarter.
Miller, who was supposed to make it a three-man race for the starting quarterback spot at Ohio State, is now a do-it-all receiver.
That move is working out great, too. Miller later scored on a 53-yard run off a direct snap, spinning and juking his way through the Hokies' defence to make it 28-17.
Jones took over the Buckeyes last year after Barrett broke his ankle in the regular-season finale against Michigan. Jones' first career start was in the Big Ten championship, with the Buckeyes needing an impressive performance to have a shot to make the College Football Playoff.
Before being thrust into the starting lineup for the biggest game of the season, Jones' most notable moment at Ohio State came when he tweeted about not being in college to "play school."
That was forgotten fast when Jones threw three touchdown passes in Ohio State's 59-0 win over Wisconsin. The Buckeyes were on their way to the playoff, where they beat Alabama and Oregon to win the national title.
Meyer has said that while both quarterbacks are likely to play this season, the starter will likely get the bulk of the work.
Things will get interesting if Jones struggles. How much patience will Meyer have with his starter knowing he has an ace in the hole?
For now, it's Jones. And everybody seems happy about it.
------
Follow Ralph D. Russo at www.Twitter.com/ralphDrussoAP