Judge won't let Hernandez's lawyer question tipster
A Massachusetts judge says a lawyer for former New England Patriots player Aaron Hernandez can't question under oath an anonymous tipster who raised concerns about a juror in the murder case.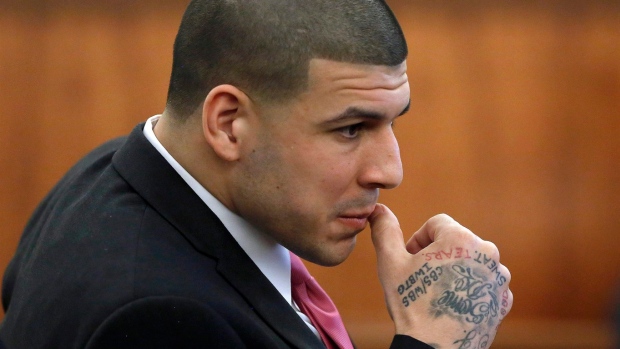 BOSTON - Lawyers for former New England Patriots player Aaron Hernandez are asking a judge to toss out evidence seized from the SUV authorities say he was in when he fatally shot two men in 2012 over a spilled drink.
Prosecutors say Hernandez killed Daniel de Abreu and Safiro Furtado after a chance encounter at a Boston nightclub. They say after de Abreu accidentally bumped into Hernandez, spilling his drink, Hernandez followed the men in a Toyota 4Runner, pulled up to their car at a light and opened fire.
Hernandez's lawyers argue that evidence seized from the vehicle should be tossed because a man whose statements police relied on to get a search warrant failed a lie-detector test. Hernandez has pleaded not guilty in the double-murder case and faces trial in December.
Hernandez was convicted in April of first-degree murder in the 2013 death of Odin Lloyd, who was dating the sister of Hernandez's fiancee.
The man who Hernandez's lawyers say lied on a polygraph test is Carlos Ortiz, who was charged along with Hernandez and a third man in Lloyd's killing. Ortiz is awaiting trial.
In their motion to suppress, lawyers for Hernandez say a court in Bristol, Connecticut, authorized a search warrant for a residence there on June 26, 2013, relying extensively on a police interview with Ortiz. They say the results of Ortiz's polygraph test — taken at the end of his interview and scored as "deception indicated" — was not included in an affidavit used to obtain the warrant.
Two days later, a warrant was obtained for the seizure of the 4Runner, which was parked in the garage of the Bristol home. The vehicle was turned over to Boston police.
Three days later, a warrant was obtained in Suffolk County Superior Court to search the vehicle.
Hernandez's lawyers say the omission of Ortiz's failed polygraph results misled the court to rely on Ortiz's information as credible.
The defence mentioned the motion during a pretrial hearing Tuesday but did not make oral arguments. A hearing was set for Oct. 6.
Hernandez, who is serving a life sentence in the Lloyd case, did not attend Tuesday's hearing. His lawyers are due in court again Sept. 22 for a status conference.
In the Lloyd case, a judge ruled Monday that Hernandez's lawyer cannot question under oath an anonymous tipster who raised concerns about one of the jurors.
Superior Court Judge Susan Garsh said such a step is premature.
Defence attorney James Sultan has said the tipster called him several times about a juror after Hernandez was convicted in Lloyd's killing.
Prosecutors say the woman had a sexually explicit relationship with Hernandez while he was behind bars. Garsh said that if Sultan wants to question her under oath, he first has to submit an affidavit from her.
Also on Monday, a judge approved a request by Hernandez's fiancee to add his last name to hers.
Rhode Island Probate Court Judge Paula Cuculo said she granted Shayanna Jenkins' request to change her last name to Jenkins-Hernandez so she could have the same last name as the couple's 2-year-old daughter. A prison spokesman says there's no record Hernandez has gotten married or requested to get married.
Jenkins-Hernandez, who had lived with Hernandez in North Attleborough, Massachusetts, now lives in North Providence, Rhode Island.
___
Associated Press writer Michelle R. Smith contributed to this report from Providence, Rhode Island.