Just the Stats: Matthews, Laine in the spotlight as season begins
TSN Stats guy Kevin Gibson dives into numbers from around the NHL to help you set your fantasy lineup.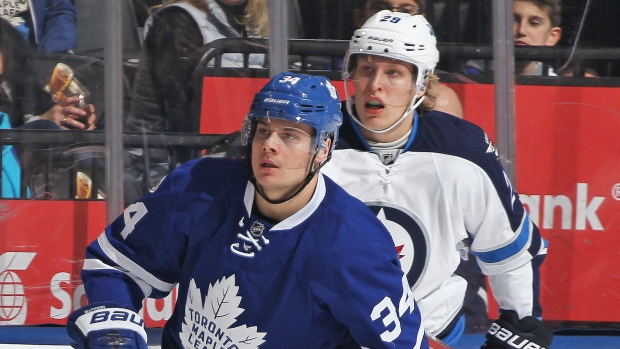 Welcome to Just the Stats with TSN Stats guy Kevin Gibson. Be sure to check back every week to find out who's hot and who's cold to help you set your fantasy lineup.
A new National Hockey League season is upon us, with four games on the schedule for opening night. Let's have a look at who is hot and who is cold heading towards puck drop.
Hot
- One player who is hot in season openers is Toronto Maple Leafs centre Auston Matthews. He has seven goals in three career openers – tied for fourth most among active players. Minnesota Wild winger Zach Parise and Washington Capitals sniper Alex Ovechkin lead the way with 10 each. Only three other players have scored in their first four openers, and the last to do so was Hall of Famer Sergei Fedorov. Matthews has 10 goals in his career against his Wednesday opponent Ottawa, which is the most by any player versus the Sens since the start of the 2016-17 season. Matthews also led all players in the preseason in goals with five.
- The Stanley Cup Champion St. Louis Blues were cold at the end of 2018 – so cold they were tied for last in the NHL in points on the morning of Jan 1, 2019. Then they took off, producing the second-best record in the NHL the rest of the way. It helps when you discover a hot goalie waiting in the wings. Jordan Binnington made his first start of the season on Jan. 7, earning a shutout. In 30 starts in 2018-19, Binnington was 24-5-1. That kind of goaltending will turn a season around.
- For what it's worth, the Capitals and Predators were 5-1-0 in the preseason.
Not
- Winnipeg Jets winger Patrik Laine is at the top of my list after finishing the season very cold. He scored just nine goals after November and missed training camp. Where is he at mentally and physically? Laine was Mr. Cy Young last November, with 18 goals and one assist in 12 games. He then scored nine times in 54 games the rest of the way. Laine's 21 goals through Nov. 30 were the most in the league, just ahead of Buffalo Sabres winger Jeff Skinner with 20. When the season was over Laine was sitting tied for 39th in goals with 30. What happened? Outside of telling him that it's always November, how does he turn it around? We shall see.
- For what it's worth, the Sharks were 1-5-0 and the Flyers 1-2-3 in the preseason.
Kevin Gibson has been TSN's Stats Guy for more than a decade. He has also written many non-leather-bound books. Follow him on Twitter @GibShow.