Just the Stats: Matthews is hot, Canucks are cold
TSN Stats guy Kevin Gibson dives into numbers from around the NHL every Wednesday to help you set your fantasy lineup.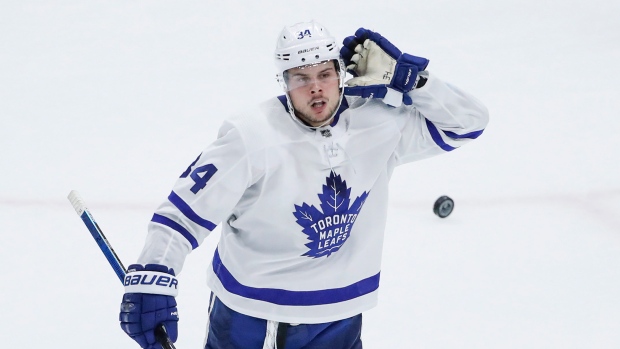 Welcome to Just the Stats with TSN Stats guy Kevin Gibson. Be sure to check back every Wednesday to find out who's hot and who's cold to help you set your fantasy lineup.
Trivia Question: There have been two Gordie Howe hat tricks in the NHL this season, and they both happened on the same day. Name the players who managed the feat. (Answer below)
Hot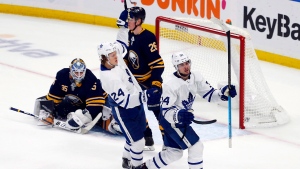 - Toronto Maple Leafs centre Auston Matthews has five goals in three games since returning from a shoulder injury. He has 15 goals in 14 games this season, which is remarkable when you consider he went goalless in the five games before the injury. According to our friends at the NHL, Matthews is the second player to have at least 15 goals through his first 14 games played in a season in the past 22 years. The other was Simon Gagne, who had 16 goals for the Philadelphia Flyers through 14 games played in 2005-06. Matthews' goals have contributed to the Leafs' five-game win streak, which is the longest active win streak in the NHL. Toronto has outscored their opponents 24-11 during the streak.
- Colorado Avalanche forward Mikko Rantanen is currently on his second nine-game point streak of the season. Seven of those games have been multi-point efforts. Rantanen has gone without a point in just five of the 28 games he's played this year.
- Columbus Blue Jackets winger Cam Atkinson has an 11-game point streak where he has amassed 13 goals and six assists, including two hat tricks. Atkinson had six goals and five assists in the 15 games prior to the streak, including five games without a point leading into the streak.
- Washington Capitals sniper Alex Ovechkin is on a nine-game point streak. Ovechkin has eight goals and five assists during the streak, with goals in seven of the nine games. Of note: Ovechkin has just a single power-play point during the streak, a goal scored on Nov. 19.
- Get to know the name Adin Hill. The 6-foot-6, British Columbia product was called up by the Coyotes on Nov. 24 from the AHL's Tucson Roadrunners. The 22-year-old goalie has allowed just two goals in the five games he's appeared in. Hill is 4-0-0 with a 0.56 goals-against average and .977 save percentage. Hill, a third-round pick of the Coyotes in 2015, had four starts in his only other NHL tenure, going 1-3-0 last season.
Cold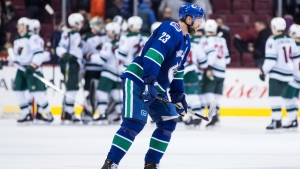 - It's freezing in Vancouver where the Canucks have just one win in their last 13 games (1-10-2). They just aren't scoring, managing two goals or fewer in eight of those 13 games. The Canucks are 6-for-45 on the power play over that span, dropping eight one-goal games during the skid.
Vancouver has six regulation losses by a goal this season, which is the most in the NHL. Rookie sensation Elias Pettersson has one goal and four assists in the past seven games.
- Remember when the New Jersey Devils started the season 4-0-0, with a pair of shutouts?
They have five wins in the 22 games since. The Devils' power play is sputtering, going 2-for-35 over their last 14 games. New Jersey has also been racking up overtime losses lately, with four in their past nine games. The team ranks 30th in the NHL in goals against per game (3.95) since that 4-0 start, with only the Sens (4.18) worse over that span. The Devils' .878 save percentage over their past 22 games is last in the league, so it's been tough between the pipes for Keith Kinkaid and Cory Schneider.
- Back in May, Scott Darling signed a four-year contract extension with the Hurricanes. Last Thursday he was waived and then sent to Charlotte of the AHL. Darling allowed fewer than three goals just once in his seven starts for the Canes this season. He eventually lost his starting job to Curtis McElhinney, who was claimed off waivers from the Leafs before the season started. Carolina also picked up Peter Mrazek in the off-season when he wasn't tendered a qualifying offer from the Flyers and became a UFA. Maybe Carolina should have kept Cam Ward?
Answer: Travis Konecny (against the Rangers) and Brayden Schenn (against the Predators) on Nov. 23.
Kevin Gibson has been TSN's Stats Guy for more than a decade. He has also written many non-leather-bound books. Follow him on Twitter @TSNResearch.