JVR finds peace in contract season with Leafs
As TSN Senior Hockey Reporter Frank Seravalli writes, the Toronto winger is focused on the things he can control in the final year of his contract with the Maple Leafs.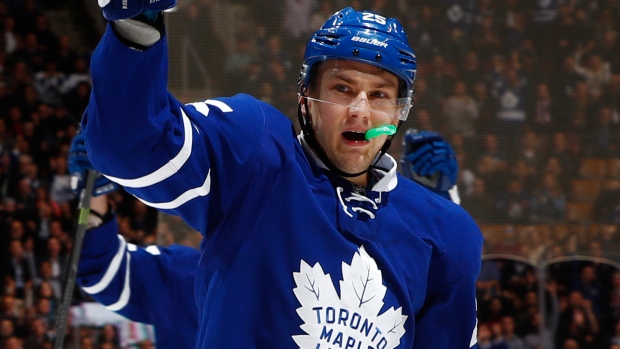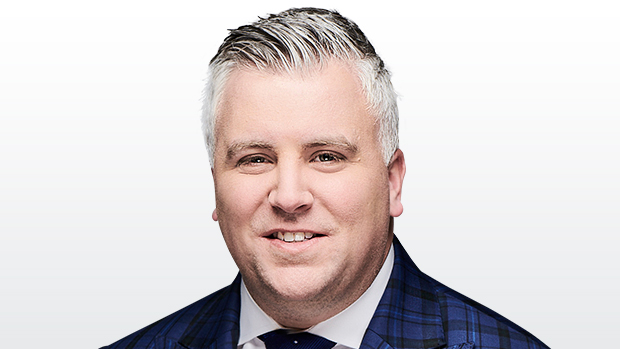 For all the questions and speculation about his status, there is a noticeable peace surrounding James van Riemsdyk in the final year of his contract with the Toronto Maple Leafs.
In some ways, it has been easy for 'JVR' to stay Zen because the belief is there has been little meaningful dialogue in terms of contract talks so far.
"It's been pretty quiet," van Riemsdyk said Tuesday.
There is mutual interest in an extension to stay, but given the Leafs' impending cap crunch and van Riemsdyk's soaring contract season, there's almost an unspoken understanding that this may come to an inevitable conclusion on July 1.
In the meantime, the other part of that understanding is that van Riemsdyk likely isn't going anywhere.
The Maple Leafs believe they have a shot at the Stanley Cup this season - the targeting of both Patrick Marleau and Joe Thornton is proof enough – and van Riemsdyk may well be their in-house trade deadline rental, their "own rental" as coined by former Toronto GM Dave Nonis.
That is, of course, unless something changes - like the Leafs determining JVR's goals will be too difficult to replace. It just seems like neither side is holding their breath. In a salary-cap world, everyone can see the writing on the wall, which is why there is little frustration and no false pretenses here.
"At this point, I'm just playing it out," van Riemsdyk said. "I'm just trying to focus on that. The better you play, the more options you open up for yourself."
Even still, van Riemsdyk sometimes can't help but wonder about his situation. He does have some semblance of control with a 10-team, no-trade list.
"I've tried not to think about," he said. "You're human and it's your future, so there's some degree of that. Your mind goes there sometimes – wanting to know for sure."
That's why van Riemsdyk picked the brain of former teammates who have gone through the free agency process before over the summer. He leaned on Paul Stastny and Matt Carle, among others, and wanted to know how they dealt with it during their contract season.
"They told me, 'Trust yourself and your abilities,' because the other things that are going on I can't really control," van Riemsdyk said. "It seems stupid, but just play. You give yourself more options.
"Then the more options you have, hopefully you find the one that makes you happiest."
Van Riemsdyk has played well – to the point that he will be no small consolation prize as the No. 2 free-agent forward this summer behind John Tavares.
Thirty-goal scorers don't grow on trees in the NHL. Van Riemsdyk is flirting with a 40-goal campaign; he is now on pace for a career-high 39 goals this season. He has been nothing if not consistent for the Maple Leafs after the 2012 trade for Luke Schenn. There were 30, 27 and 29-goal seasons, including production in some pretty lean years.
The interesting aspect of van Riemsdyk's season is that he's producing at a career-best clip despite seeing a significant and consistent drop in ice time.
His average time-on-ice per game has gone from 21:03 in 2013-14 to 19:05 to 17:46 to 15:53 and now 14:18 this season. He is an anchor on Mike Babcock's top power-play unit, where he has already matched last season's output of six goals, but he also has nine strikes at even-strength this season.
The question the Maple Leafs seemingly must answer is whether they have found the magical workload and role for van Riemsdyk's optimal performance, and what that says about his future.
"I think everyone wants to play more," van Riemsdyk said, laughing. "I don't know, our team is winning and I'm contributing. You want to find a way to be productive in the role you're in. I don't let that stuff bother me."
It's part of the overall question van Riemsdyk needs to wrestle with as well. A steep hometown discount doesn't seem likely, but at what price is it worth it to go to a team that might not have as good of a chance to win?
He is just 28, but already one of the Leafs' elder statesmen in a league that is rapidly trending younger.
"I've been in the league nine years already. It goes by quick," van Riemsdyk said. "You want to be on a team that's winning."
Van Riemsdyk is keeping all of his options open. He's been around long enough to know that anything can happen. Until then, he plans to enjoy the ride.
"The contract stuff usually sorts itself out. It becomes pretty clear what's going on," van Riemsdyk said. "You just play and we'll see how it all shakes out."
Contact Frank Seravalli on Twitter: @frank_seravalli