Kadri happy to cede limelight to young Leafs
Toronto centre ready to embrace leadership role on team brimming with offensive potential.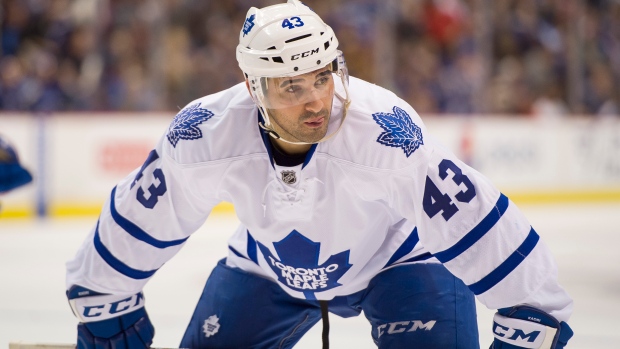 Since being drafted seventh overall by the Maple Leafs in 2009, Nazem Kadri has grown accustomed to shouldering a certain amount of the spotlight and expectations in Toronto.

This season is different. Gearing up for his eighth NHL training camp later this month, the projected top-line centre for the Maple Leafs is happy to cede the limelight to the team's up-and-comers.

"I don't mind flying under the radar sometimes," Kadri said after an informal practice at MasterCard Centre on Tuesday. "But at the same time, guys are expected to do a lot — maybe a little more this year than last year. But I think those guys know who they are and they're ready to take responsibility and take action."
Kadri intends to be among them. He endured another long off-season with plenty of golf and a trip to Helsinki to attend teammate Leo Komarov's wedding. Kadri also took stock of his position with the Maple Leafs and how he could improve it for this coming season, the first on his new six-year, $27-million contract. This summer he organized skates and committed to a gym and nutrition regime aimed at helping him become a better player and leader.

"The relationship I've built with [general manager] Lou [Lamoriello] and Babs [head coach Mike Babcock] is excellent and definitely having their support and belief makes things go a lot easier," he said.
"I've done a lot of work this summer, just tried to really wrap my head around [being a leader]. It's what I've always wanted, but it took a little time to understand exactly what I need to do to take on that role… Whether you get a letter or not, you still have to lead by example and that's what I intend on doing. Obviously Lou and Babs have stressed that to me, wanted me to take on that leadership role and just be a good example for the young guys. Obviously I'm still learning as well. I don't know it all by any means, but I'm going to be the best I can to help out these kids."

In last season's painful campaign, Kadri emerged as Toronto's leader in assists (28) and points (45) while finishing third in goals (17). The kids – Auston Matthews, William Nylander and Mitch Marner in particular – are brimming with offensive potential, but have everything to prove at the NHL level. Babcock previously said Matthews will plug into a third-line centre spot to start the season, possibly with Nylander on his wing. Marner will battle for a roster spot in training camp.

"He seems like a really good kid," Kadri said of Matthews. "[I] gave him the rundown of what happened last year and what to expect and to not put too much pressure on himself. If you see all these successful teams and contending teams, they've got depth down the middle. Either way you cut it…you're going to need everyone to make a contribution and to play together. We're not playing against each other; we're a team, we're playing together. The roles are assumed at the beginning of the year, but at the end of the day we need everyone to come to play every day and that's what's going to help us win."

As the clouds of despair that enveloped the Maple Leafs continue to dissipate, there's an early sense of renewal among the players. Kadri lauded the Leafs' new logo and uniform revisions, opining "change is good." But it will take a lot more than a new look to get the Leafs back in the postseason discussion. The next step will be teaching the youngsters how to start delivering on all their promise.

"It's rejuvenating for sure," Kadri said of the team's new direction. "You just want to leave all that [other] stuff in the past, but at the same time you don't want to forget about [past years] because I think it makes you a better person and a better player. I think for the guys who have been [here] over those tough seasons, they know what it feels like to go through something like that and, personally, I never want to go through it again, nor do I think we'll have to.

"We've got a bright future. We've just got to put all the pieces together and work hard."