Kadri, Nylander lead Leafs past Capitals
Maple Leafs linemates Nazem Kadri, William Nylander and Connor Brown were dominant from start to finish in Toronto's 6-3 victory over the defending Stanley Cup champion Washington Capitals, Kristen Shilton writes.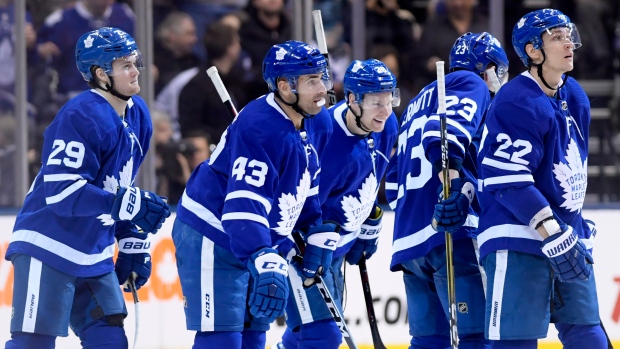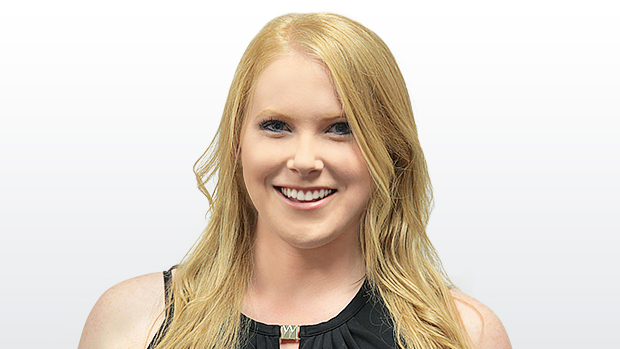 TORONTO – When the Maple Leafs took on the Washington Capitals Wednesday night, all eyes were on how Auston Matthews and Mitch Marner would fare in a rare outing as linemates. But it was Nazem Kadri and William Nylander who stole the show in Toronto's 6-3 victory over the defending Stanley Cup champions.
Their unit with Connor Brown was dominant from start to finish for the Leafs, producing a four-point night for Kadri (three goals, one assist), three assists for Nylander and two for Brown. It was the fifth hat trick of Kadri's career, and marked his second multi-goal game of the season.
Not only did the victory halt Toronto's two-game slide and send them happily into seven days off for the NHL's All-Star Break and their bye week, it also broke lingering slumps for Kadri (one goal in 13 games before Wednesday) and Nylander (one goal, three assists in 20 games), who now has points in back-to-back games for the first point streak of his season.
"We had a good effort tonight, it was good for guys to be rewarded," surmised coach Mike Babcock. "I thought Brown, Willy and Naz, it was a real good night for them and it's good for all of them to feel good. Important for Willy but I think important for Brownie and Naz as well, they were an important line for us. We had a lot of guys on deck tonight."
The Leafs were staunchly determined to deliver on a good team effort, and start effectively turning out of their recent skid. Since Christmas, Toronto is 5-7-0, and Wednesday was only its second victory at home in the past month. Players insisted it wasn't for lack of effort, but the lack of puck luck that had lately been tripping them up.
In that respect, at least, Wednesday was a different story. After Nicklas Backstrom opened the scoring for Washington on an early power play chance, Kadri scored the tying goal 46 seconds later just by rushing Braden Holtby's net and sliding a loose puck in.
Later, with the Leafs' up 4-2, Kadri tallied his third score after Brown rang a previous shot off both posts to send the puck directly to Kadri with a gaping cage to fire on.
Toronto's six goals on the night (three by Kadri, one each by Nikita Zaitsev, Matthews and Marner) was the most they'd scored in a game since Dec. 20. By finally practising what they preach, and getting towards the net where those scoring opportunities develop, the Leafs found a way to look like their dominant selves once more.
"We got a lot of bounces with us tonight," acknowledged Nylander. "But I think we were working and deserved some of those goals. [Before I] might not have wanted a break right now, but now we get a good break here and we'll come back recharged."
"It's always nice to get some breaks and get some bounces," added Kadri. "We wanted this one for sure. We wanted to feel good about ourselves heading into the break. Previous games we felt like we'd been trending in the right direction but didn't get the result. It's definitely nice to play a full 60 and beat a good team like that."
The Leafs hadn't done that much lately, either. Before Wednesday, Toronto had topped only one playoff-positioned team – the Tampa Bay Lightning – in the last four weeks. But while it was encouraging for the Leafs as a whole to pull a positive outcome against Washington, it was especially important for Nylander to produce the way he did.
The six weeks since Nylander returned from a protracted contract negotiation have been the self-declared worst slump of his life, and being an effective part of the Leafs' offence again was his constant goal. On Wednesday, the 22-year-old notched a career-first with three assists in a single game, and it was only the second time he'd ever collected three points of any kind in one night. Like the rest of his team, Nylander was pleased - and maybe relieved - to see the sum of his work actually paying off.
"I think I've had good games where the puck hasn't gone in, but I think this was a good game," Nylander said. "Good for the confidence for sure when it comes to the production side of it. [The team has] had chances in past game but we just haven't been able to score, so it's nice heading into the break and leaving with a good game and a nice win."
TAKEAWAYS
Matthews on a mission
As much as both Kadri and Nylander needed to boost their offensive games, so too did Matthews. Like Kadri, he had one goal in 13 games prior to Wednesday, and had consistently been generating great chances that simply weren't going in.
Putting Matthews back on track is part of what spurred Babcock to try him with Marner, a nuclear option if ever there was one for the Leafs' coach to pursue. Paired alongside Patrick Marleau, the chemistry between Matthews and Marner wasn't instant but it grew as the game went on, especially after Matthews finally broke out of his scoring slump with a power play goal in the second period. That was only the second man advantage goal for the Leafs in 10 games (2-for-19), so Matthews' exuberant reaction to the puck going in was out of relief on both counts.
And, that marker seemed to only ignite Matthews, and he and Marner looked more fluid at even strength from there. While they didn't connect on any goals (Marner scored an unassisted empty-netter), the two combined for eight shots on goal while hovering at 50 per cent possession. Babcock was non-committal on whether he will keep Marner on Matthews' wing after the break, or deposit him back on John Tavares' right side, but Matthews was so pleased with the effort, he said "if [Babcock] keeps it, I'll be happy."
Andersen all over it
Rebounding from an average showing in Toronto's loss to the Arizona Coyotes on Sunday, Frederik Andersen came out strong against Washington and was a difference-maker until the end.
Seeing 29 shots through the first 40 minutes alone, Andersen had his work cut out for him facing the Capitals' quick transition game, but the Leafs did a better job boxing out in front of him and gave Andersen time to make key reads. The goaltender didn't have the right beat at all on Alex Ovechkin's slapshot in the second as it sailed past him, but from there he tightened up and bailed out his teammates on a few series where they were running around aimlessly in the defensive end.
Andersen flashed the leather on a few fine saves in the third to hold the Capitals' push off, being fooled only once by Matt Niskanen in that frame when Washington cut Toronto's lead to 5-3. He finished with 41 saves on 44 shots from the Capitals, one stop off his season-high of 42.
Rielly keeps rocking
With two assists on Wednesday, Morgan Rielly officially became the sixth defenceman in Leafs' history to post back-to-back 50 point seasons, the first since Tomas Kaberle did it in three consecutive seasons from 2005-08. Rielly reached that mark in only 49 games this season, the fastest Leafs defender to do so since Bryan McCabe in 2005-06 (45 games).
Striving for Mo(o)re
Even in his limited NHL experience this season, Trevor Moore has consistently been able to make an impression by always being the hardest working Leaf on the ice. Wednesday was Moore's seventh game of the season, after he was recalled that morning from the American Hockey League to fill in for the injured Andreas Johnsson. Right out of the gate, Moore had a key backcheck that broke up a scoring rush by the Capitals that could easily have turned into a goal, chasing the puck carrier up the ice and dislodging the puck easily. In his handful of shifts each period, Moore found positive plays each time, and he plays much harder on the puck than his 5-foot-10, 182 pound frame would suggest. He finished with two shots on goal.
Blue and White Trending
Tracking Leafs' trends all season long
Wednesday was the eighth time this season the Leafs have faced the prospect of losing three games in a row, and for the eighth straight time they halted their losing streak at two games.
Next up
Toronto will have a week off for the All-Star Break and their designated bye week before facing the Detroit Red Wings on Feb. 1.
Last Word
"I've never really played a full game with Mitch, besides power play, never really 5-on-5, so it's a bit of a feeling out process, but he's so fun to play with. You get a sense of where he's at on the ice and he creates so much space for himself with his edge work. I'm not sure Babs likes it too much, but I enjoyed playing with him a lot."
– Auston Matthews on playing with Mitch Marner in Wednesday's 6-3 win over Washington