Kadri staying positive despite goal drought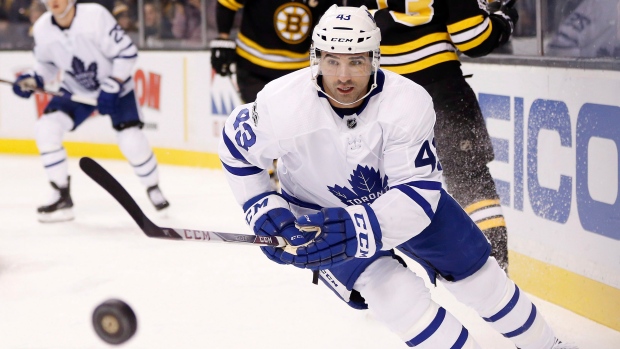 TORONTO — Nazem Kadri collected a pass before steadying the puck and ripping a shot inside the near post.
A Maple Leafs assistant coach tapped his stick on the glass in celebration — it was only practice, after all — as the Toronto centre put his head down and moved onto the next drill.
But if a similar sequence were to play out when it matters, Kadri would no doubt raise his arms and exhale a huge sigh of relief.
The owner of back-to-back 32-goal seasons, the 28-year-old has failed to find the back of the net through eight games in 2018-19 for a team that leads the NHL with a 6-2-0 record and has scored a league-best 33 times.
Despite the early goose egg, the glass-is-always-half-full Kadri insists the drought isn't a burden.
"I know my capabilities," he said following Friday's on-ice session. "I feel like I'm generating lots of plays out there and creating lots of offence."
Kadri was robbed by Pittsburgh goalie Matt Murray in Thursday's 3-0 loss with Toronto down one midway through the third period, and then accidentally passed the puck into his own goal from long distance on the first of two Penguins' empty netters.
Neither instance seemed to faze him.
"I'm less than half an inch from having three or four (goals)," said Kadri, whose team saw its five-game winning streak snapped. "That's the positive thing."
In truth, Kadri is used to long periods without contributing offensively.
He scored just once in 20 games at one point last season, including a 12-game drought, while the 2016-17 campaign saw him a endure separate fruitless stretches of eight and nine games.
And in 2015-16, when the Leafs finished last and Kadri scored 17 times in total, the London, Ont., native went through a period of one goal in 19 games and another where he scored just once in 21 outings.
"It's a long season ... it's tough to go without a stretch where things are a little dry," he said. "I'd much rather get it out of the way earlier than later. I know how to cope with these types of situations ... continue to work hard in practice and focus on certain things and really try to bear down on my chances.
"I know it's going to come."
Kadri has thrived in the past when he's been assigned to shut down the opposition's top line — something that hasn't been the case so far this season.
But Leafs head coach Mike Babcock said now that Kadri's playing alongside the defensively-sound Par Lindholm and Connor Brown, he will use the tactic more going forward to complement his top two lines led by star centres Auston Matthews, who leads the NHL in scoring with 16 points, and John Tavares.
"He's an important player on our team," Babcock said of Kadri. "We need him to be mean and we need him compete hard, and to just keep doing what he's doing."
That setup could all change, of course, if and when the Leafs and skilled winger William Nylander agree on a new deal to end a protracted contract impasse — a move that would likely push Kasperi Kapanen down the lineup and bump Lindholm back to the fourth-line centre role.
"I don't predict the future," said Babcock, whose team hosts former Toronto centre Tyler Bozak and the St. Louis Blues on Saturday. "If we stay with the current lineup, (Lindholm is) going to be a winger.
"If we get everybody (Nylander) on deck here then it'll be different."
Kadri, who had 61 points in 2016-17 and 55 in 2017-18, buried a team-leading 12 power-play goals in each of the last two seasons, but has just three assists so far for a unit that tops the NHL early on with a success rate of 45 per cent.
He also has just one assist at even strength, but Kadri's teammates know his value goes beyond the scoresheet.
"Naz has thick skin. He knows he's playing well," Toronto defenceman Morgan Rielly said. "He's done a great job defensively.
"Whether he's scoring or not, that doesn't measure his impact."
For his part, Babcock said all athletes go through some level of internal crisis when things aren't going as well as they'd like.
"People on the outside, when you think of National Hockey League players or Major League Baseball players, you'd have no idea how often guys are struggling with confidence," he said. "You just don't, but that's the game. It comes and goes. The best players fight it as well.
"We've got to work hard to earn it every day. When you've got it going real good, don't let up because when it gets going bad, it's hard to get'er turned."
If Kadri, who has never lacked confidence outwardly, is feeling that way, it's nearly impossible to tell.
"I have an opportunity to score every game, they're just not falling for me," he said. "It's a matter of getting the first one out of the way.
"Then they'll start to come in bunches."
---
Follow @JClipperton_CP on Twitter